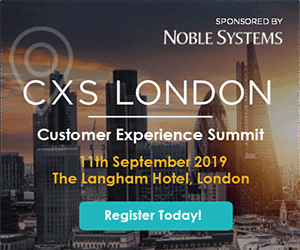 About the Event
Held at the luxurious Langham Hotel in London, our inaugural CXS forum will offer attendees invaluable access to thought leaders in both Customer Engagement and Contact Centre Technology who will be sharing their experiences, insights and approaches to the changing customer contact landscape.
Enjoy a day packed with informative and dynamic discussions.
Your registration entitles you to join us for an exclusive networking event that evening. Claim your seat now before registration ends.
What is CXS?
CXS is a full-day customer-focused, industry think-tank looking at how technology will disrupt and improve customer experiences.
When & Where Is CXS?
CXS will be held on Wednesday, 11th September, 2019 with complimentary entry to a networking event that evening. The Summit will be held at the luxurious 5-star Langham Hotel, London.
Who Should Attend?
If you're a professional or leader in Customer Service, Engagement or Contact Centre who wants to network with fellow thought leaders, this one-day event is for you.
What Does It Cost?
Current registration fees are only £99, making it one of the most affordable and high-value conferences you'll attend all year. However, prices are subject to increase, so register early! Registration closes 6th September 2019.
Date and Time
Starting:
Wednesday 11th September 2019
Location
Date and Time
Starting:
Wednesday 11th September 2019
Location