Forget the stereotypes of interactive voice response (IVR) systems as mere robotic voices on the end of a phone line. As Nick Applegarth reveals, today they are so much more sophisticated.
You don't have to search far to find someone with a beef about contact centres. Protracted call waiting times, labyrinthine automated routing systems with no exit and long menus that offer everything but the department you actually want are familiar – and frequently justified – grievances.
When it comes to automated speech, there's the additional gripe that the system doesn't understand what the caller is trying to say, plus the perception that organisations are cost-cutting at the expense of customer service, or simply being slippery and evasive by replacing live agents with machines; not so much 'talk to the hand' as 'talk to the technology'.
It's easy to see how negative beliefs such as these come in to being. And once they exist, they are hard to shake. Customer service is a tricky business and, even among enterprises that take it seriously, there have been many failures and foul-ups over the years.
Key pointers on today's IVR systems

Nowadays, if the contact system's not working, it's because it's out-of-date, poorly designed, badly managed, or all three
Replacing clunky proprietary IVR systems with flexible IP standards-based systems costs less than the cost of one year's maintenance of the old systems
Expect a return on investment (ROI) of just a few weeks to up to a year
When rolling out a new automated system, make sure callers can opt out and speak to a live agent who has used it and is familiar with it themselves
These days there is no longer any excuse for poor contact handling. Five years ago, it was legitimate to point the finger of blame at flaws or limitations in the technology, but that's changed now and modern contact centre systems are robust, effective and very flexible. Furthermore, today's speech recognition technology actually does what it says on the tin, often far outstripping people's dated expectations.
The bottom line is, nowadays if a contact system's not working, it's because it's out-of-date, poorly designed, badly managed or all three. With a little effort, however, it's easy to stand head and shoulders above the crowd and delight your customers by answering their calls the way they would like them to be answered. But just how do you do that?
Live testing

A good place to start is by looking at the design of your interactive voice response (IVR) system – the interface between you and your public – and asking yourself, your colleagues and maybe even some of your customers some incisive questions about it. Try it out.
What does it feel like? How long does it take you to get through and resolve the reason for your call? Can you get your question answered in one go, or are you passed from pillar to post, having to repeat your information each time? If you select the wrong option by accident, can you sort it out simply or do you have to hang up and start all over again? What does the whole experience cause you to feel about your organisation? What impression does it give out about your brand?
Common pitfalls of poorly designed IVR systems include failing to provide adequate exit routes if callers take a wrong turn, or not planning for all potential enquiries so that callers find that none of the available options are relevant to them. Sometimes the description of the options is unclear or confusing so people are not sure which one they should choose.
Any of these problems is likely to cause irritation before the call is eventually patched through to a live agent who has to bear the brunt of the caller's frustration, and who may or may not have the ability or inclination to assuage it – that's if the caller hasn't already hung up by that point. Yet all of them can be avoided through proper planning and live testing of call routing systems, combined with a willingness to change things rapidly if they're not working.
Of course, sometimes it's not so easy to correct problems and improve call handling, particularly if the IVR system is based on proprietary technology that lacks the flexibility and functionality to adapt to changing requirements. This is often the case if, as in many cases, systems are built up over many years with new areas of functionality added on an as-needed basis over time. The result is a collection of applications that are not integrated and have difficulty communicating with each other, making it nigh on impossible to provide a seamless service to callers.
This means a great deal of time is wasted by agents having to switch incessantly between applications, or having to pass callers to colleagues who don't have access to the call history and have to start again from square one. I recently came across a contact centre where agents had to boot up eight separate applications on their workstations at the start of every shift, which took around 25 minutes each time. That's 300 agents times 25 minutes wasted every day of the year before anyone even takes a call – you do the maths. Okay, then, I'll do it. The answer is around 3,000 a week of staff time.
IP standards-based IVR
Companies are understandably reluctant to write off their investment in existing systems and fork out for a replacement system. However, what many organisations don't realise is that a new IP standards-based IVR system with enough flexibility and scalability to provide for all their current and future application requirements is likely to cost them less than the amount they spend purely on maintenance of their existing systems in one year alone.
That's before you factor in all the efficiency savings to be gleaned by optimising the call handling process: call time savings; staff morale boosts resulting in lower employee churn; and – most valuable and hardest to quantify – dramatic improvements in customer satisfaction.
Telenor, formerly Europolitan Vodafone, increased productivity in its contact centre by 20% by introducing intelligent queuing and routing, and this is by no means unusual. There are many different financial reasons for upgrading to a standards-based system; I recently encountered a company that was choosing to upgrade its IVR system purely in order to save money on real estate costs because the physical footprint of the new system was a fraction of that of the old one. All the other productivity and customer service benefits and cost savings were just a bonus.
In truth, if you're not looking at a return on investment on a new IVR system of less than a year, the chances are you're looking at the wrong system. In many cases it's as little as a few weeks.
There are many situations when it's not appropriate to provide an automated response and the 'human touch' is needed. Equally there are instances when automation vastly improves the caller's experience as well as slashing overheads. The trick is to identify which is which. As a rule of thumb, low value, routine enquiries are usually the most suitable for the application of an automated response, freeing up staff to handle more complex calls, or to respond to enquiries via other channels.
Agents versus automation

But what about speech recognition technology? There is a common misconception that people hate to interact verbally with machines and always prefer to speak to a human being. But the truth is that where speed, privacy or accuracy are essential, speech recognition can be just the ticket. A large cinema chain in Greece has recently introduced automated speech technology to its ticket reservation system, for instance, but callers can also opt out and choose to conduct their transaction via touchtone if they prefer. A huge 80% of callers choose the speech recognition route and call queuing times are now a fraction of what they were, meaning many fewer dropouts.
This element of choice is key. People need to feel they can try out new systems in a risk-free way, and switch to something more familiar, or contact a live agent if they get stuck. Progression from agent to automation must take place in easy stages. It would be counter-productive to switch overnight to open speech.
A more appropriate route would be first to introduce call routing to the correct agent using IVR, then to add the capturing of the caller's details so this information is displayed to the agent when they take the call. Already the caller's experience is greatly enhanced because they are speaking to the right person immediately and do not need to repeat their information. Finally, when customers and agents are fully comfortable with speech recognition, the capability to conduct complete transactions automatically can be introduced.
As with everything else, automated contact systems can only ever be as good as their implementation and roll out strategies allow them to be. So if it's not working, don't blame the technology.
---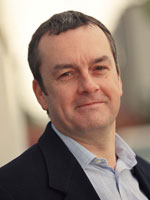 Nick Applegarth is EMEA vice president at Envox Worldwide
Tel: +44 1252 618854
Website: www.envox.com