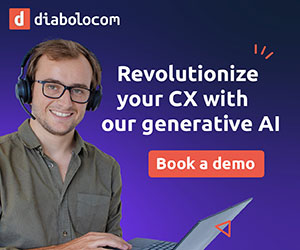 We define what an IVR (interactive voice response) is and explain how an IVR system can be of benefit to your contact centre.
What Is an IVR?
IVR stands for interactive voice response, and IVR technology is an automated system that answers incoming calls and provides instructions to customers in a queue to speak to an agent.
Customers are able to input their responses via keypad (or in some cases voice recognition) to speak to an advisor or self-serve. The IVR system will identify, segment and route the caller to the most appropriate advisor within your team.
Over the years, the IVR has grown to be a fundamental piece of technology in many contact centres, with our survey finding that usage is growing year-on-year, with 86.1% of contact centres installing such a system, as of 2018.
The rise in organisations implementing IVR systems is likely because of the many benefits listed below, but there are a number of contact centres who installed the technology long ago and haven't made any positive changes since.
In fact, in a 2015 poll we found that 10% of contact centres had never reviewed or updated their IVR systems, with a further 14% telling us that it had been over a year since they last did so.
In addition to this, recent ContactBabel data highlights that 30% of companies using a traditional IVR reported a "somewhat negative" effect on their customer experience.
So, let's take a quick look at what makes up the modern IVR and how you can avoid negatively impacting the customer experience, before we introduce the wide-ranging benefits that the technology can bring for your business.
The Modern IVR
According to Patrice Orenes-Lerma, Marketing Director at Diabolocom, original IVRs were limited to basic menus and routing. Over time, as businesses evolved, these IVR menus got increasingly longer, and customers were waiting from "press one" until "press nine" to find out what they had to do next.
However, call routing through the IVR has come a long way since then, with contact centres now able to route according to much more sophisticated rules.
For example, when we visited the Vax contact centre in Droitwich, we discovered that they use their IVR to:
Route low-satisfaction customers straight through to an advocate advisor
Route a returning customer to the last advisor that they spoke to (as long as the previous contact was within the last 30 days)
Allow existing customers to bypass the IVR and to instead use intelligence within the CRM to route them automatically, according to where they are on their customer journey
Explaining how all this is possible, Patrice says: "Modern versions of IVRs can integrate with almost any system using APIs. This can trigger automatic actions, gather information from third-party systems and route customers accordingly."
"In the same way, IVRs can gather information and deliver it to the caller using text-to-speech technology, making self-service through the IVR a real possibility."
Away from the technical elements, there are other simpler IVR innovations that are being used more and more. For example, some contact centres have started to use different voices at different stages of the IVR for great personalisation, while others are creating innovative messages to play to customers who are waiting in the queue.
Both of these innovations can be used to benefit the customer, so let's take closer look at how else an IVR can be used to boost the satisfaction of your callers.
Find out which key features are included in a modern IVR by reading our article: What to Look for When Buying an IVR
Seven Benefits of an IVR
As Patrice Orenes-Lerma reminds us: "The IVR is the first step in a customer's interaction with your contact centre, so it is imperative that it offers a strong, positive reflection of your brand."
A modern IVR, which is integrated with your other contact centre systems, in particular the CRM, will have the capability to provide each of the following benefits.
1. Offering Easy Call Routing
An IVR will route callers to the most appropriate advisor or department, as per the rules that you will have created in the design phase.
As Daniel May, a Sales Executive at Business Systems, says: "This will reduce effort and frustration, as well as Average Handle Time (AHT) by ensuring each customer is connected to the best-qualified agent providing a personalised service."
"Optimised routing will also allow for lower abandon rates, reduced time in queue and call-back options for times when there are high volumes of calls."
2. Supporting Peak Management
With the capability to self-serve and relay messages, the IVR can prove important in the management of calls, particularly in the case of high demand or seasonal peak activity.
Patrice says: "Simple requests can be directed to automated services while more complex issues are routed to the correct person, saving time and allowing more calls to be answered in any given day."
"But more than that, a modern IVR will provide business users with the ability to modify messages quickly and easily providing the caller with essential information particularly in peak times."
3. Measuring Customer Satisfaction
If you run a transaction survey to measure metrics like Customer Satisfaction (CSat), instructing advisors to ask the customer to rate your service on a scale of one to ten may give you an inaccurate result. This is because the customer may not want to give negative feedback directly to the advisor, if they are the cause of their dissatisfaction.
So, passing the customer through to the IVR after their interaction has finished will help to provide a CSat score that is a better reflection of the satisfaction of your customers, according to Patrice.
Passing the customer through to the IVR after their interaction has finished will help to provide a CSat score that is a better reflection of the satisfaction of your customers.
Patrice says: "By offering post-call survey capabilities, IVRs make it easier for customer experience directors and CXOs to measure the performance of their service and the satisfaction of their customers in an accurate and efficient way."
"Whether this happens after the call through a DTMF questionnaire or by an automatic email or text message sent after the call, it helps to measure the quality of service automatically."
4. Self-Service Can Free Up Advisor Time
If your IVR allows customers to self-serve, you can save resources that way, as it removes the need for human interaction.
Daniel adds: "An IVR will reduce your cost per call by letting your customers choose the type of help they want, such as self-service for quick and simple queries (such as bill pay, account inquiries and more) or speaking to an advisor for more complex cases."
5. Prioritising Your High-Value Customers
Being able to create rules to route certain customers through the IVR, you can prioritise calls based on the caller's value, so they receive an enhanced level of service.
Daniel explains: "If a high-value customer calls, the IVR can route them to the right agent for a more personalised service. If all of your agents are busy, then this call can be routed to the front of the waiting queue. This will ensure your high-value callers are not affected by a slow answer time."
6. Extending Opening Times
As IVR can be used for self-service, it presents you with the opportunity to prolong your opening hours on the voice channel.
One of the great strengths of the IVR is that it can enable your business to be contactable to customers 24 hours a day.

Patrice Orenes-Lerma
As Patrice says: "One of the great strengths of the IVR is that it can enable your business to be contactable to customers 24 hours a day."
"Employee working hours are limited by office hours, holidays and seasonal breaks, but the IVR ensures your business is always available to your customers."
7. Reducing Call Transfers
One of the greatest customer frustrations is having their call transferred from one advisor to another, but routing the customer directly through to the most appropriate advisor, not just the next advisor available, helps with this.
Patrice adds: "The IVR does enable effective pre-qualification of calls, which can dramatically reduce the need for callers to be put on hold while they are passed around departments."
"It also makes it possible to advise estimated waiting times so that users can then choose whether to wait or go for another route."
How Can You Improve Your IVR System?
The key to an effective IVR is to keep it simple; simple for customers and simple for staff, as Patrice Orenes-Lerma tells us.
Sticking to this principle, Patrice shares with us the following set of tips that will help to improve the effectiveness of your IVR.
Make sure the script short and sharp – keep menu options to a minimum and straight to the point. Nobody wants to be bombarded by endless options – make it easy for callers to resolve issues themselves or speak to an agent who can.
Offer a direct route to an advisor if needed – there is nothing more frustrating for callers than being presented with lots of choices but no option to speak with an advisor. Sometimes customers need to speak with a human – make it easy for them to do so!
Integrate the IVR with the CRM – This is simple and effective and enables a personalised touch for customers.  The IVR can welcome a caller by name and even provide personalised birthday messages.
Offer a call-back – This allows customers to choose to leave the queue and wait for an advisor to contact them at a convenient time. If customers don't take this option, use the IVR to keep callers informed of expected waiting times, position in the queue and alternative contact options.
Optimise waiting time – Your personalised waiting tune is great. However, waiting time offers the perfect opportunity to provide customers with useful information (including commercial offers) – use it wisely!
Maximise the use of voice – Utilising current voice technologies can simplify complex menus into spoken responses making the service accessible to anyone and quick to use. Use speech recognition and natural language speech recognition to provide a more personal, human interface.
Don't forget about touch tone – The keypad is still an essential option for callers and provides a secure means of entering personal or sensitive information. This is of particular importance for banks and financial services organisations.
For more ideas on how you can improve your IVR, read our article: Call Centre IVRs – How to Review and Improve Your IVR
To find out more about the role of IVRs in the contact centre, read our articles: