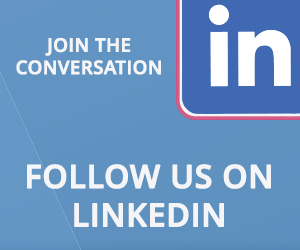 We take a look at what you can do to review and improve your IVR to better meet both customer and business needs.
Traditional IVR Problems
Traditional IVRs provide a linear journey. This means that no matter what the customer's query is, they have the same options presented to them and the same general experience.
If your IVR provides everyone with the same general experience, when there is an issue within the system, everyone experiences that issue.
On this note, let's take a look at three common IVR problems.
A Multitude of Options – Many IVRs have too many menu options and they are constructed around internal departments, using industry jargon that makes no sense to the customer. This means that the caller is more likely to choose the wrong option, which negatively impacts customer experience.
An Isolated Channel – When the IVR isn't integrated with your other digital systems such as your CRM, there is no customer data available to provide a personalized experience. This lack of customer context limits your ability to personalize the customer experience.
Content & Audio Quality of Messages – The information in many IVR systems may be out of date, leading to customer confusion. And, alongside that, the audio quality of IVR messages can be quite poor, especially if messages have been recorded by several team members and pieced together over the years.
The Different Elements of a Call Centre IVR
While you may not necessarily think of it like this, your IVR is made up of several parts. These include:
Technology – This is the contact centre platform you're operating on, which may be on-premise or a cloud-based solution, and it defines the functionality available to you. Cloud contact centre solutions are often more configurable and make integrations easier.
Integrations – Enable you to pull customer data and provide a customized IVR experience, based on where the caller is in the customer life cycle.
Call-Flow – This is the actual structure of your IVR menus; get this wrong and you'll cause customer confusion and frustration.
Tone of Voice and Language – Your IVR messages set the tone for the whole conversation, so it's best to keep them clear and simple by removing as much industry jargon as possible and avoiding common formulaic contact centre language.
Voice Style and Audio Quality – Male or female voice? Which accent best fits your brand? Are the speed and style of delivery at the right pace and consistent across all messages? There are many things to consider here.
Each of these elements matters, not only from a contact centre efficiency perspective, but to meet the needs of increasingly impatient customers.
These days, people have very little spare time, and customers are often looking for ways to speed things up. If one of these elements is wrong, it will slow things down considerably.
A contact centre that manages each of the key elements above will find customers are routed to the correct department first time, therefore removing a huge amount of customer frustration. This will likely enable them not only to retain customers but also to give your advisers a much better experience.
For more of the basics of IVR, read our article: What Is an IVR and How Can It Benefit the Contact Centre?
3 Quick IVR Fixes
We asked a group of 176 contact centre professionals: On a scale of one to five, what kind of first impression does your IVR create? Five equates to "a perfect impression" and one means that "it really needs some work!"
Surprisingly, we found that almost three-quarters of respondents (73%) scored their IVR as a three out of five or below – as highlighted in the following chart.
For those 73%, here are some really great quick techniques that you can use to help take your IVR to the next level.
1. Experience Your IVR as a Customer – Take a walk in your customers' shoes. Ditch the corporate hat, put your personal hat on, and experience it from a customer's point of view.
Forget all the terminology and internal understanding, you have to view the experience with a fresh pair of ears (or eyes!) and see how it feels for a customer calling in. Just think about:
Do the options make sense?
Are the messages up to date?
Are there too many sub-menus and multiple options?
2. Cut It Down to a Single Voice – Think about not only audio quality, but the number of voices that you have on your system too. It is not uncommon for a contact centre to have four or five different voices within its IVR system – but this does not provide a single coherent brand experience.
When it comes to in-queue messages, you can mix it up –  it can work well to alternate between single male and female voices…
Record all your IVR messages with the same voice, with the same delivery speed.
When it comes to in-queue messages, however, you can mix it up. It can work well to alternate between one male and female voice, to ensure that every message helps to capture the customer's attention, but make sure that both voices are "on-brand".
3. Adjust Your Menu Options – If you have nine options in your main menu, it's likely going to take more than 60 seconds to read through them all, by which time the caller will be thinking: was it option three or four?
If you then say: "For any other reason, press zero," the customer is likely going to press zero and try to circumnavigate the whole system – defeating the purpose of having a call centre IVR in the first place.
So again, take a look at your call centre metrics and which options are being selected within the IVR, and if the options selected aren't matching up with call reason codes (wrap-up codes), then you've got an issue and you need to take a look at your IVR call-flows and messaging.
For more quick ideas for improving your IVR system, read our article: 28 Hot Tips to Improve Your IVR
Reviewing Your Current IVR
Before testing and reviewing your IVR, try and get your customer experience manager, or anyone higher, to run through this process with you – as Steve Hindley, a Customer Experience Consultant at IVR Recordings, tells us.
"You need everyone in the organization on board when reviewing and improving your IVR experience," says Steve.
"From your CEO and board of directors to customer experience managers and agents, everyone needs to understand your internal challenges, but more importantly, they need to experience the caller's pain points."
"Only then can you set about improving your IVR to improve the caller experience and fix your internal challenges." 
Now you have them next to you (hopefully!) and you're reviewing your current IVR, here are six things that Steve recommends looking out for.
1. Navigation Time – Lengthy welcome and compliance messages can be tedious to listen to. While in some industries, like finance and insurance, there is a requirement to provide more compliance information, there are ways around that – like only adding them to the necessary call queues, for example.
So, review the navigation time and look for things like that, both at the top of the IVR tree and all through, until you're in the call queue.
2. Number of Options – Don't provide a set of eight or nine options per layer. Many customers will forget which number reflects which option by the time every option has been covered.
Also, look at the main menu options and how they are structured. Is it just internal departments that are listed or are you basing your options around queries (which makes more sense to the customer)?
3. Number of Layers – How many sub-menus do you have, and how many options has each sub-menu? If you have more than two sub-menus nested under one another, see if you can find a more logical way to structure your IVR.
If you have more than two sub-menus nested under one another, see if you can find a more logical way to structure your IVR.
4 On-Brand Messaging – Is the messaging that you are providing within your IVR on brand, in the correct tone of voice and providing accurate information, or does that need to be updated?
Also, remember to ensure that options are given to customers so the most likely contact reasons are presented first, to speed things up for the majority of callers.
5. Call Queue Experience – once the customer has gone through the IVR and is waiting in the call queue, what happens there? Are they listening to the same 30 seconds of music on loop for five minutes? We hope not!
Also, if you have a message apologizing for the delay constantly on repeat, that's a sure-fire way to frustrate callers.
6. Call Queue Wait Times – Look at your key IVR metrics, including call wait times, call abandon rate and where those calls are abandoning.
Are customers abandoning at a certain stage within the IVR because the options don't mean anything to them? Or are they abandoning in the call queue after a certain message?
The Impact of Voice and Music
If you call a company and the phone messages have quite clearly been recorded by several members of the contact centre team, you're unlikely to be giving a professional first impression.
However, if all of the messages have been recorded by the same person (preferably a professional voice artist), and there's a consistent sound, it provides reassurance that you are dealing with a reputable company, and it also carries on the brand experience from your website and proactive communications.
If all of the messages have been recorded by the same person… and there's a consistent sound, it provides reassurance that you are dealing with a reputable company…
Another benefit of using the same professional voice artist is that you get a consistent and steady delivery of each message, without a hint of background noise.
"What we find when contact centres use team members to record their own messages is one message will be very loud and fast paced – at around 100 miles an hour – while the next might be with a different voice reading slowly and much quieter. This change in pace and volume isn't a nice experience for callers and it detracts from your brand." adds Steve.
The final thing to consider here is if the hold music is suitable and on-brand, in terms of tempo, rhythm and the instrumentation. Does it complement or detract from the customer experience?
For more of our advice on the topic of choosing the right hold music, read our article: Is Your Hold Music Turning Off Your Customers?
IVR Positive Scripting
There are many language pointers that we could give you in terms of creating a great IVR script. For example:
Give the instruction after the function (e.g. instead of: "Press 4 for billing" say: "For billing press 4")
Remove jargon and formulaic language
Avoid repeating the same in-queue and on-hold messages time and time again
Maybe it's better to share some examples of IVR language that you should and shouldn't use.
With this in mind, check out the following video in which Steve Hindley shares some of his favourite and least favourite IVR messages and explains why.
As a key takeaway from the video, let's all – within the contact centre industry – make a pact to ban the following phrases from our IVRs:
"Please listen carefully to the following options as they have recently changed"
"We're experiencing higher than usual call volumes. Please stay on the line for the next available representative"
"We know you're waiting, your call is important to us. A customer service representative will be with you shortly"
Can you hear that? That's customers around the world sighing with relief.
For more on the topic of using customer-friendly language in your contact centre scripts, read our article: Positive Scripting for Customer Service
The Future of IVR
Traditional IVRs have one starting point and multiple ending points in certain departments. But what we should be looking to achieve is an understanding of why the customer is calling and personalizing the IVR journey based on customer data.
Having a personalized IVR experience requires integration between the IVR and your CRM system, which takes us to the first of three key characteristics of a modern IVR – as once again put forward by Steve.
1. Integration With Customer Experience Strategy – A modern IVR system will easily integrate with the CRM and back-office systems, to give context to calls.
What should happen when a customer calls is that the IVR cross-references the phone number with the CRM to see where the customer is on their journey and predict what they are likely to be phoning about – just like in the example below.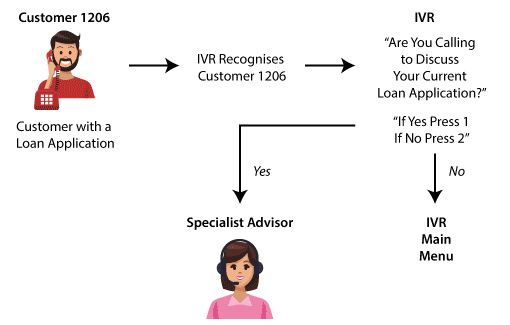 When this is possible, the caller can circumnavigate the IVR completely and join the relevant call queue – where they may even be played a targeted message that will solve their problem without even needing to talk to an advisor.
2. Omnichannel and Channel Shift – The ability to pick up a call and hand it off to another channel, without friction, is where this technology is heading.
Enabling customers to press a number on their smartphone and immediately be taken to a live chat page, for example, is one option of a smart IVR system. You can also take the reverse route with click-to-call links within your chat solution.
3. Self-Service – An integrated IVR will make it possible for you to offer simple self-service within the IVR and to answer simple queries like:
Where's my delivery?
What is my account balance?
Do you have this item in stock?
If any of your repeat contact volumes are this simple to deal with, self-service within your IVR can be a very valuable tool.
Find out about other nifty features that come in modern IVR solutions by reading our article: What to Look for When Buying an IVR
For more on how to optimize the performance of your call centre IVR, read our articles: