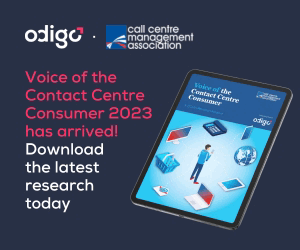 Melissa Cowdry at Odigo outlines 3 reasons why empathy in customer service can be a key value driver for agents, contact centres and the broader business.
Technology has inspired a rapid evolution in the role of the contact centre as a business value driver. But in challenging times, the age-old trait of empathy in customer service can be just as important in driving excellent CX, retention and return on investment (ROI).
Read on to learn more about how contact centre leaders and their agents can use empathy in customer service to become agile, drive cross-channel strategies and deliver greater customer loyalty.
Proximity has been a predominant concept in public discourse over the last year. But beyond all the talk of social distancing and "Hands, Face, Space," it has been a big issue for businesses too. The rise of remote working and a digital migration to online commerce and services have left employees feeling further away from both colleagues and customers.
Technology bridges that gap to an extent, but to really generate that feeling of proximity and community with customers – and workforces – empathy should be the key metric.
Empathy in customer service is not a new concept; in fact, it has probably been the single most important differentiator between good human interactions and failed ones. Nevertheless, in challenging times – both socially and commercially – it takes on whole new levels of importance.
The value of customer empathy is well established within contact centre operations. But its value isn't limited to customers alone; contact centre agents, too, can benefit from the combination of CX and empathy.
As the World Economic Forum wrote earlier this year, "the pandemic has made organisations realise they must better understand employees' experiences and needs". While the urge to put customer empathy over profit can be a difficult one to swallow in times of economic upheaval, it doesn't have to be an 'either/or' equation. In fact, empathy in customer service can drive ROI and loyalty, enabling improved cross-channel strategies and encouraging agents to be more open and agile. This blog will now take a look at the three reasons customer empathy is key to business success.
CX and Empathy Boost Customer ROI and Loyalty
CX and empathy should go hand in hand. Empathy is critical to understanding customers; how they feel and what they need. It's important for contact centres to offer empathetic service to customers, but even more so in difficult or challenging circumstances that bring about stress, anger or uncertainty.
For example, scenarios such as lost or stolen credit cards can be handled a number of ways from the contact centre side, but an empathetic response that understands and eases concerns is going to generate a more positive interaction. And positive interactions equal increased loyalty.
Developing personas is a good way to instil more customer empathy in your operations by mapping a range of customer journeys to give agents a jumping-off point for their interactions. However, it's also important that empathetic agents are empowered to react to the nuances that emotional or difficult circumstances inevitably bring.
A Harvard Business Review (HBR) study found that the top 10 most empathetic companies increased their financial value more than twice as much as the bottom 10 companies.
More recently, against the backdrop of global health and economic challenges, Episerver found that a majority of B2B leaders were struggling to meet customers' needs and expectations, even before the pandemic: 71% said they have a customer-centricity gap, and 54% said their customer relationships are strained, developing or non-existent.
These respondents recognised that the area most in need of improvement was in the understanding of customer requirements. Taken together, these stats – from HBR and Episerver – provide concrete evidence of the importance of empathy in customer service.
The ability to understand what customers want at any given time is key to the success of any CX strategy, and getting the mix of CX and empathy right can deliver better business results.
Empathy in Customer Service Drives Cross-Channel Strategies
The rise of a digital-first world has changed the way customers and brands interact, especially via contact centres. New channels have given consumers more ways than ever to raise queries or issues, making it essential for businesses to develop comprehensive multichannel strategies.
Emotionally intelligent leaders can facilitate the success of these strategies, connecting more naturally with their employees and inspiring an agile, open-minded approach to CX and empathy.
Successful cross-channel strategies are born from a recognition that customers don't, in fact, see 'channels' at all. They see different means of contacting a business, varying by degrees of effort taken and reward perceived.
And customer journeys are no longer sequential: picture someone in an electronics shop, looking to buy a new TV while conducting a price comparison search online.
As a result, empathetic agents – empowered by journey mapping, personas and data analytics – can better understand the end-to-end journey and make real-time interventions when, where and how customers require them.
According to research conducted by eConsultancy, most UK companies recognise the need for fluent cross-channel collaboration, yet 70% fall short of the mark. 41% of respondents see their organisation's structure as a significant barrier to omnichannel customer experience.
Customer Empathy Encourages Agents to Think Laterally
Empathy is a natural human ability, enabling us to read and interpret the feelings of people around us and react accordingly. Nevertheless, contact centre agents might feel constrained or pressured by commercial imperatives (KPIs or counter-intuitive targets) to ignore this natural instinct and stick to protocol.
These elements combine to create an environment that "short circuits that natural human instinct and forces the advisor to worry more about self-preservation" than providing a humane and sincere experience to the customer.
To avoid this, contact centre leaders should encourage an open culture that prioritises people just as much as it does profit, empowering agents with training in soft skills such as customer empathy and critical decision-making.
In turn, this will enable agents to think creatively when making individual judgement calls and 'go the extra mile' to ensure excellent empathy in customer service.
CX and empathy hold the key to great CX, and also allow agents to act naturally, develop professionally and derive greater satisfaction from their work than they would from a more rigid approach to customer service.
In today's business landscape, agile organisations are more likely to succeed. McKinsey found that agile business units dealing with customer empathy and satisfaction outperformed non-agile competitors 93% of the time.
Many organisations now recognise how customer empathy can instil agility, and are beginning to take steps to better understand the needs and experiences of their employees and the communities that surround their business.
As challenging as recent times have been, this recognition may be the silver lining that helps to unlock greater empathy in customer service.
This blog post has been re-published by kind permission of Odigo – View the Original Article

For more information about Odigo - visit the Odigo Website