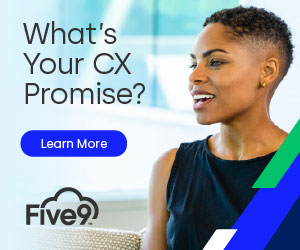 Here are our tried-and-tested empathy statements for customer service that can help agents build great rapport – across all channels.
What Is Empathy?
Empathy is different from sympathy. Empathy is the ability to "walk a mile in someone else's shoes", while sympathy is feeling the same feelings as the customer.
It's the difference between saying, "I can see why you're upset about your broken centrepieces, let's look into finding a replacement for you" (empathy), compared to thinking and saying, "I'm really angry about those broken centrepieces too" (sympathy).
What Is an Empathy Statement?
Empathy statements are short phrases that help you establish a connection with the person you are talking to.
They show that the other person is your sole focus and that you are taking personal responsibility for them in this conversation. They help create trust and mutual understanding.
Empathy is a great tool to help show customers that you are on their side, and empathy statements can be used in many difficult customer situations.
To find out how contact centres can create an action plan for empathizing with customers, read our article: An Action Plan for Customer Empathy.
Top 5 Empathy Statements for Customer Service:
1. "I'm sorry you are having this problem."
It helps to genuinely just say sorry. For example, "I'm truly sorry to hear about your experience."
2. "That would frustrate me too."
Put yourself in their shoes and imagine how they must be feeling.
For example, agreeing with the customer and saying things like "That would frustrate me too", and "I would be asking exactly the same questions as you are" can all help them to feel understood.
3. "I have experienced a similar problem recently, so I understand what you are saying. Let me see what I can do to help you out."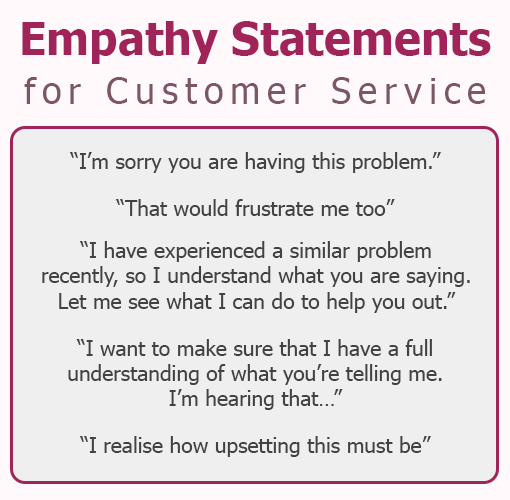 Drawing on their own experiences singles the advisor out from the company that the customer is feeling aggravated by.
Then, by signalling that the problem has now gone, the advisor has demonstrated that a solution is available.
4. "I want to make sure that I have a full understanding of what you're telling me. I'm hearing that…"
Expressing the desire to listen deeply to the customer, by giving them the opportunity to correct your understanding of their query, reinforces the customer–advisor connection and improves customer service.
5. "I realize how upsetting this must be."
Customers also need to feel like you are on their side and not fighting them on their issue. This is where statements starting with "I realize…", "I understand…" and "I appreciate…" can make a massive difference.
For example, "I realize how upsetting this must be", "I understand that this has been inconvenient for you", and "I appreciate your patience in this matter."
★★★★★
Top Empathy Statements to Paste Into an Email or Live Chat
Training agents to show empathy extends across all channels – not just voice.
Here are 9 empathy statements that Leslie O'Flahavan, Principal and Owner at E-Write, shared with us in our 'Chat and Email Mistakes to Avoid' webinar:
These can be pasted into emails or live chat conversations to help your agents show empathy:
I would be upset too.
I realize how complicated it is to…
I can imagine how frustrating that would be.
That would be disappointing, especially when… [paraphrase the customer's perspective or efforts]
We want to understand what happened just as much as you do.
I can see why that made you angry.
This situation is unacceptable to us too.
If I were in your situation, I would feel exactly the same way you do.
If I were in your situation, I would be asking the same questions you are.
☆☆☆☆☆
Additional Phrases to Help You Show Empathy and Understanding in a Conversation:
"I can see where the problem is, Sir/Madam…"
Conveying the advisor's experience in handling calls of this nature provides the customer with a strong indication that the call centre professional will be able to find a swift solution to the query.
"We will work to resolve the problem. You just enjoy your (birthday/holidays/Christmas break, etc.), and I will be in touch shortly."
Acknowledging a customer's personal holidays and future plans allows your advisor to add a personal touch to the interaction, and basing your actions around a customer's schedule demonstrates an empathetic approach.
"When I am done, if I have got something wrong, I would appreciate it if you would correct me, if that is ok?"
Involving the customer in the process of clarifying and solving their enquiry allows them to feel encouraged as to its progress and does not leave them "stuck in the middle".
"You're absolutely correct."
Displaying respect and empathy for the customer's opinions demonstrates the advisor's consideration for their client's predicament.
"This should be fixed by the end of the weekend, Mr Smith."
Providing a close, but realistic, timeframe for when a customer query can be answered, if it cannot be solved immediately, should again take responsibility away from the customer and allow them to relax.
"I will contact you as soon as we have had an update."
Making a commitment such as this and then following it up should help you to establish a basis of trust between the company and the customer, which helps in forming a long-standing relationship.
"I will be sure to pass on what you have told me to our managerial team."
Exhibiting that you are proactive when receiving criticism and that your advisors are in constant communication with their superiors helps to assure aggrieved customers that the right procedures are in place to handle their complaints.
If the situation is especially difficult, some more great statements can be found in the following article: 27 Positive Statements to Use In Difficult Situations
☆☆☆☆☆
What Should Be Included in Empathy Statements?
Personal Pronouns
The words "I" and "you" are essential in empathy statements for irate customers, as well as other types of challenging customers.
When you use personal pronouns (and especially "I" rather than a more corporate "we") the listener understands that you are personally involved and interested in them as an individual. They feel that you understand their situation and that you want to help them as a priority.
Active Verbs
Compare: "This will be resolved by our team" with: "I will ask our team to resolve this."
The first version is anonymous, lacking personality and has no underlying responsibility, whilst the second will make your customer believe that there is a real person actively working to fix an issue, and who might physically chase the team until it is done.
So, replace passive verbs with active verbs, which add a sense of immediacy.
Authenticity
Reading standard empathy phrases without being authentic creates resentment and can increase anger.
Be genuine, honest and be yourself. Reading standard empathy phrases without being authentic creates resentment and can increase anger. It is more important to be natural, calm and positive than to get the exact phrasing correct.
Authenticity means using a natural tone and less formal ways of speaking.
Use "thanks" instead of "thank you"; "hi" instead of "hello"; "enjoy the rest of your day" instead of "goodbye". Use contractions/short forms of verbs: you're, can't, he's, don't, etc.
This is essential for building empathy in customer service.
Thanks to Matthew MacLachlan, Head of Intercultural and Communication Skills Training at Learnlight
Using Empathy Statements in Customer Service
Assessing the Situation
The first duty of an agent when handling a customer query is to assess the situation. When doing so, the agent should use empathetic statements to convey their interest in and attentiveness to the customer's enquiry. For example:
"Can you tell me a little more about it, please?"
Clarifying the Situation
Once your advisor has all such information at their fingertips, the situation must next be clarified to ensure that your frontline worker and their customer are both "on the same page".
Here, empathy statements are vital so that the customer does not get frustrated at having to repeat themselves. For example:
"When I am done, if I have got something wrong, I would appreciate it if you would correct me, if that's ok?"
Reassuring the Customer
When the advisor has a full understanding of the matter at hand, they should make the process of what happens next clear to the customer.
This involves reassuring the customer that the company is striving to resolve their issue, improving customer service and further building customer–advisor rapport. For example:
"We will help you get this issue resolved."
Tip – As well as using respectful, compassionate and attentive language to empathize with the customer, reassuring noises can also serve the same purpose.
Pure silence on the agent's part can cause the customer to feel helpless, so agents should use such noises to assure the client of their focus and understanding.
Providing a Sense of Immediacy
Whist reassuring the customer of their enquiry's importance to the business, it is also important for advisors to provide them with a sense of immediacy. This is particularly important for angry customers.
In order to minimize customer frustration at spending too long on the phone, your agents should use empathy statements for irate customers to alleviate such feelings and demonstrate a caring approach.
Making a Commitment
As well as reassuring the customer and providing them with a sense of immediacy, making a commitment to them helps to comfort customers with the knowledge that their issue is being treated. For example:
"Do let us know if you have any further questions, Mr Smith."
Maintaining Strong Customer Service
After the process has run its course, there is a chance that the customer will not be completely impressed by the answers that they have received.
In such a situation, building an empathetic atmosphere is key to maintaining strong customer relations and providing a great service.
Closing the Call
Now that the call is ending, agents must still maintain a respectful tone and maintain their empathetic attitude so that customers feel comfortable voicing more concerns and stay satisfied with the service received.
A good way of ending the call is something along the lines of:
"I hope this helps. Please come back to me if you have any other problems."
Our article The Best Call-Closing Statements explores best statements and phrases to end a phone call.
More Quick Tips for Showing Empathy
This video contains some great tips for how you can show empathy using the above suggestions – and some more great, original advice.
In the following video, Neil Martin of The First Word shares some of his favourite empathy phrases and how to blend them into apology letters and emails.
For more on the topic of building empathy in the contact centre, read our articles: