One of the best employee engagement questions you can ask is "Do you have a best friend at work?"
Unless you work entirely on your own, the chances are that you work with at least some other people. Do you like them? Do you need to like them? Given that we now, typically, spend a huge proportion of our time at work, perhaps it's more important than ever to have friends at work.
There are five good reasons.
1. Confide
It's really important to have someone you can confide in. Having someone you trust, who you can unburden yourself to when things get tricky, is invaluable.
You may have a very supportive partner at home, but a colleague at work will have an even better understanding of the world you work in, and may be better placed, with more insider knowledge, to understand your viewpoint.
2. Share
There's no doubt that it's important to have someone you can share the positives with. Having a work colleague who you can laugh with makes even the most unpleasant working environment a much more bearable, and even enjoyable, place.
Your non-work friends and family may listen politely, and even kindly, as you tell them what's been happening at work. But it doesn't compare to that feeling when you really share experiences with someone who can directly relate to what you're saying.
3. Engage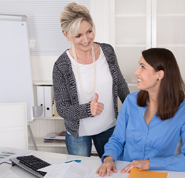 Making friends at work is more than just making connections. It's a clear indication of how engaged you are at work. If you see your job as something you do to survive, with no other benefits, then you are probably not at all engaged.
Investing time in friendship is a sign of how prepared you are to invest time in your job. Research shows that the more engaged you are with your job, the more you enjoy it and feel fulfilled.
4. Benefit
Having friends in the workplace can be mutually beneficial. If you can find someone who you can bounce ideas around with, or get advice from, you can both benefit.
You'll also enjoy that warm feeling that comes from helping others!
5. Differences
Whilst it's really valuable to have someone in particular that you can befriend, it's also important to have a variety of friends. You may have a best friend at work, but you can equally benefit from having a good group to socialise with.
Happily, then, when one of your friends is on holiday or leaves, there's not a gaping hole in your work-life – you have plenty of other friends to help you make the day more enjoyable and fulfilling.
That Roman philosopher Cicero put it well many centuries ago when he said, "friendship improves happiness, and abates misery, by doubling our joys, and dividing our grief". Or perhaps it's even simpler than that and has nothing to do with work. As Linda Grayson said, "there is nothing better than a friend, unless it is a friend with chocolate!"
With thanks to Heather Foley, a consultant at etsplc.com (a bespoke provider of HR consultancy)