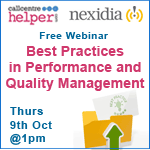 In this webinar we will be sharing best practices that have come out of many hundreds of hours of effort, conducted as part of the P&Q (Performance and Quality) challenge.
Agenda
Introductions – Jonty Pearce, Call Centre Helper
P&Q Challenge – The results – Martin Hill-Wilson, Brainfood Extra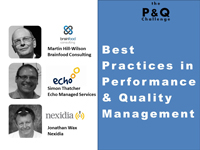 Click here to view the slides.
Our Performance and Quality Journey – Simon Thatcher, Echo Managed Services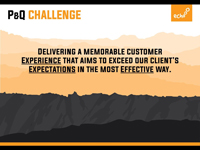 Click here to view the slides.
Performance Management with Analytics – Jonathan Wax, Nexidia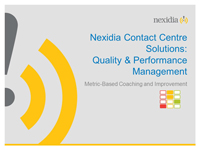 Click here to view the slides.
Your tips
Winning tip – "Present to groups of customers – Presented our process for quality monitoring, why we take it seriously and ran through some simple exercises to understand what they wanted from a call. e.g. What made it special to them. How they want us to treat them at the telephone. It's enlightening and has helped us understand our customers more and tailor our service." – Ian 11
Interactive Q&A – Live Questions from the audience.
Topics to be discussed
Latest research on Performance and Quality Monitoring
What should a future performance management system look like?
Best practices in Quality Measurement
Getting agents bought into Quality
Best ways to score agents
Building customer feedback into the process
Self-management and peer review
Helping team leaders to provide coaching
Building a highly transparent and calibrated process
Interaction analytics
Top tips from the audience
Interactive questions and answers
Original Webinar date: October 2014
---