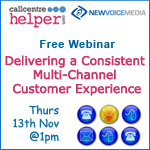 The number of contact centre channels has expanded dramatically across the past few years.  And with it so has the complexity of delivering a customer experience.
In this webinar we looked at practical steps that can be taken to deliver a consistent customer experience.
Agenda
Introductions – Jonty Pearce, Call Centre Helper
Maria McCann – JoHo Ventures
Mary-Ann Millar – NewVoiceMedia
Winning tip – Often the talk is about one channel and moving channels whereas I believe that the use of more than one at a time will be more rewarding for customers and businesses. Congratulations to John9.
Interactive Q&A – Live questions from the audience
Topics discussed
The latest trends in multi-channel contact
Phone, email, web chat, social media, video and traditional post
Joining conversations across channels
Consistent customer data
Consistent metrics on multi-channel
Use of technology
Top tips from the audience
Original Webinar date: November 2014
---