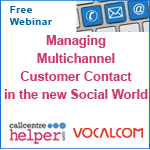 Managing multichannel contact has become a real headache for many companies.
Customers now expect that they can jump from the web site into a web chat, and then follow up with an email or phone call.  And then if they don't get what they want it all spills out onto social media.
This interactive webinar explores solutions to multichannel headaches.

Agenda
Introductions – Jonty Pearce, Call Centre Helper
The Multichannel Customer Service Challenge – Serge Cren, Difference Corporation
Managing Multichannel Customer Contact in the new Social World – Simon Harrison, Vocalcom
Winning tip –"Define measurable goals and KPI:s for working with social media. What do you want to achieve by launching a new contact channel? If this isn't clear, you'll drive costs rather than customer satisfaction…" thanks to Fredrik.
All the tips from the audience have now been turned into an article How do I… get the best from a multi-channel contact centre?
Interactive Q&A – Live questions from the audience
Topics to be discussed
Managing multichannel contact
Dealing with social media
Email and web chat
Twitter and Facebook for customer service
Prioritising important customers across multiple channels
How best to use technology
Multichannel case study
This webinar is brought to you by Call Centre Helper and is sponsored by Vocalcom.
Original Webinar date: November 2013
---