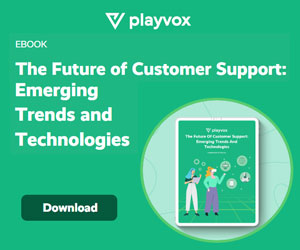 We provide great insights into the future of social customer service and discuss what you need to do to keep up to speed.
Social Customer Service Is a High Profile Channel
While social customer service is a channel of comparatively low contact volumes, there is no doubt that for most, it remains a high-profile contact centre channel.
Although there are low levels of customer interactions coming through these channels, these interactions have an audience, so any negative sentiment from the customer is magnified.
Some customers who know that you're active on social media will use social customer service knowing that the issue will be dealt with quickly. This can be preferential to waiting in call queues.
Yet the trouble is not all companies respond to social media complaints quickly…
Fix Your Social Media Service Levels
Just look at the following chart that shows the range of service levels for social media across various contact centres.
This graph highlights the distinction between different organizations in how social media is valued by different contact centres.
The businesses represented in the bubble in the bottom right-hand corner of the graph recognize that – in their industry – bad social media customer service brings a significant danger in bringing an audience to the customer's issue.
But if you want to respond quickly and effectively to social media queries, you need to strategize – otherwise things can go very wrong.
For more bubble graphs showing how service level varies across contact centre channels, read our article: What Are the Contact Centre Service Level Standards?
Is Your Social Customer Service Strategy up to Scratch?
When social customer service was introduced 10–15 years ago, many contact centres really struggled to adapt to the new channel.
Why? Well, the big difference with the social media channel, unlike others, is that customers are talking about your organization all over the internet, instead of talking directly with you.
Contact centres have to engage themselves proactively in conversations, as opposed to being reactive. Yet long-standing contact centres are often not built for that.
This change means that contact centres have to engage themselves proactively in conversations, as opposed to being reactive. Yet long-standing contact centres are often not built for that. They are used to providing reactive customer service.
Of course, you can respond when a customer tags you in a post, but that won't always happen and you can't just rely on this if you want to excel in social customer service. You need to design a better workflow.
The Ideal Social Media Workflow
If people are talking about you and you need to respond systematically, you must be proactive. So the first thing that you need to do is listen.
Yet, for big companies, there may be thousands of social posts that reference your business each day, some of them complaints and some of them compliments. The tricky thing is tracking those posts.
This is where social listening technology, such as Hootsuite or SproutSocial, comes in, which can also help you to analyse responses and filter customer feedback. But a cheaper method is to just set up Google alerts.
Any of these methods will let you know when your customers are talking about you, not just on traditional social media sites, but also in forums, blogs and third-party review sites.
This then lends itself to a new workflow, which any contact centre with a successful social customer service strategy should be familiar with, as highlighted below.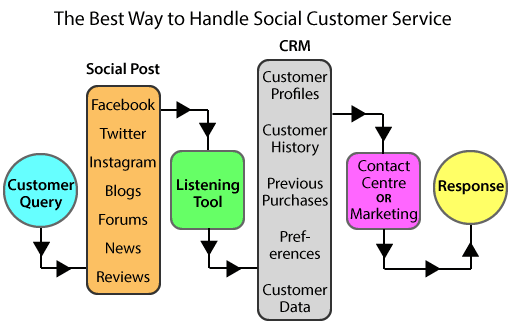 From this diagram, you can see that your social listening tools will ideally be integrated with your CRM, the same CRM that sits behind every other channel. This means that you can capture a customer's social profile and track their journey across different channels.
This means that the advisor has all the information possible to deliver a great response to the customer in this public arena.
So, ideally you will create a social customer service workflow that resembles the example above.
5 Other Social Customer Service Considerations That You Need to Make
Alongside coordinating your social media with other customer service channels, there are other considerations that you need to make in order to perfect your social strategy. These include:
1. When Should We Respond and When Should We Not?
It needs to be simple for advisors to understand when they should and shouldn't respond to compliments, complaints or other issues.
Not only that, there are other things to consider here, such as whether that engagement should be made in the public space or maybe redirected to a private channel.
A best practice here is to create an easy-to-follow flowchart… on when to engage and how to do so.
With that being said, it's important to have clear interaction governance on social channels, and a best practice here is to create an easy-to-follow flowchart, with and for advisors, on when to engage and how to do so.
2. Can Advisors Use the Knowledge Base to Support Conversations?
Being in a public space, customers can see how you dealt with other customers' problems as well as theirs. So if they see you offer a better response to somebody else, they may well feel aggrieved.
From this, you can tell that consistency is key when it comes to social customer service, as you look to create a uniform corporate presence on key social media sites.
To do just that, it is great to have a knowledge base that is regularly updated so you provide the same information to each customer.
However, it is also great for the advisor to tailor the response themselves, using the knowledge base information, to provide a personalized response on an informal channel.
Find out all the basics of best using knowledge technology, read our article: An Introduction to Call Centre Knowledge Base Software
3. Can We Use Social Media to Improve Customer Experience?
Social media is a great way for crowdsourcing information. It provide lots of open feedback that enables us to optimize social media customer service.
If your advisors spot a recurring issue, why not ask them to take screenshots whenever a customer complains about that problem.
Armed with this compilation of complaints, you can go to the department that's causing the issue to say: "We are seeing this mistake, time and time again. What can you do about it?"
This can be a great way to harness advisor insights, so why not?
4. Is Marketing Undermining Our Social Customer Service Efforts?
Often, the contact centre shares control of social media with the marketing department. After all, their job is to engage customers with the brand, so it makes sense, right?
Well, only if you're all singing from the same hymn sheet. If marketing are promoting, via social media, that you're an easy brand to talk to, but you are taking hours to respond to social queries, that's a mixed message that you are sending to customers.
It is because of examples like this that it is often better for the contact centre to take sole control of social media and the wider customer experience, according to Nerys Corfield, Director of Injection Consulting.
"Contact centres are the front and centre of our organization. The contact centre should own the customer experience, because the contact centre knows what is really happening," says Nerys.
"So, you in the contact centre should be in discussions with marketing, telling them what they can do to support you in supporting the customer."
5. Should We Extend Your Opening Hours for Social?
People post to social media sites 24 hours a day, seven days a week – so if our contact centre is only open from 9am to 5pm, we have a slight logistical issue.
While on other channels customers may accept shorter opening times, as this has always been the case, this is not necessarily the case when it comes to social customer service.
On this channel, customers would likely expect opening hours that better reflect the nature of social networking sites.
If you represent a high-profile brand within an industry such as retail, telecommunications and travel, the excuse: "Sorry, we're closed from five" just isn't good enough.
Responding to Social Media Complaints
While each organization will take a different approach when handling complaints in social customer service, there is some universal advice that we can share in the form of the three points below.
Transparency Is Key
Because social customer service conversations are out there in the public domain, in the contact centre we will often want to move them across to a private channel and stop the flow of negative word of mouth.
The reality is, as long as no private information needs to be shared, it is better to stay online if you can. This is because if we solve the customer's problem in a friendly and proper way, the customer will likely be grateful at the end of the experience.
If you believe you deliver good customer service, leave it out there for your followers to witness and appreciate.
Also, if you believe you deliver good customer service, leave it out there for your followers to witness and appreciate.
Get Your Policy and Guidelines Together
One of the biggest headaches for a leader in any profession is trusting staff to have access to social media at work. But, in terms of offering social customer service, it is in the job description.
Many organizations have a social media section written into their HR policy for internal employees, to prevent staff from using social media in a negative way, referring to the company and customers.
The key here is to make it very obvious to staff when they should be using social media and when they should not. But don't force them to log out if they move across to another channel – show some trust in them.
Promote Internal Education
When approaching social customer service, many brands make a risky assumption of assuming that social media requires the same amount of training as messaging friends.
Over the years, many tongue-in-cheek posts have gone viral on social media as a result of this informal, chatty approach.
But it is harder than it may first appear to achieve the right tone, in the right moment, in order to achieve customer satisfaction through social customer service.
As Andrew Moorhouse, Director of Insight and Data Analytics at Blue Sky, tells us: "Great customer service comes from identifying and training for the behaviours that are scientifically proven to work."
"To make digital service a success, organizations can't just jettison those behaviours in favour of a seductive 'free rein' approach."
It is for this reason that many leading organizations in social customer service set up internal social education training programmes. Dell, for example, have the "Dell University" and Best Buy have a ""Geek Squad".
Get Your Social Customer Service Forecasting Right
The following method for forecasting for social customer service borrows from another blog published on our site, titled: Forecasting Social Media for Your Contact Centre.
To provide great social customer service, you need to be hitting your service level. For that to happen, you need forecast your social demand and make sure you have enough advisors in place to meet that demand.
So, how can you determine your demand?
The best way is to use social listening tool to find out how many times your company is mentioned across various social media sites, including hashtags that are associated with your organization. This will give you your gross demand.
Find out how many times your company is mentioned across various social media sites, including hashtags that are associated with your organization. This will give you your gross demand.
The next step is to conduct thorough research to determine what percentage of the overall social posts that you are mentioned in you would like advisors to actually respond to.
Then, you can apply this percentage to your gross demand, so you only plan for the social messages that you want to respond to, and then apply that to a traditional forecasting model.
This is a very basic method for forecasting social customer service, but for more advanced techniques, read our article: The Latest Techniques for Call Centre Forecasting
In Summary
The hype around social customer service is fading fast. But that does not mean that the channel is not worth investing your time in.
With a clear social workflow and well-trained advisors, you can provide great customer service in a public domain, which can help you to emphasize just how much you care for your customers.
This will not be easy. But the tips, key considerations and further advice provided in this article should help you along the way.
For more advice on how to provide excellent customer service across digital channels like social media, read our articles: