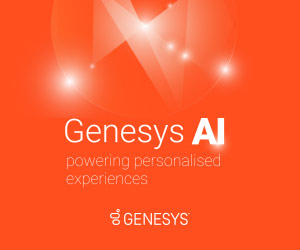 Genesys is proud to be named a 2022 Gartner Magic Quadrant for Contact Centre as a Service Leader, which marks our eighth consecutive year of being named a Gartner Magic Quadrant leader.
We're also named highest in ability to Execute. And we are ranked No. 1 in three of the five Critical Capability Use Cases: High-Volume Customer Call Centre, Customer Engagement Centre and Global Contact Centre.
We believe our Leadership position is grounded in delivering a solution that enables customers to transform siloed interactions into connected experiences.
Our business has been growing with tremendous momentum. Today, we have more than 600,000 customer service agents on our Genesys Cloud CX platform, delivering more than 20 million personalised customer experiences every single day.
We are en tête de la course, leading the race with our pace of innovation by consistently delivering five new features to customers every week.
And we operate in 100 countries, with more than 40% of the company's revenues come from outside North America. Our expanding footprint removes boundaries, ensuring data privacy and security, while complying with ever-changing local regulations.
We continue to aggressively expand into new technology areas, such as digital — where we've seen a 70% increase in customers using at least two digital channels over the last 12 months — and workforce engagement management (WEM), with 85% of our customers now using three or more WEM capabilities.
We're committed to creating, investing and integrating software technologies, such as digital, artificial intelligence and customer journey analytics that create the fabric to support seamless customer experience orchestration — the Genesys magic ingredient for personalised customer experiences.
With this year's recognition as 2022 Gartner Magic Quadrant for Contact Centre as a Service Leader, we're very motivated to continue our track record.
This blog post has been re-published by kind permission of Genesys – View the
Original Article
For more information about Genesys - visit the
Genesys Website