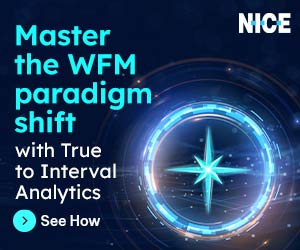 NICE has announced that Gartner has recognized them as a Leader in the just-released 2022 Gartner Magic Quadrant for Contact Center as a Service (CCaaS) report with CXone being evaluated.
NICE placed the furthest overall for its Completeness of Vision in the Leaders quadrant. This marks the eighth consecutive year that NICE has been named a Leader in the CCaaS Magic Quadrant.
This 2022 Gartner Magic Quadrant for CCaaS evaluates Contact Center as a Service providers that empower exceptional customer experiences across industries around the globe. The Gartner Magic Quadrant describes Leaders as follows:
"Leaders are best described as suppliers with strong support for the four pillars of great customer service, and with an ability to serve multinational organizations with local sales and support organizations.
Leaders are more likely to serve customers through channel partners and have strong brand recognition, which has resulted in a large installed base or above-average market growth as a result of customer demand.
Leaders also benefit from being able to support varying levels of deployment complexity, including integrations with partners through established marketplaces."
NICE CXone delivers the industry's only combination of CCaaS, WFO, Analytics, AI and Digital Self-Service based on CXone, the world's leading cloud-native CX platform. This creates smart, connected self-service and human-assisted interactions across the entire customer journey.
With intelligent bots, virtual agents, automated proactive engagement, mobile engagement, and accessible knowledge, organizations are able to expand their workforce, helping customers find answers quickly and move effortlessly between self-service and agent-assisted support.
CXi is designed to empower organizations to intelligently meet their customers throughout their entire journeys, enabling resolution through AI and data-driven self-service, and preparing agents to successfully resolve any customer needs event.
"We are thrilled to again be recognized as a Leader by Gartner for the eighth consecutive year," said Paul Jarman, NICE CXone CEO.
"As a digitally fluent customer experience increasingly becomes a brand's most potent differentiator, NICE is pioneering a new market standard of AI-infused customer experience interactions (CXi).
With the most complete, connected, and intelligent integrated CX solution, we are helping brands exceed customer expectations by exceeding the boundaries of the contact center to create better, more meaningful interactions with customers.
We believe this recognition from Gartner amplifies NICE's core commitment to advancing digital transformation and the success of the organizations we serve by strengthening their customer relationships."
NICE was recognized in the very first Gartner Magic Quadrant for CCaaS* report in 2015 as a Leader and has been recognized as a Leader in the Magic Quadrant for CCaaS consecutively since then.
The company believes its consistent recognition in this report reinforces its ability to identify market trends early and continually innovate accordingly to deliver the technology solutions organizations need to advance customer success.
Earlier this year, NICE was recognized for the first time by Gartner as a Leader in the 2022 Gartner Magic Quadrant for Robotic Process Automation (RPA). NICE is the only CX vendor to be named a Leader by Gartner in both the 2022 Magic Quadrant reports for CCaaS and RPA.
*NICE was recognized as inContact in the 2015 and 2016 Magic Quadrant reports for CCaaS, North America. It was recognized as NICE inContact in the same report from 2017 until 2019. The report name was updated to Magic Quadrant for CCaaS starting 2020.
This blog post has been re-published by kind permission of NICE CXone – View the
Original Article
For more information about NICE CXone - visit the
NICE CXone Website