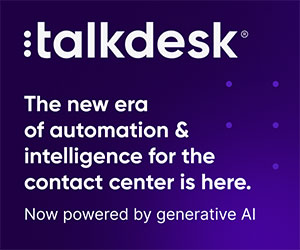 Lídia Dias at Talkdesk outlines the best corrective and preventative tactics for high call volume and seasonal spikes in the contact centre.
"Due to higher than normal call volume, you may experience a greater hold time than usual". The most hated phrase a customer can hear when reaching the customer service line and, unfortunately, a standard part of many contact centres' call greetings.
If you stop and think for one moment, this tells one thing to your customer: this problem of yours? Well, it may take a while until you can get a solution for it. And for an unsatisfied, unhappy customer, this draws the barrier between returning or not.
We know it's not your team's fault. Staff turnover or unintended reduction, seasonal rush, or major unpredictable events might lead to more calls than your contact centre can handle. And when the call volume is high, so is the average waiting time.
But not being able to handle the upcoming calls may be perceived by your customer as not understanding how to staff your contact centre properly or, worst, just not caring at all.
If you don't have a strategy to handle high call volume and the seasonal or event-related spike in calls, you may be jeopardizing customer satisfaction, brand reputation, and the company's profit. In the long-term, it will make you lose customers and employees.
Keep reading and understand the causes of high call volume, its impact on the contact centre and the business, and the corrective and preventive measures.
What Is High Call Volume?
Simply put, high call volume is when the number of inbound calls is more than your team can answer. Its severity depends on the situation and on the business. For example, some businesses may be more prone to a higher volume of calls because of the industry, and others may experience call peaks at certain times of the year.
The pandemic outbreak is a perfect example of how contact centres are vulnerable to external conditions when handling incoming calls. In March 2020, contact centres that managed hotel and flight reservations experienced a never-seen number of incoming calls.
At the same time, several other industries reported high call volumes not because they had more incoming calls but because lockdowns and office closures significantly reduced the available workforce.
For that reason, you can always foresee call overloads. But, in other cases, high volume cases are unavoidable and predictable, caused by holidays or season changes, service outages, or when running big marketing campaigns.
High Call Volume Corrective and Preventive Tactics
Utilizing call centre software that displays real-time metrics will allow managers to anticipate problems, make informed decisions, and engage in reparative action when necessary. During high call volume times, managers can employ several corrective and preventative measures to increase their team's effectiveness.
Here are some that you can take to prevent high call volume from damaging your company's reputation:
Maximize Your Contact Centre Capacity
This is an "all hands on deck" approach that immediately helps your team to better accommodate the current call demand. It may not work as a long-term fix, but it will give you breathing space in the short term. For instantly maximizing your contact centre capacity, you need to:
Ask every agent to handle calls (and automate after-call work).
Reschedule and adjust breaks after the call volume has decreased.
Recruit agents that are away or offline.
Postpone training sessions or meetings.
Forecast High-Demand Periods
Especially in businesses driven by seasonal events like holidays, having workforce management software that forecasts high-demand periods can help you hire more staff and plan to respond to customer demand and to prevent high call volume.
Maximize Available Resources
Increase efficiency utilizing available resources. Support agents with problem-solving or expedite wrap-up by providing an AI-powered knowledge base and frequently asked questions (FAQ) website page that allows customers to search for information.
At the same time, allow agents to navigate the same knowledge base content your customers rely on, so they provide answers to customers' requests faster and more effectively.
Rely on Chatbots and Virtual Assistants
Like a knowledge base and FAQs, chatbots allow customers to look for information on their own but in a more intuitive, conversational manner. Chatbots, also known as virtual agents, can serve as the first point of contact with a customer, solving the issue within the knowledge base and referring more complex questions to a human agent.
They're helpful to deal with high call volume periods and help scale contact centre and free human resources to achieve operational excellence.
Invest in Alternative Channels
Alternative channels, like email, social media, and live chat, are a good add-on to your customer service. They give customers different options to contact support without increasing incoming calls, and they're easy and comfortable to use.
Don't forget to ensure that all channels are connected, so if a customer calls after reaching support through another channel, your agents have quick access to the customer's history and information.
Manage Customer Expectations
Setting realistic customer expectations can help to reduce their frustration and will facilitate a more productive conversation. Use interactive voice response (IVR) to quickly and accurately match the customer with the appropriate call centre agent.
Record appropriate messages IVR greetings stating that there is a large wait time, but don't forget to give an actual estimate of wait time if possible. Allow the caller to leave a voicemail during large call volume times.
Improve Communication and Update Scripts
The truth is many calls are follow-ups or clarifications on things that weren't made clear. You can avoid calls triggered by missing information or misunderstandings and significantly reduce call volume. Be sure your company's communication is easy and straightforward and that your agents are provided with complete, updated scripts that don't leave any important information behind.
Automate Workflows
Automation tools can save your team's time and leave your agents free to do more. Workflows can automatically update databases, enter disposition codes, complete forms, and send emails, so agents spend less time on after-call work and more time speaking with customers.
The Aftermath of a Call Overload
Employing these tactics during high call volume times will help increase the effectiveness of your team by reducing the amount of time your customers wait, decreasing frustration, and increasing service quality. They are small steps that when employed routinely can have a large effect on your call centre statistics and customer satisfaction.
However, you should take further action to analyze the root causes of high call volumes. You can start by asking simple questions:
Are peak times related to sales promotions or holiday seasons?
Is the company giving enough information on the website?
Can other teams be involved to help prevent call peaks?
What is the first call resolution rate?
How can it be improved?
Share metrics and conclusions across departments and work on data-driven strategies to deal with the sometimes not so much unexpected call increase.
This blog post was originally published in January 2013, and updated in October 2021.
This blog post has been re-published by kind permission of Talkdesk – View the
Original Article
For more information about Talkdesk - visit the
Talkdesk Website