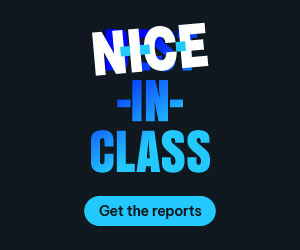 John O'Hara at NICE recognizes contact centre workers and their contributions throughout the pandemic.
Throughout the COVID-19 pandemic, key workers have braved the risk of infection to go to work in industries vital to the functioning of society.
NHS staff, supermarket employees, delivery drivers and others have provided essential services to millions of people, while everyone else was isolated.
Contact centre agents, whose role is critical to business continuity in industries such as healthcare, telecom, utilities and financial services, are no different.
Since the start of the pandemic, 78% of contact centres in the UK have reported increased interactions as customers reach out for support at this crucial time, according to data released by NICE inContact.
As customers looked for answers to day-to-day as well as more complex issues throughout the lockdown, contact centre agents have been on the frontlines resolving issues and providing the service customers need.
We think it's time to take a closer look at some of these unsung contact centre workers and celebrate their contribution and courage through our CX Idols recognition programme.
Going Remote Overnight
Contact centre agents have faced several challenges during the lockdown, with arguably the most significant being the switch to remote working.
While some sectors were able to work from home if needed, contact centre agents that have traditionally been wholly office-based had to go remote in a very short timeframe and quickly adapt to unfamiliar remote-working environments.
One submission to CX Idols paints a picture of how many agents rose to the challenge of working from home and constantly adapted to the changes that came their way:
"The operational landscape has been a moving beast through the last few weeks, driven by both existing and new clients." 
"Tom Crow (System Support Analyst, Planning and Performance, E.ON) has demonstrated exceptional self-control in a new and unfamiliar 'working from home' environment. He has been required to be both highly proactive and reactive during the pandemic."
"He has often had numerous requirements to juggle, constantly needing to make ongoing adjustments or full-scale changes. The sheer amount of personal effort and 'can do' attitude on display from Tom is nothing short of inspiring. He has stepped up and just simply delivered."
Supporting Vulnerable Customers
Going remote in record time was only part of the challenge. Agents have also had to stay productive and face increasing customer demands as entire parts of the economy had to simply shut down, often being left as the only face of many brands.
Supporting customers during this time of need has been harder and more important than ever, with many agents personifying what the term "CX Idol" really means. Many have gone above and beyond to help vulnerable customers, handling interactions with a level of sensitivity and compassion that wouldn't usually be needed in "normal" circumstances.
Over the last few months, it hasn't just been about contact centre agents being able to work during a lockdown. It has been about providing the support distressed customers have needed in the most effective and compassionate way possible, which has been highlighted in many of the submissions to our CX Idols competition.
Over and Above
While simultaneously adapting to new working conditions and a surge in interaction volume from customers, agents also lost the ability to reach out to colleagues and managers when they need clarifications. In response, many agents have demonstrated a willingness to go beyond the call of duty to support their colleagues.
For example, nominations have described agents who have worked tirelessly to guide colleagues through technical processes and offer advice on how to deal with tricky questions. These heroic agents have taken on responsibilities beyond their roles, providing an inspiration to the rest of the team:
"Vaclav Sindelar (Senior Consultant, Ageas) has supported many of our consultants via telephone and video to get their WFM set-up completed."
"He has provided managers and consultants with useful information, tips, tricks and solutions to many of the common and complicated issues we can face on a daily basis."
"Vaclav has also supported the recent migration to Windows 10 and again has helped many of our team with any issues they have faced during the migration. I can say with confidence that this process would not have been as smooth without his help and support."
Technical Support
The final aspect of the recent contact centre transformation is the technology agents have been using to work effectively.
For example, cloud, AI, automation and desktop analytics technologies have not only enabled remote service and provided visibility into how agents are performing, but also allowed agents to help themselves.
AI-driven automation has provided real-time, next best action guidance and support on agents' screens, while removing many of the routine and error-prone tasks. This has given agents more time to address customer needs accurately and effectively, and stay engaged while working from home.
These stories just scratch the surface of how contact centre agents have gone above and beyond during this difficult time. While technologies such as AI and automation have played a key role in enabling the shift to remote working, it is the agents themselves that have really made the difference.
They have adapted to a huge amount of disruption in an incredibly short timeframe, all while being there for customers and colleagues. They have been the unsung heroes of the pandemic. It's time they get the recognition they deserve.
For further information about NICE's CX Idols programme, read their blog: Shining a Spotlight on Customer Services – Introducing NICE CX Idols