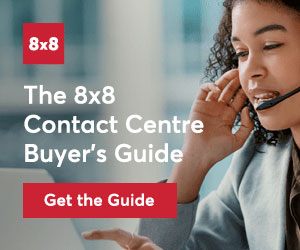 Kay Phelps of 8×8 discusses the importance of maintaining customer satisfaction now that agents have settled into homeworking.
If you're struggling to keep your business afloat and profitable in these trying times, you're not alone. Among other priorities, you know that customer satisfaction (CSAT) is now more essential than ever. It's key to keeping the doors of your business open.
But for the past several weeks perhaps it's been necessary to put customer satisfaction scores to the side. You've been scrambling. Expanding your home agent programme, or starting a new one from the ground up. Creating or updating work-from-home policies and procedures. Grappling with the challenge of deploying equipment and technology.
The good news is that your agents are now working from home. And possibly that's the bad news too. Because sending agents home simply means you've cleared the hurdle of getting them up and running. Now it's time to take a deep breath and check to see how well it's working. Since agent behaviours are a major key to customer satisfaction, how can we ensure consistent responsiveness and professionalism when they are working remotely?
Learn From These Tips for Work-From-Home Productivity
Agents who are working from home for the first time may be challenged by distractions – kids, dogs, laundry, and doorbells. And some may feel a new sense of freedom since supervisors and managers aren't walking by their desks. How can you manage these distractions?
Create a distraction-free workspace – Suggest agents select a home workspace that minimizes interruptions and stick to it. For example, although a nice day makes it tempting to work from the deck, it's likely to make agents more prone to distractions.
Stick to the schedule – Encourage agents to use their normal process for requesting breaks and time off. They may need a bit more flexibility in working around kids' schoolwork, etc., but you'll need to balance that with meeting key metrics like service level goals.
Encourage self-accountability – Request that agents keep tabs on their own metrics. If you have a solid definition of productivity in your contact centre, agents should always know how they stack up. That way they can proactively make their own adjustments before it becomes a problem.
Monitor individual and team performance – Remind agents you are using the same reporting and analytics tools you've always had, and the team's targets are unchanged.
Keeping agent productivity high ensures that customers get timely responses. But that's just one part of the equation. High customer satisfaction obviously takes more than just answering the call or responding to digital channels like chat, email, and SMS.
Use Speech Analytics to Focus Your Coaching
Now that your agents are working from home, you can't "drive-by" their desks to hear snippets of conversations. But really, how often did you find that practice helpful anyway? Agents could see when you were headed their way – and could adjust their dialogue accordingly.
With speech analytics, physical location is irrelevant. You can "listen" to every conversation. Find and share role-model interactions with other agents for training purposes. Immediately filter out any performance concerns so you can address them quickly.
Search for phrases that could negatively impact customer satisfaction, such as agents saying:
"You'll have to call back…"
"I already told you…"
"You should have…"
Also look for conversations where customers express frustrations that could lead to low satisfaction scores, such as:
"I've been transferred three times…"
"Why didn't you…"
"I'm not happy with…"
Do agents comply with scripts? Flag calls where agents omit key required phrases. Speech analytics can also reveal instances where customers are unhappy by gauging the emotion of the interaction.
Now you have the knowledge, and the specific dialogues, to coach agents on where tweaks and improvements can be made to keep customer satisfaction high.
Keep Agents Engaged in Driving Customer Satisfaction
Let's pause to look at speech analytics from an agent's perspective. Might agents be uncomfortable knowing their conversations are being monitored and searched? Interestingly, the opposite seems to be the case.
"With speech analytics overall, the team leads love it, agents love it – it has revolutionized the way we coach our teams in real-time," says Nathan Tomlinson, Director of Customer Experience at Vacasa, a vacation rental management company that spans 17 countries. No longer do agents have to rely on vague feedback that may seem ambiguous at times. They get specific, targeted suggestions for improvement, based on actual calls.
You gain the knowledge needed to boost customer satisfaction scores. And along the way, meaningful business insights that guide strategy changes to drive quantifiable business improvements. If you are new to work-from-home contact centres, be sure to download this helpful checklist to make sure this new look for your contact centre is successful.