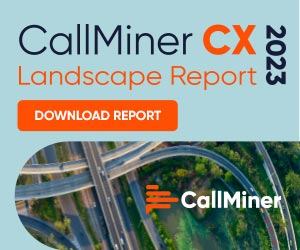 Robert Stanley of CallMiner discusses the ways in which agent self-assessment, through the use of real-time analytics and coaching, can improve customer experience.
Contact centres are just looking for love. They want their customers to adore them, striving to provide the best customer experience so these customers will return month after month.
But if customer engagement rates plummet, managers are bereft, left wondering what went wrong. Was it you, the customer, or was it the contact centre?
For some contact centres, the harsh reality is that they're part of the problem. Before they wallow in heartbreak, they can also be part of the solution. Honest self-assessment is critical for boosting and maintaining customer engagement and better agent performance. So how can contact centres improve?
Before making any changes, leaders need to examine the current model to see what isn't working. Are they reaching out on social media, where most of their customers ask questions? Does the product fit the market?
If contact centre managers can answer all these questions positively, yet they're still seeing sinking customer engagement rates, they may have to take a closer look at their agents. Are agents receiving enough training? And enough feedback?
Constant Feedback Helps Both Managers and Employees
In order to be a customer's ideal call centre match, leaders need to make sure they are honestly reflecting on and assessing their agents' strengths and weaknesses. Real-time analytics can be a good place to start.
Bernard Marr, writing for Forbes, noted how these types of analytics programs can identify calls where agents excel and highlight the types of calls they struggle with.
However, ranking agents can become counterproductive: agents who are struggling don't know how to improve.
Instead, managers can take analytics data and pinpoint specific instances where agents can improve. Importantly, managers can relay this information instantly, as opposed to in annual performance reviews.
Call centre analytics work to give real-time feedback. Employees today are looking for leaders that will give them consistent feedback, fast. Typical performance reviews – usually given yearly – are no longer enough for employees. They're interested in more of a commitment.
According to Chris Duggan, CEO of Betterworks, writing for Fast Company, employees see constant feedback as a way to gauge their improving performance.
By using performance analytics as well as giving constant feedback, managers and employees alike are more likely to see results. That is enough of an incentive to encourage both parties to continue.
Having an agent's improvement become a conversation instead of an evaluation also cuts down on the overhead needed for a formal review.
Strong Performance Analytics Can Help Contact Centres Find Customer Love
Another way contact centre managers can work with their agents is by adopting a coaching mentality. That can start small, by simply checking in with agents. That keeps the lines of communication open, giving agents the opportunity to raise questions and ideas for how they can improve their performance.
If analytics reveal a common area of improvement for several agents, managers can work to strengthen training for their teams.
Honest self-assessment is the cornerstone of success for any contact centre. When managers and agents can identify areas of improvement and work together through training and coaching, they can find love – and engagement – with their customers.
How Will You Help Your Agents Improve Their Self-Assessments?
Encourage a call centre culture of real-time agent performance optimisation with speech analytics insight from every call, targeted guidance and agent self-improvement.
If possible, spend more time on actual coaching with automated analytics, AI-driven linguistics with emotion, predictive scoring, and role-based dashboards. Scale to your agent quality management needs as your organisation grows.
This blog post has been re-published by kind permission of CallMiner – View the
Original Article
For more information about CallMiner - visit the
CallMiner Website