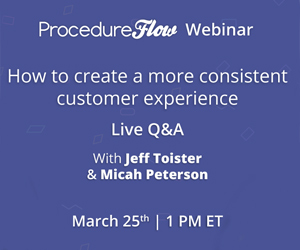 March 25th | 1 PM ET
Consistency is a huge challenge for contact centers. While some agents can confidently assist customers with ease, others feel completely overwhelmed and struggle to keep up. A few just wing it and are completely unpredictable. Customers feel the impact, where some have a great experience and others are ready to share horror stories with everyone they know.
In this live Q&A session you'll learn how to help your agents deliver a consistently great customer experience. Get your toughest customer experience questions answered by best-selling author Jeff Toister and ProcedureFlow's Micah Peterson.
You'll walk away with strategies you can implement in your contact center, and the first 100 attendees will learn even more with a free copy of Jeff's book: The Guaranteed Customer Experience.
---
---