Andrew Leatherland shares his views on the modern customer and how their preferences change the best strategies for engagement.
Before you begin reading, ask yourself the following questions:
Do you know what happens when a customer connects with your contact centre, and what really happens in the conversation that makes the encounter an exceptional one?
Do you have any insight into how your agent responded to that individual user, or a way to proactively ensure that other visitors on any channel can have a consistent and positive experience?
Are you engaged with all of the stakeholders who have a say in the customer experience, either directly or because their job influences the process?
Are you confident that you have every metric at your disposal to make the best business decisions?
If your answer to any of those questions was "no", you need to reconsider the boundaries of your contact centre and consider whether you're enabling truly exceptional experiences for all your customers and prospects, regardless of which channels they use to communicate with your business.
What's Changed and What's the Answer?
Customer expectations and behaviours are changing rapidly, pushing businesses to modernise their approach or get left behind for good. This is not just a technology change but also a change in service approach; clear, agile and authentic, so that you can respond to your customers where they live — online, on mobile devices, via voice, or right in front of you—and deliver a consistent experience anywhere in the world.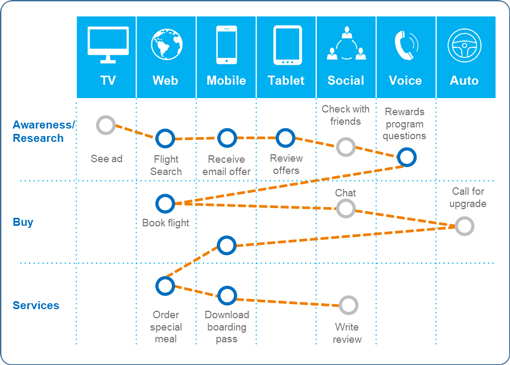 To do this, you need a modern customer engagement solution – not solely confined to the contact centre – that supports an integrated view of all interaction channels (including social and mobile), as well as data analytics, and integration with CRM and other back-end systems.
Most companies touch customers at multiple points along their journeys. All of these touchpoints engage customers, but are they providing a great, seamless, always-on experience? If not, it will impact loyalty and long-term revenues.
Getting the Omnichannel Experience Right
As important as it is for customers to be able to reach you whenever they need to, they must also receive a consistent, exceptional experience, regardless of the way in which they come in.
Even when customers do manage to get through to someone, businesses are still at risk of losing them to a competitor while they're on the phone. Indeed, 12% say they have started searching for competitors online during a call, rising to more than a quarter of young people (aged 25–34), who appear to have a lower tolerance for bad service. More than a tenth of those surveyed have even posted live on social media to name and shame a company during a poorly handled call, rising to 26% of those aged 25–34.
Changing these outcomes requires an advanced contact centre that integrates all interactions across all channels so that when an agent responds, they see the customer history and anything they do for the customer will also be preserved for future use. Furthermore, the contact centre should apply all policies and procedures to every interaction, including skills-based routing, recording and archiving, managing oversight and training, and populating the knowledge base.
The value of such an implementation is that it delivers a consistent customer experience that multiplies your positive impact in the following key ways:
Customer preference: Letting customers interact with you on their channel of choice keeps them engaged and loyal, increasing customer satisfaction (CSat) and lifetime value (LTV) scores. When doing so, you must also ensure that every interaction leverages the advantages of the channel in question and doesn't leave customers wanting. For example, customers using mobile phones need apps that not only are built specifically for the small-screen environment but also take advantage of mobile-specific functionality like geolocation data, video chat etc.
Workforce productivity: As you embrace a range of new channels, ensure you change your performance expectations to reflect the new reality. Understand that agents can manage multiple chats at once, but they cannot effectively respond to customers on the phone and online at the same time. Significantly enhance your customer experience with in-depth knowledge; agents will need channel-based training and positive performance feedback.
Andrew Leatherland is Contact Centre Product Manager at GCI.