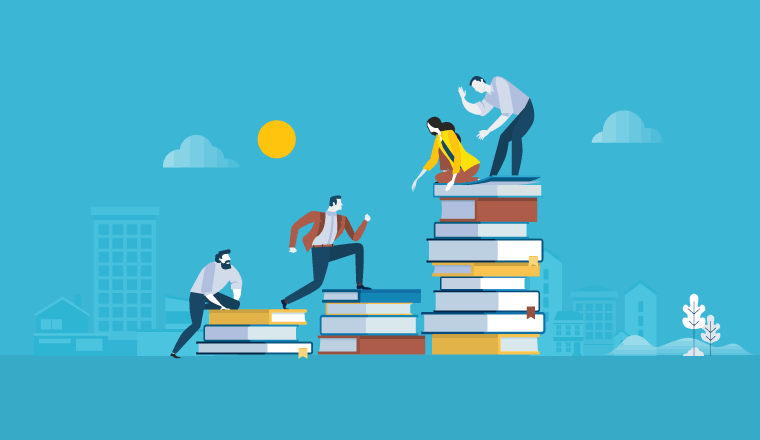 One of the biggest challenges that L&D managers face is creating learning that keeps employees engaged.
People have different styles of learning and different life goals. Add to that low attention spans and poor learning retention, and you begin to understand why achieving an ROI on learning requires both strategy and skill.
To help get you started, here are five top tips for making learning more engaging:
 1. Make It Easy
The thought of having to concentrate and learn something new requires effort and puts most people on the back foot. However, the easier the learning is, the more likely employees will be willing to participate.
The starting point for this is having a support structure in place that offers coaching and mentoring so learners don't have to figure out everything on their own, and they are guided in understanding the purposes of participating in learning.
The idea of coaching is not to simply provide the answers, but to guide employees through the thought process so they can arrive at the answers of their own accord.  Working with a mentor also keeps people accountable and aware of the benefits of continuous learning.
2. Make It Accessible
This builds on the point of making learning easy. People are used to easy access to information, anywhere, anytime. The Internet and mobile technology has made this possible. E-Learning takes this a step further by structuring the learning and customising it so the best learning results can be achieved.
How does it do this? By feeding employees learning in bite-sized chunks, so information can be more easily retained, and by giving people the flexibility to learn whenever they have a gap. E-Learning platforms such as ERROL help embed the learning through regular follow-up and testing, using technology to facilitate this.
Integrating online learning modules with mobile platforms will give learners the flexibility they are used to and the opportunity to learn away from their desk when the opportunity arises (i.e. waiting for a meeting to start or commuting on the train).
3. Make It Personal
People remember things when it is important to them, so aligning learning objectives with personal life goals and career progression goes a long way to keeping employees more engaged. Allowing employees to select additional learning modules, or to complete modules not directly related to their current job function (with the idea that it may be in future), helps to foster a culture of learning and supports the idea of career progression.
Online learning can be customised for different learner profiles and tracks each individual's progress. While this information is useful for managers to identify knowledge gaps, it also motivates learners by helping them track their own progress against colleagues.
4. Make It Normal
When learning is simply part of the culture of an organisation, it becomes a lot less effort for everyone. Employees easily recognise the benefits of learning and sharing information, because they experience it every day in a tangible way. They start to understand the value of collaboration and are more willing to co-ordinate efforts with other departments and colleagues.
Another important aspect of creating a culture of learning is providing some leeway for failure, giving people the freedom to try new ideas and experiment to find better ways to do things. If people are fearful of the repercussions of failing, they will never try anything new, and innovation will not take place.
Considering how important innovation is becoming in gaining a competitive advantage in the marketplace, companies would do well to allow employees some freedom to enlarge their thinking and approach to learning.
5. Make It Fun
There is a reason that gamification has become popular as a learning technique – it makes learning fun! And when learning is fun, employees are more engaged.
Who doesn't want to have a superhero avatar and be able to track learning achievements in a way that makes you feel like you're slaying the monsters of the universe? It's certainly a change from sitting in a classroom watching a projector screen of duplicate slides.
Technology is making it easier to integrate gamification with learning modules to make learning more accessible and more engaging. The benefit is that while everyone is having fun, learning is happening; and, at the same time, managers can keep track of everyone's progress.
Studies consistently show that engaged employees are more likely to stay with a company, particularly if opportunities for growth and learning exist. People recognise that the key to career progression is expanding their knowledge so they can continue to remain relevant in the marketplace. If your company is the one offering learning opportunities, you'll be more likely to attract and keep the best people.
This blog post has been re-published by kind permission of Ember Group – View the original post
To find out more about Ember Group, visit their website.
Published On: 2nd Aug 2018 - Last modified: 26th Feb 2019
Read more about - Archived Content
---