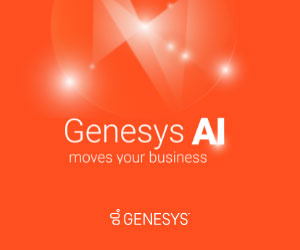 CallPageboy provides customer service, virtual reception and help desk support to 240 businesses across a dozen industries.
With a desire to differentiate itself from competitors, CallPageboy teamed up with Genesys.
By moving its contact centre to Genesys Cloud, CallPageboy can now communicate with customers using a diverse range of channels, including voice, SMS, email and chat.
Since deploying Genesys Cloud, CallPageboy's contact centre managers have gained greater awareness and control.
"We've gone from a manual and resource-heavy process to planning at the touch of a button, allowing us to forecast and schedule agents based on real-time data," explains CallPageboy managing director Ken Colley.
"Before, we had to invest significant resources in monitoring interaction volumes and flows. Now, with the automated forecasting and scheduling capabilities of Genesys Workforce Engagement Management, we receive alerts at the first sign of a bottleneck and have a much clearer view of customer journeys."
Enabling Efficiency Across the Business
Prior to using Genesys Cloud, CallPageboy was using an on-premises contact centre platform from Genesys. With its customers moving more of their data and systems to the cloud, the business needed to respond.
"We were impressed by Genesys Cloud and the ease of integrating it with our IVR systems and operational processes," says Colley.
"We do a lot of in-house scripting and coding, so the solution's open API's were a revelation. We can now develop and test in a secure environment and release new features as they are ready, which has reduced the burden on our IT teams."
Today, CallPageboy's 50 agents handle 10,000 calls per week, with similar volumes seen across SMS, email and chat. CallPageboy is leveraging Genesys Cloud's skills-based routing capability to ensure customer enquiries are handled by agents with the appropriate training and knowledge.
Consolidating everything into a single solution has enabled CallPageboy to reduce its average call handling time by 20% without impacting the level of service to the end consumer.
"If a customer calls to check a hospital appointment or renew their car insurance, we can bring up all their details on the spot," explained Colley.
"We don't need to train our people on different set-ups, and we can keep them engaged and motivated by offering them different roles such as virtual receptionist, help desk, sales, marketing and order fulfilment all within the same system."
Enhanced Business Resilience
An unexpected advantage of deploying Genesys Cloud was the organization's ability to manage rapidly the impact the COVID-19 pandemic had on its operations.
Moving its workforce to remote work has not had an impact on the quality of service for CallPageboy's customers. It has ensured that employees are able to meet customer demands whilst dealing with an increase in its interaction volumes.
Colley commented, "We transitioned most of our employees to remote work at an early stage of the outbreak. We were able to do this thanks to the flexibility of Genesys Cloud without sacrificing the quality of service our customers and their end customers have come to expect."
Future Innovations
While already benefiting from Genesys Cloud's rich features, CallPageboy is planning to extend the solution further. Assisted by Genesys partner Wren Data, the company is interested in using artificial intelligence (AI), screen sharing, co-browsing and quality assurance analytics as well as building a library of customer recorded tutorials.
"Introducing AI will allow us to triage and pre-qualify customer requests for plumbing and gas repairs, for example," Colley says. "Currently, we process around 20 such calls an hour and with 50% converted to appointments. Using chatbots, we estimate that we can halve the number of calls and increase the conversion rate to nearly 90%."