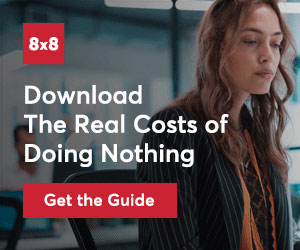 8×8 has announced that national employment law firm Jackson Lewis P.C. has chosen the 8×8 XCaaS (eXperience Communications as a Service) integrated cloud contact centre and unified communications platform, which includes 8×8 Voice for Microsoft Teams and the 8×8 contact centre solution that is certified for Teams.
The solutions will allow the firm to consolidate their technology stack while providing better IT support for its employees as well as ensuring exceptional experiences for its lawyers and clients.
Jackson Lewis is a US-based law firm focused on labor and employment law since 1958 and has more than 950 attorneys located in major cities nationwide.
With its IT team also spread out across the country, managing its previous on-premises reception pods, Help Desk, and communications solution was challenging.
By moving Jackson Lewis' cloud integration to 8×8 XCaaS, the firm will be able to manage its reception pods, Help Desk, and unified communications through a single vendor, rather than managing multiple vendors and contracts.
Not only does this reduce costs, but it will simplify administrative tasks allowing the IT team to focus on more complex, time-sensitive issues. Voice for Microsoft Teams also allows Jackson Lewis' employees and contact centre agents to use the familiar Teams interface that they prefer, allowing them to collaborate and engage more productively and securely.
"The complexities of managing and supporting a nation-wide workforce, and all that that entails, should not include technological challenges – especially when those challenges can have immediate, negative impacts on our teams' ability to complete their work," said David Jata, Chief Information Officer at Jackson Lewis.
"With 8×8 XCaaS, our team is able to minimize technological challenges, through robust and accessible support resources, so they can instead focus on problem-solving for their clients.
We get an integrated and unified communications platform for the firm's reception pods and Help Desk that is tightly integrated with Microsoft Teams to meet all of our collaboration and customer engagement requirements nationwide."
"Law-related fields inevitably come with high-stress situations – not only as it relates to the issues facing clients, but also internally managing the multiple people, teams, and technologies across a wide geographic area," said Hunter Middleton, Chief Product Officer at 8×8, Inc.
"By choosing the 8×8 XCaaS platform, Jackson Lewis is able to leverage a single solution that enhances their practice, both internally and externally. Further, by providing them with a seamless Teams integration, they are enabled to work the way they want to without worrying about reliability and business continuity on the backend."
8×8 XCaaS includes integrated cloud contact centre, business phone, video meetings, team chat, and SMS capabilities in a single-vendor solution.
8×8 XCaaS is built on the resilient, secure, and compliant 8×8 eXperience Communications Platform, which offers the highest levels of reliability with a financially backed, platform-wide 99.999 percent uptime SLA across an integrated cloud UCaaS and CCaaS solution.
This blog post has been re-published by kind permission of 8x8 – View the
Original Article
For more information about 8x8 - visit the
8x8 Website