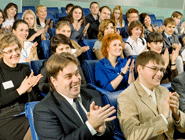 Genesys have announced the keynote speakers for their annual customer experience conference, including Sugar Ray Leonard.
The three-day event will feature Hall of Fame boxer and Olympic gold medallist Sugar Ray Leonard, New York Times best-selling author Josh Linkner, leading industry analysts and business leaders, and customer experience luminaries from companies such as Red Hat, Marks & Spencer and Tangerine Bank.
The G-Force 2015 theme, NextGen CX, highlights a new era for customer engagement as organisations embrace the opportunity to orchestrate and monitor multimodal omnichannel journeys and interactions with the Genesys Customer Experience Platform.
With these new capabilities, which will be showcased throughout the G-Force experience, organisations of all sizes have a platform to engage and manage customers across their journeys to make customer experience a strategic differentiator for their organisations.
At G-Force 2015, the following keynote speakers will discuss how to leverage new solutions from Genesys to transform their customer experience initiatives and provide new levels of customer engagement:
Tony Poulos, Speaker, Moderator and Chairman
Ian Mahoney, Head of Delivery Services, Marks & Spencer
Todd Metzker, Senior Director of CX, Plated
Jeff Pundyk, Global Vice President of Content Solutions, The Economist
Peter Aceto, President and CEO, Tangerine Bank
Lee Congdon, CIO, Red Hat
Paul Segre, President and CEO, Genesys
Merijn te Booij, Executive Vice President, Product and Solution Strategy, Genesys
"We've designed this year's G-Force programme to give attendees both a view into the future of customer experience and practical, hands-on advice for how to deliver best-in-class CX," said Keith Pearce, Vice President of Corporate Marketing at Genesys. "This global event is the gold standard in the industry, and a can't-miss experience for anyone who wants to experience the future of CX."
The conference is being held on 26th-28th October in Miami at the Fontainebleau Hotel.
---