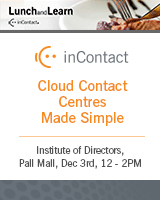 THE DATE: Tuesday 3rd December 12:00 pm – 2:00 pm
The Contact Centre: it's software….so why do they make it so hard?
At inContact, they know it doesn't need to be so hard so join them at the IoD.

THE LOCATION: The Institute of Directors, 116 Pall Mall, London, SW1Y 5ED
THE DETAILS: Cloud Contact Centres enable you to deliver customer service in ways that simply would not be possible using on-premise or even hosted solutions.
That's why inContact will be showcasing "A day in the life….", at their December Lunch & Learn event. They will explore and explain the extraordinary capabilities of cloud Contact Centres and to show how simple it can be to create tomorrow's contact centre. Today.
THE ORGANISERS: inContact
THE WEBLINK: http://response.incontact.com/LP=919
---