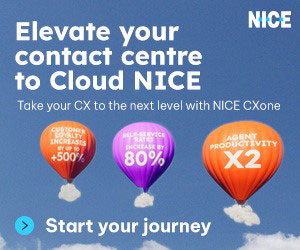 Brian Mistretta at NICE CXone explains how to maximize the value of your customer satisfaction survey process.
The customer satisfaction survey has long been a tool for CX-focused businesses to collect feedback from their customers. Surveys allow people to tell brands what is or isn't working regarding aspects of their experiences such as product quality, customer service, and website performance.
If structured right, customer satisfaction surveys also enable brands to gather ideas for how to improve the customer experience.
Although it was once a primary way of measuring happiness or discontent, there is now discussion among CX professionals about the usefulness of customer satisfaction surveys. Artificial intelligence (AI) has fundamentally changed the way businesses gather customer input.
AI analytics tools can collect and analyze customer feedback from a multitude of sources, including social media, online product reviews, blogs, and contact centre interactions.
This has created a wealth of information exponentially larger than that collected by customer satisfaction surveys. So, it's only logical to ask: Is the customer satisfaction survey obsolete?
The answer is no. Surveys are still an important component of a brand's customer experience management (CEM) strategy. Effective CEM programs rely on analyzing vast amounts of customer data that enable businesses to know their customers intimately.
While survey results alone won't provide these comprehensive customer insights, they still provide good information about satisfaction, willingness to recommend, and customer effort.
And they can be used in a targeted way to understand transactional experiences, or at a more macro level to measure a customer's satisfaction with the business relationship.
Organizations should follow best practices to get the most value from their customer satisfaction survey process.
This article will provide tips for how to maximize survey response rates, design surveys to collect the information you need, and analyze and act on survey results.
Maximizing Your Customer Satisfaction Survey Response Rates
One of the biggest weaknesses of customer surveys is low response rates. According to NICE Satmetrix, the co-creator of the Net Promoter Score (NPS), average response rates for B2B customer satisfaction surveys is 23-32% (depending on the type of survey) and the average response rates dip to 13-16% for B2C surveys.
In other words, the average B2C customer satisfaction survey will tell you how 16% of your customers feel, but what about the other 84%? To capture feedback from more of your "silent" customers, follow these tips:
Automatically Offer Surveys When Possible
The end of a contact centre interaction is a perfect time to ask customers about their satisfaction with customer service.
A key to higher response rates is to offer transactional surveys immediately following the transaction. However, response rates can be hampered if your survey process relies on agents manually transferring callers to the survey tool.
The right feedback management system can automatically present customers with surveys at the conclusion of an interaction, which can improve response rates and give agents one less thing to remember to do.
As an example, one of our clients automated the handoff between agents and the survey system and experienced an increase in survey completion rates.
Structure the Survey so That Customers Will Complete It
Most of us have been on the receiving end of a bad, boring customer satisfaction survey, and some of us may have even bailed out midway through. To avoid this scenario with your own surveys, do the following:
Create a Compelling Invitation
Whether you send a digital survey or call customers to get their feedback, the invitation should hook them. Customers should know what's in it for them and it's also a good idea to provide examples of improvements that have been made based on past survey results.
Don't Make the Survey Too Long
And inform customers in the invitation and during the survey how long it will take to complete it.
Make Sure Customer Contact Information Is Accurate and That You're Surveying the Right Group
Some types of survey invitations need to be sent via channels such as email and voice, making accurate contact information essential for having strong response rates.
Additionally, the response rate will suffer if the wrong group of people is surveyed. For example, if you want to determine satisfaction with the retail experience, don't survey customers who have only made online purchases.
Getting Meaningful Information
Response rates are only one variable in the equation. To get the most value from your customer satisfaction survey process, the survey results need to be meaningful and actionable. Let's discuss a couple of ways to ensure your surveys are producing useful insights.
Link Surveys to the Customer Journey
Recall that customer satisfaction survey results are one component of a much broader CEM data set. Businesses should avoid surveying "just because they can" and instead take a more thoughtful approach by linking satisfaction surveys to specific parts of the customer journey.
For example, surveys can be used to fill information gaps in specific phases of the journey. If the customer experience during the onboarding process is in the shadows, you can shine a light on it by designing and administering a survey specific to onboarding.
Design Your Customer Satisfaction Surveys Right
Good design doesn't just help improve response rates; it also helps ensure you will get useful information from your surveys. Here are some tips for designing a customer satisfaction survey that produces actionable insights.
Design the Survey to Find Out What's Important to Your Customers
It's a natural and understandable tendency to approach survey design from the business's perspective. Are customers satisfied with that tiny tweak we made to the IVR menu? How do they like our new logo?
Chances are no one noticed the IVR change and they really don't care about the logo. Instead, ask about topics that are typically important to customers, such as ease of use and product quality.
Use Open Text Fields so People Can Explain Their Numerical Ratings and Provide Suggestions
Without this color commentary from customers, you'll just have numbers on a page that you'll need to make assumptions about, which could ultimately lead you down the wrong path.
Don't Include Questions That Don't Support the Customer Satisfaction Survey's Goal
It can be easy for surveys to have scope creep. "Hey, while you're interacting with our customers, ask them about this."
Surveys should be succinct and focused so that you get the information you need without muddying the waters. Plus, adding more questions makes surveys longer, which could jeopardize completion rates.
Making the Most of Your Customer Satisfaction Survey Results
How you use the information you gather is probably the most important part of the customer satisfaction survey process. Surveying without action is a fruitless activity. Below are some ways to squeeze the most value from your survey results.
Close the Loop With Customers
Survey results will unearth some disgruntled customers that should be dealt with right away. Businesses should establish a process for contacting them to try to salvage the relationship.
Additionally, you can acknowledge highly satisfied customers – it's a good way to turn them into brand advocates who recommend your company to family and friends.
Combine and Analyze With Other Customer Input
Because survey results only reveal one facet of customer opinions, they are most valuable when combined with other customer data such as purchase history, online behavior, product reviews and customer service interactions.
A data set this large requires AI-powered analytics tools to transform all that raw data into meaningful insights.
The analysis process should produce a comprehensive view of the customer that can be shared across the organization and used to inform decisions about CX strategy and initiatives. An equally important output is the identification and prioritization of improvement opportunities.
Take Action on the Analysis Insights
It's time to use that customer feedback to drive change! The main purpose of a customer satisfaction survey is to improve customer satisfaction. This is done by using customer input to make meaningful improvements to the customer experience.
Many businesses have implemented cross-functional customer experience management teams that are responsible for managing the list of initiatives that are produced during analysis.
These teams are typically responsible for collaborating across the organization to implement effective changes to the customer journey that will increase satisfaction.
Continuously Measure
It's critical to continue surveying your customers to understand if the improvement initiatives are working. Plus, in CEM programs, data collection and analysis never end. To ensure you're comparing apples to apples, try not to make too many changes to your survey questions.
This means you need to have a solid customer satisfaction survey in place when you baseline your satisfaction scores. Following the tips in this article should help.
Do You Have the Right Technology to Support an Effective Customer Satisfaction Survey Process?
Having the right feedback management system in place is critical for managing your survey process. Modern feedback management applications:
Allow end-users to configure surveys how they want so they can capture other CX-related metrics such as NPS and customer effort score (CES)
Can deliver surveys in multiple channels to match customer preferences
Share data easily with other systems
Include a plethora of out of the box reports and also enable users to design their own
Can be incorporated into agent desktops so agents can monitor and manage their own results
This blog post has been re-published by kind permission of NICE – View the
Original Article
For more information about NICE - visit the
NICE Website