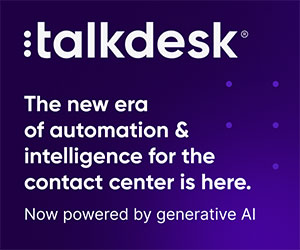 Jennifer Bonacci at Talkdesk shares insights on how to mitigate security threats in the contact centre.
Maintain control in the new remote work model and increase contact centre security.
The increased opportunity to work remotely is beneficial to both the employer (reduced overhead) and the employee (more flexibility), but it has also increased the number of vulnerable attack vectors.
These are weaker points in the tech stack infrastructure created when home, business, and operating systems are linked together, making them more susceptible to hackers, insider threats, and viruses.
This virtual stretching of the network outside of the traditional central office exposes data in ways that have never been seen before, contributing to what Forrester called "a perfect storm for insider threats."
A report from Metrigy shows that, with more than half of companies surveyed planning to continue supporting work-from-home (WFH) agents after the pandemic, insider threats are a persistent challenge.
To mitigate these threats and take control of your contact centre's WFH infrastructure and security management, you need to better understand the vulnerabilities in your systems and processes.
By doing this, you can effectively plan and implement a solution for a continually changing situation, as well as help your agents make better and less risky decisions, no matter where they are located.
What the Lawyer Cat Can Teach Us About the Different Levels and Types of Insider Threats.
In February 2021, Ron Ponton found himself an unwitting Internet star after borrowing his assistant's computer (which had most recently been used by her child) to join a Zoom court hearing.
Little did he know, a cat filter had been installed, turning his face into an animated feline. While he struggled unsuccessfully to turn it off, he spoke these now infamous words to the judge, "I am not a cat."
While amusing, this story is just one of many compromising incidents resulting from the COVID-accelerated shift to remote work that blurred the line between professional and personal lives.
This overlap resulted in more weak points across the digital infrastructure of many companies as they worked to quickly get their employees up and running.
Suddenly, many employees found themselves having to work with whatever was available, conducting business from their personal computers, or conversely, taking care of personal tasks on their work computers.
The lawyer cat is a great example of how common, and possibly compromising, sharing devices can be. But even those employees working from home with dedicated hardware face new obstacles that could trigger negative consequences across the company.
Competition for network bandwidth from both classes and work being conducted through data-hungry video conferencing programs led to annoyingly slow connectivity or getting kicked off the network altogether, compromising employee efficacy and awareness.
People, Processes, and Technology: Bridging the WFH Security Gap.
1. People.
There are three takeaways here. The first has to do with people. Security breaches don't always come from malicious hackers outside the organization. And insider threats don't always come from someone intent on doing harm.
Threats can range from lack of awareness (e.g., connecting to the company network through an inherently less secure public WiFi spot; becoming the victim of a phishing attack; or letting someone borrow a work computer) to overt, ill-intentioned actions (e.g., misusing or leaking corporate data; installing unauthorized applications; knowingly trying to spread malware).
Because working from home means there is no longer the physical presence of a supervisor walking the floor to help mitigate risk, it's imperative that agents and supervisors work together to define and create the optimal WFH environment.
For supervisors, for example, this means hiring the right people who are willing to do their part to keep the company data secure, even when they are out of sight in their home office.
When agents and supervisors work together toward this shared goal, it alleviates pressure on IT and security teams and allows those teams to focus on more complex issues.
2. Processes.
Along with hiring the right people, the right processes need to be in place to help a business maintain control.
To prevent unintentional breaches and to help forestall malicious threats in this new WFH environment, companies need to reevaluate their processes and procedures and adapt them to be effective both in a central office, as well as across a wide network of remote employees.
For instance, voice biometric technology, which uses unique biological characteristics to verify an individual's identity, helps both WFH and in-house agents. Unlike unique passwords or pin codes, the voice can't be stolen or lost and AI algorithms can be trained to detect spoofing or synthetic voices.
To be successful, the right tools need to be put in place. This brings us to the third point: technology.
"Yesterday's solutions that focused only on securing the physical contact centre won't cut it in the new WFH economy."
3. Technology.
Security infrastructure has been traditionally designed to meet the needs of contained, central-office environments, where monitoring compliance and employee efficacy was relatively easy.
A single floor supervisor was able to monitor a greater number of employees and ensure, for example, that nobody was downloading files or accessing private data.
The permanent change in the work landscape makes it imperative that contact centres align their priorities with this new reality if they want to remain competitive and, most importantly, in control of their distributed workforce.
Yesterday's solutions that focused only on securing the physical contact centre won't cut it in the new WFH economy. What's needed are new tools that not only identify vulnerabilities but also empower agents to make better decisions.
"Good Dog, Lassie!": Security Is a Shared Responsibility.
There is no silver bullet for cybersecurity. Cyber attacks and security solutions are locked in a modern-day cold war, where new threats trigger new solutions—going round and round.
Relying on human intervention alone to stay ahead of these attacks is reminiscent of the proverbial Dutch boy trying to stop a dam from bursting by jamming his fingers in the cracks.
However, AI trained to identify risky behaviour and hard-to-find patterns, can take much of that lift off your shoulders.
The AI–human partnership can help boost the security of critical networks and infrastructure.
Just like Lassie was an additional partner to the family (instead of a replacement for Timmy) and acted as an added layer of security to alert humans whenever Timmy fell into a well, or similar danger, Talkdesk Guardian is an added layer of security for your contact centre.
You Can Have a Secure WFH Contact Centre.
A distributed workforce makes contact centres highly susceptible to security breaches. Without a dedicated solution to monitor and identify the unique potential threats coming from WFH environments, there can be real security consequences.
The traditional security measures that have been effective up until now are no longer adequate to protect sensitive customer data and maintain the integrity of daily operations across the highly individualized workforce of the post-COVID world. Additional AI monitoring and detection is needed.
Whether it's lack of awareness, inconsistent policy enforcement, or deliberate fraud, systems can help close critical vulnerabilities in the contact centre and boost agent productivity. Knowing the weak links in your security infrastructure allows you to address them before they manifest into major risks to your operations.
This blog post has been re-published by kind permission of Talkdesk – View the
Original Article
For more information about Talkdesk - visit the
Talkdesk Website