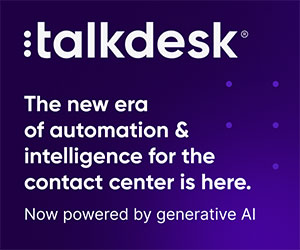 Talkdesk's Shauna Geraghty explores multichannel call centre basics.
Multichannel Call Centre Guide
Gone are the days when a call centre relied solely on phones to take orders and provide customer support.
Now, customers prefer to contact call centres via several channels. Offering all of them, or at least some, has the potential to enhance your call centre and bring your customer service to the next level.
Amping up customer support is key to any business, so it's no wonder that call centres are doing everything in their power to meet callers' needs.
Sixty percent of consumers rank overall satisfaction as the most important priority for any contact centre, ranking above speed or even resolution rate.
For businesses, upping customer retention, improving customer satisfaction and increasing upselling and cross-selling were the three highest-ranked priorities in terms of customer management.
In other words, no matter what your specific priorities, understanding exactly what consumers want and meeting their demands is vital to any and all call centres.
And in today's call centre market, "contact centre" is becoming an increasingly more popular term, as communication channels expand to various areas and companies strive to better meet their customer's needs.
Below are the top three channels of a call centre as well as information about how multichannel call centres may change in the future.
1. Phone
Even though it's the most expensive channel, 80 percent of consumers still prefer to talk to agents via phone.
Thus, phones aren't going anywhere anytime soon when it comes to call centres. Furthermore, the preference for communicating via phone kicks into high gear when the going gets rough.
Consumers are more than twice as likely to prefer to talk to a person via the phone than they are via email when solving more complex problems.
In order to make sure that your company is adequately equipped to meet the needs of your customers via the phone you should consider the following basic technological features:
Multilevel IVR
Interactive voice response (IVR) is a telephony menu system that enables routing of callers to the most appropriate agent within your team.
It is a simple and effective way to increase customer satisfaction while significantly reducing costs and increasing efficiency.
Advanced Routing
Skills-based routing will route callers to specific agents based on the agent's department (e.g. support, sales, marketing, etc.), knowledge (e.g. product knowledge, proficiency with specific software, etc.), language, and location as well as the phone number the customer called, the choices the customer selected in the IVR, and the customer's previous interactions with the company.
This will significantly improve the likelihood that the caller is routed to the most appropriate agent to meet the customer's needs, thereby reducing high transfer rates.
Queue Callback
Because long wait times are both inefficient and downright annoying to callers, more and more call centres have started to implement automatic callback systems.
These allow the caller to leave their number and receive a callback when it's almost their turn to speak to an agent. Not only does it save the call centre the hassle (and cost) of having lengthy call queues, callers love that they don't have to sit on hold for an extended period of time.
Warm Transfers
A warm transfer is when the agent who is currently speaking with the caller speaks with the new agent before the call is transferred.
They can inform the new agent about the caller's issue, give any background information that might be helpful and prepare them for the interaction, before they transfer the call. This makes it simple to keep agents on the same page and will significantly reduce customer frustration.
Real-Time Metrics
Providing both agents and managers with real-time data can significantly improve workflow, efficiency and effectiveness.
When agents are able to see how many callers are in the queue, the status of other agents, longest waiting time in the queue, average abandonment time and average waiting time, they can make more informed decisions.
When managers can recognize trends, anticipate problems and engage in reparative action, their entire team will be more capable of effectively making informed decisions.
2. Video
In terms of fast-growing technology changes in the call centre industry, intelligent callback systems are definitely in the lead.
Video, however, is a close second. Video support is, in many ways, actually a technological step up from phone calls. Video allows for a near face-to-face conversation with an agent. Call centres that are beginning to utilize video features are fans of the personal connection they create.
Video is also especially helpful for troubleshooting services. For example, Ikea uses videos to showcase how to assemble furniture and some phone companies answer frequently asked questions in video form.
Video can also be used as a chat feature, which allows the agent to visually see the caller and even the caller's issue in some cases.
Results show that 18 percent of call centre managers plan to implement video support features within the next two years.
3. Social Media
We've seen a huge rise in social media in just about every other aspect of business, so it should come as no surprise that call centres have also started to embrace social as a means of communication with callers.
Now, instead of calling and dealing with hold times, many prefer to reach out via Twitter or Facebook. This can mean good things for call centre agents, who spend much more time on phone calls than they spend on any other form of customer support and service.
Plus, social is faster. What may take an agent several minutes to run through via the phone, they can easily tweet out quickly.
The public aspect of social media can also help when trying to reach and assist multiple customers at once. The only catch for agents is that they must work as quickly as possible when it comes to communicating via social media.
More than 50 percent of Facebook users and 80 percent of those on Twitter expect their inquiries to be answered within one day or less. If the business doesn't respond fast enough, studies show that 15 percent of its customers are likely to leave the business, and many of those for competitors.
So, while social media is a great tool for harnessing fast response time and public replies for any call centre, agents need to be on their A-game when it comes to speed.
The Many Faces of Multichannel Call Centres in the Future
When it comes to the future, we can expect to see an expansion in the various forms of communication embraced by call centres.
As new technologies are utilized by the general population, call centres will jump on board in an attempt to better meet their customers' needs. As such, we will likely see a few changes in the way call centres are run:
Training:
The training and orientation processes for call centre agents will likely become longer and more involved. This is to be expected as agents will need to learn to utilize different channels to communicate with their customers.
Agents will need to learn not only the technical aspects but also the company-specific policies and procedures that go along with each channel.
Staffing:
We may see a shift in staffing and hours. While some call centres do keep agents on call 24 hours each day, some only have them available during business hours.
With this new shift to more tech-savvy support, we'll likely see an increase in agents being available round the clock.
Cost:
With the shift of help from phone calls to more computer-central channels, we may actually see a decrease in the average cost per interaction.
Since phone calls are currently the most expensive channel, and agents can usually work much more efficiently via the web, it wouldn't be surprising to see lower costs to maintain a thriving call centre service.
For customer-centric companies that strive to meet the changing needs of their customers, keeping your multichannel call centre optimized is often the most important first step.
Whether that means utilizing the latest technology to communicate with customers, enhancing agent proficiency and skill to increase customer satisfaction and customer retention or optimizing call centre software to create new opportunities to upsell and cross-sell, managers and decision-makers should strive to keep their call centre on top of its game.
Because, at the end of the day, meeting the customers' needs is the only thing that truly matters.
This blog post has been re-published by kind permission of Talkdesk – View the
Original Article
For more information about Talkdesk - visit the
Talkdesk Website