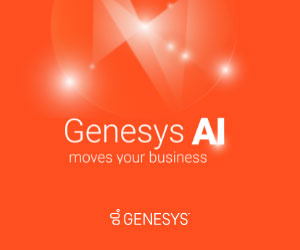 Chip McCoy of Genesys discusses some key terms and acronyms for the contact centre industry in 2019.
If there's one thing everyone in the customer service field agrees on, it's that life is never dull. With new web technologies and innovative digital applications and techniques at every turn, it can be hard to keep up. It's even hard to stay on top of contact centre terminology.
Take terms like "call centre" and "contact centre". Their ostensible similarity belies important differences. In fact, the evolution from one to the other is at the heart of delivering the best customer experiences.
A call centre is a general term for any location where calls are placed or received—in high volume—for sales, marketing, customer service, telemarketing, technical support or other specialised business activities.
On the other hand, a contact centre puts more emphasis on the customer contact, on the customer experience—and on the fact that you can engage with customers in a variety of ways, such as email, chat, web or phone.
If basic terms like these can benefit from clarification, I think it makes sense to review some other contact centre terms to keep up with innovations as we head into 2019. Here's a list:
Artificial Intelligence (AI)
Also called machine intelligence, AI refers to machines simulating human intelligence.
Blended AI
A combination of AI and the human touch; blended AI helps companies improve customer journeys and agent performance.
Asynchronous Messaging
The integration of native messaging apps with automation, AI and assisted service, asynchronous messaging helps you serve customers on their terms, with natural conversations they'll appreciate.
Chatbot
A computer program designed to imitate conversations with humans. Chatbots are used in some contact centres as "intelligent virtual agents" that handle routine customer questions and provide company and product information.
Voicebot
A voice-activated chatbot.
Contact Centre as a Service (CCaaS)
A cloud-based customer experience solution that lets companies use a contact centre provider's software. CCaaS offers scalability and allows businesses to purchase only the technology they need at any given time.
Cloud Contact Centre
A cloud contact centre is a central point in an enterprise, hosted on an internet server, from which all inbound and outbound customer communications are handled. Cloud contact centres make interactions through voice, email, social media and the web accessible from virtually anywhere.
Customer Experience Management (CEM)
CEM is the practice of designing and reacting to customer interactions to meet or exceed customer expectations, thus increasing customer satisfaction, loyalty, and advocacy (according to Gartner).
Customer Journey Map
Visual documentation of a customer persona's needs, perceptions and the touchpoints encountered for each step toward the customer's goal. Journey maps are a common approach used to design customer-centric processes for multichannel customer engagement.
Customer Self-Service
The capability to provide a response to a customer without agent interaction.