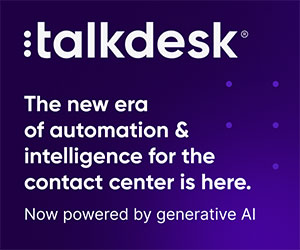 Our panel of experts discuss 20 things you need to know before implementing artificial intelligence (AI) in the contact centre.
1. AI Is Not a Replacement for Human Contact
Artificial intelligence (AI) enables companies to collect and use crucial insight to enhance customer relationships, which has been critical in an era where customer loyalty is key.
But companies need to realise that the technology has its limitations.
Many businesses claim that automating their communication with customers is making their journey more efficient and streamlined. But is that really the case, or is this just putting up a barrier between them and their customers?
To capitalise on the phone conversations that companies, and their customer service staff, are having with customers, brands will increasingly turn towards AI and machine learning – but they must do this in the right way.
Unfortunately, the likes of chatbots and voice assistants are often being used by companies as a replacement, rather than enhancement, to customer service offerings, and as a result the technology is beginning to get a bad name for itself.
Alternatively, businesses can better use AI to improve their telephony offering, This can provide a more personalised service by giving access to a 360-degree view into all customers' previous interactions with the brand across any channel.
Ultimately, our future with machines is going to be (and needs to be) one of partnership and enhancement, not sweeping replacement.
Thanks to Neil Hammerton at Natterbox
2. AI Can Be Used to Predict Customer Intent
Your customers may contact you for a multitude of reasons. Some of these reasons are fairly straightforward, others are intricate, yet, rarely are they entirely novel.
With the immense data that you are collecting with every recorded phone call, chat interaction and email, you have a strategic asset that can be used to train machine learning models to understand customer intent within conversations.
Once you understand true customer motivations, you can then use AI to optimise interactions through:
Smarter routing of your customers
Presenting potential up-sell and cross-sell suggestions for advisors during customer conversation
Flagging interactions for fraud and compliance risk
3. AI Can Improve Customer Churn by Suggesting a "Next Best Action"
AI enables you to analyse all of a customer's feedback and create a personalised profile that includes summaries of customer sentiment, interests and their expectations of your brand.
When you combine this feedback with other metadata – such as purchase or claims history, customer lifetime value and customer demographics – you develop a clearer picture of the customer's motivations and decision-making process.
The data can be used to train machine learning algorithms to predict a "next best action" for each customer.
This recommended action could be as simple as proactive outreach to a disgruntled customer that is predicted to churn or more complicated like offering an exact discount or promotion code that will have the most likelihood of resulting in a new sale.
4. AI Can Help You to Track Customer Effort
Customer effort is one of the leading indicators of loyalty. Analysing customer effort can guide companies in identifying emerging issues before they explode into major issues.
Traditionally, effort has been quantified through structured questions on a survey. However, AI and machine learning techniques, combined with text analytics, can aid in evaluating the level of effort expressed in any piece of unstructured customer feedback.
AI can do this through interpreting word choice and sentence structure, as you can quickly understand which aspects of the customer experience cause friction in any feedback source – not just in surveys.
Thanks to Shorit Ghosh at Clarabridge
5. AI Is Best Implemented With the Support of the Entire Team
Before you deploy AI, it is worth considering that one of the biggest risk factors in any IT implementation, system upgrade or system change are the human users of that system.
By failing to communicate in an open, honest, transparent way how this technology is going to benefit them, you will meet resistance.
If you simply say, we are rolling out this new robotic-led approach on Monday, your employees will inevitably be negative towards the technology and may even actively sabotage it.
Instead, you need to get people involved in the process. Ensure they can test out the technology in a safe environment and make sure they are comfortable with it, before you even start rolling the technology out.
6. Chatbots Work Best With a Job Description
When businesses implement advanced automation today, many do so thinking that if they write a cheque for new AI technology today, suddenly, by next Monday morning, everything will be running efficiently and the business will be saving lots of money. Unfortunately, it doesn't work like that.
Humans work far better when they have clear targets and defined roles. AI is the same. Any robot, like any human employee, needs a job description.
Most bots fail to deliver in the first instance as most businesses don't link their acquisition to a defined business goal. Don't make the same mistake. After all, if you don't know exactly what you want the robot to do, how are you going to develop it?
Just like a human, a robot needs to have access to relevant knowledge and information to do its best job.
7. AI Increases in Value With Good Knowledge Management
Any AI application will only ever be a good as the knowledge at its disposal. You need to ensure that when a question is answered in the contact centre, that knowledge is captured and delivered into the knowledge management system (KMS), so that customers, bots and advisors can feed off it.
After all, how can AI be used to make decisions when it does not actually know anything? It can learn but it needs relevant data to do that.
This is why it is so important to have processes and procedures in place that enable you to feed accurate data and intelligence into the KMS.
Many businesses are too reliant on their employees as a source of knowledge and therefore run the risk that if people leave the business, they take the knowledge and understanding that they have gained with them.
Thanks to Jeremy Payne at Enghouse Interactive
8. AI Is Driven by Customer and Employee Data
Any strategy that uses AI and machine learning should be considered within a broader customer experience AI strategy that considers how data will be leveraged across both the customer and employee journeys.
There are many opportunities to apply AI and machine learning across the customer engagement process.
For example, knowing the right moment to proactively engage with customers online, routing to the best agent based on the desired business outcome and assisting them to accurately handle enquiries – AI and machine learning can help drive all of that.
However, AI applies to more than just customer journeys. It can also help identify why specific agents are better than others at certain contact or customer types, increase the speed and accuracy of workforce planning and scheduling and automate task completion post-contact.
9. AI Does Not Need to Be Supported by a Large IT Team
There is a misconception that deploying and effectively using AI requires a large IT department and a host of highly educated data scientists.
In reality, the technology has matured to a point where organisations no longer require a slew of in-house specialists to make chat and voice bots work for their business.
However, deploying a bot still requires thorough planning, designing and development to ensure it addresses a specific need within the business.
Successful bot deployments also require buy-in from key stakeholders involved with the customer journey, whether from the contact centre, sales or marketing departments.
10. AI Can Be Used to Better Capture and Prioritise Leads
AI can prove useful in capturing and prioritising leads, converting prospects faster, detecting and reducing abandonment and nurturing prospects with greater efficiency.
For example, businesses can use machine learning to chart the patterns and behaviours of website visitors.
Also, the technology can determine predictive outcomes for which customers are lost on the website, may leave the website or abandon their cart.
This can be valuable as it allows marketing and sales teams to engage at the right moment with the right offer on the right channel – chat, chatbots, live sales rep, email, mobile.
Thanks to Brendan Dykes at Genesys
11. AI Needs a Clearly Defined Purpose
Before launching into the world of AI, make time to identify the areas your business wants to automate. Ask yourself: What channel should AI be used for?
For example, if your organisation has an omnichannel strategy, then webchat or social media may be the ideal starting point, as many of the platforms already have integration tools built in.
What enquiries should your AI deal with? Define where AI should sit, for example as a gatekeeper for enquiries it can easily answer, and then what should be directed to a human customer service agent.
Most importantly, define the hand-over process to the advisor – avoid abrupt transitions, keep a record of the AI conversation for the advisor to review so the customer doesn't have to repeat themselves and ensure the customer is kept informed during transition.
12. Chatbots Are Being Used More for Assisting Advisors
Chatbots are now being used as dedicated virtual personal assistants for advisors. They combine learning from the contact centre and other parts of the business to provide advisors with real-time knowledge, as well as suggested solutions, to solve customer queries.
Media archives within the contact centre solution are a perfect place to create a living library of machine learning and historical records of previous chat interactions.
Transcribed voice conversations, full of unstructured data, are transformed into structured data that is easily searchable by text.
Advisors can engage with their "bot buddy" through speech or text communication while virtual technology works behind the scenes to support them in real time.
Thanks to Colin Hay at Puzzel
13. AI Can Predict Customer-Facing Metrics Scores (e.g. CSat)
With AI, you can analyse the wealth of data that you collect to accurately predict metrics such as a customer's Net Promoter Score (NPS), Customer Satisfaction (CSat) or Customer Effort Score (CES).
This has the potential to improve call routing, as you can route the customer to the advisor with whom they are predicted to have the best relationship, depending on these predicted scores.
Also, if you have an analytics system that includes AI functionalities, you can predict the customer's reaction to certain advisor actions and use this information to guide advisors through the call, in real time.
14. AI Can Create a Better Picture of the Overall Customer Experience
Most organisations record customer calls and capture interactions on other channels for quality assurance purposes. But they ignore the huge insight this same information could provide for better customer and agent experiences.
In fact, most organisations only listen to between 1% and 3% of the calls they receive each month – perhaps because it is unstructured data that is hard to analyse.
An analytics systems that uses AI technologies can take this resource of unstructured data and analyse it, along with structured data from surveys or review sites.
Thanks to Frank Sherlock at CallMiner
15. Conversational AI Needs a Simple, Human Escalation Path
Customers often share sensitive information, alphanumeric data and email addresses over the phone. A rule-based AI solution will fail to understand such complexity of utterances and intents. That's where humans come in.
Real-time human involvement will help AI 'understand' the customers better and also help the system learn over time.
Even when dealing with advanced AI technology, there will usually come a time when it is not able to understand the customer query, or it does not know the answer. The worst thing that can happen at this point is for the AI technology to keep responding with an inaccurate answer.
AI technology should be able to recognise when they do not know the answer to a query and redirect the conversation to a live advisor.
Also, it's a huge plus if it's able to pass off the context and past history of the conversation to the advisor so that the user does not have to repeat themselves.
Thanks to Priyanka Tiwari at Interactions
16. AI Can Manage Large Sets of Unstructured Data
Analytics systems that are powered by AI and machine learning can help businesses comb through huge, previously unstructured data sets to discover what customers are thinking and feeling.
These tools can capture data from contact centre calls, social media, and messaging apps and combine that with information from the CRM system.
Using this data, businesses can personalise each customer conversation to build a rapport, deliver better advice and recommendations and establish the emotive interactions that have become key to the customer experience.
Service managers can also use these insights to improve their teams' operations, reduce potential frustrations in the customer journey and coach advisor communication skills.
Thanks to Artur Michalczyk at NewVoiceMedia
17. AI Will Change the Advisor Job Role
With all of this talk of AI and self-service, it is easy to think that advisors will become a less crucial part of the contact centre. This is not necessarily true, but their roles will certainly change over time.
Already we are seeing virtual assistants working alongside the contact centre team, guiding advisors through customer conversations with next best steps.
One British telco giant uses this technology to guide 10,000 advisors in the contact centre and associates in 600 retail stores to answers and through processes.
The results? A 37% improvement in First Contact Resolution, 30 point improvement in Net Promoter Score and a 50% improvement in speed to competency.
Thanks to Anand Subramaniam at eGain
18. AI Can Predict the Customer's Next Move
When customer journey analytics is used alongside AI, businesses can predict what a customer may do next and use past interactions to help them identify how much effort, positive or negative, it will take for their issue or inquiry to be resolved. This helps organisations to quickly identify which journeys are broken.
Also, customer experience professionals can develop predictive models to determine journey outcomes before they occur.
Utilising hundreds of journey attributes, such as the number of channels used or channel duration, allows businesses to predict what steps or which customer segments are highly likely to lead to complaints, churn, or even deflection from a specific channel.
However, there is a thin line between delighting and disappointing a customer. The use of AI helps businesses find a balance, as it enables them to predict customer behaviour and proactively prevent negative customer experiences.
This, in turn, helps businesses transition from relying on gut-instinct and knee jerk reactions, to leveraging data-driven decisions that let them shape journeys and transform the customer experience.
Thanks to Kenneth Briscoe at NICE 
19. AI Is Being Used More to Automate Mundane Tasks
Plenty of tasks, particularly in customer service, will always require a human connection to go above and beyond so as to deliver "wow" moments remembered by customers.
But in a surprisingly high number of cases, a lot of the more mundane contact centre activities can be automated via RPA, leaving your team to focus instead on high-value processes.
Not everyone expert helps when it comes to RPA. If someone is very skilled at delivering a process, they might not be the best person to design a solution for the average user.
20. AI Can Make Decisions Through Cognitive Automation
Cognitive Automation uses AI to automate processes which require decision-making skills. This can work effectively with tools such as bots for more personalised and efficient customer engagement.
However, automation of routine tasks will inevitably have an impact on certain roles, such as data-entry jobs.
There might also be a negative effect on financial planners. But as some professions are affected, others will grow, making room for improvement and advancement.
Job titles that are less familiar now but which have some variant of 'automation' in their title will soon be very familiar, offering a host of career and retraining opportunities.
Thanks to Garry White at Business Systems
For more from our panel of experts, read our articles: