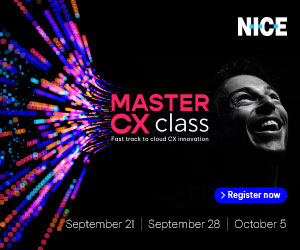 NICE has announced that a key government agency in the United Kingdom chose NICE Advanced Process Automation technologies as part of its strategy to improve organizational efficiency and accuracy.
In one of the most complex automation projects for which NICE advanced artificial intelligence (AI) and robotics technology has ever been used, the agency is collecting and coordinating data from 19 different systems across the organization as part of its digital transformation strategy.
In addition, the integration of NICE advanced AI and robotic automation makes it possible for the agency to annually streamline tens of millions of transactions, process more than 28 million pages of handwritten forms, and provide thousands of advisors with real-time guidance for interactions with the public.
Given the scope and scale of the authority's activities, a growing population, periodically changing legislation and the need for resilience in the face of crises, this department required an agile, highly scalable and flexible solution.
The unique NICE combination of advanced AI and unattended automation was determined to be the best option for eliminating cumbersome, time-consuming tasks, boosting productivity and improving operations. Moreover, NICE's technology is especially well suited to the public sector where resilience has become non-negotiable.
Hundreds of NICE robots automate and support a wide array of processes across the agency, including administrative tasks, data gathering, communication with customers and regulatory compliance.
For example, NICE technology is helping the authority process self-service applications for payment arrangements, update changes in circumstances in multiple systems, correct errors, coordinate diverse sources of data, and more.
In addition, the NICE employee virtual attendant (NEVA) provides employees contextually relevant guidance during live interactions and assists with huge seasonal surges in frontline contacts. It can also quickly combine disparate systems and adjust processes on the fly to address rapidly changing needs.
In order to automate the processing of millions of pages of handwritten forms, the government agency implemented an integration of NICE automation solutions and the Hyperscience Platform, which delivers industry-leading intelligent document-processing capabilities.
The authority selected the Hyperscience-NICE joint solution after a "bake-off" pilot against major global competitors, during which it was found to be the most accurate and versatile.
Across multiple types of forms with over 400 fields, the combined technologies demonstrated 99.4 percent reading accuracy – which is above the 95 percent human accuracy level – and 100 percent automation of data extraction and export.
"We are pleased to meet this important government agency's need for a robust, innovative robotic process automation solution that saves time, improves productivity and provides greater flexibility," said John O'Hara, President, NICE EMEA.
"Leveraging our technology with the power of Hyperscience, this agency has seen a significant return on investment through efficiencies that free up resources, reduce complexities and streamline the organization's multiple self-service options."
NICE Advanced Process Automation solutions are increasingly becoming the technology of choice for public sector organizations embarking on a digital transformation journey as they mechanize their operations and uncomplicate repetitive tasks.
For example, NEVA provides real-time, dynamic support, such as retrieving information the frontline agent needs, when they need it, and then assisting with any routine follow-up actions.
Similarly, it can ensure that change of circumstances information received through multiple channels is automatically proliferated across relevant documentation. In addition to streamlining these processes, NICE automation solutions free employees to focus on the personal touch that is critical to ensure exceptional customer experiences.
For more information about NICE - visit the
NICE Website