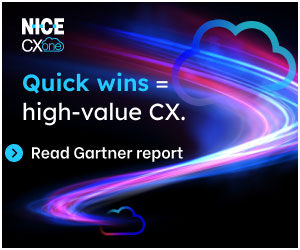 NICE have announced the introduction of the NICE Robotic Automation Community, a global, communal educational platform providing vast resources and assets to accelerate the professional growth of the fast growing Robotic Process Automation (RPA) industry.
The proliferation of RPA across industries is driving an upsurge in the need for professionals with specialist automation skills, a trend that is expected to continue.
The NICE Robotic Automation Community helps organizations meet this demand by offering rich and varied educational resources, allowing employees to grow their professional automation skills, as well as enabling established professionals to hone their expertise from peer to peer experiences and global best practices.
At the heart of the new community is NICE's 16 years of RPA experience and a plethora of successful large-scale deployments which makes it the vendor best equipped to offer the most comprehensive resources and expertise.
By joining the NICE Robotic Automation Community, entry level employees as well as experts can learn how to harness the exponential growth the industry is experiencing and cultivate their skills and careers.
Open to customers, partners, system integrators, as well as domain professionals across industries and from around the globe, the NICE Robotic Automation Community offers a variety of materials on one central platform.
Materials include short articles, how to videos, white papers, in-depth e-learning content for technical employees and consultants, as well as certification programs.
The community includes a forum that encourages discussions among peers and with NICE experts, enabling the sharing of best practices, guidelines and experiences that members can learn from and adopt in their own implementations.
NICE's community is integrated with NICE Dojo, one of the largest global learning networks which enables users to easily access training assets and choose flexible learning paths to suit their individual and professional needs.
The new Robotic Automation Community is backed by NICE's vast knowledge and long-standing success rate in RPA, spanning 16 years of industry experience with large-scale and complex enterprise grade implementations.
With over 550 deployments, many in Fortune 100 companies, and 500 000 robots in production, NICE is best equipped to deliver technical insights, industry leading best practices and practical guidelines that fuel RPA project success.
In addition, as attended automation leaders, augmented by the launch of NEVA (NICE Employee Virtual Attendant), a first of its kind virtual attendant for employees, NICE's community members will have access to leading insights on NEVA's cutting edge virtual assistant technology, as well at the latest cognitive innovations and trends in the industry.
NICE RPA was named a 'Leader' and 'Star Performer', and Best-in-Breed for RDA (Robotic Desktop Automation) in Everest Group's PEAK Matrix, part of their RPA Technology Vendor Assessment 2018 report.
Barry Cooper, President, NICE Enterprise Group, said: "As the most established and experienced RPA vendor in the enterprise market, NICE is delighted to launch a comprehensive and engaging global community to drive collaboration and innovation among RPA professionals."
"The NICE Robotic Automation Community is the ideal platform to share in-depth experience and industry knowledge."
"Our innovative RPA technology is built to support the most complex process scenarios facing enterprises today."
"The RPA market is vibrant and dynamic, and we are excited to be contributing towards and shaping the industry on a global scale."