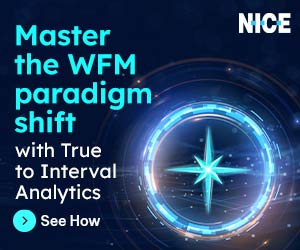 Speech Technology magazine has named NICE a 2022 Top Ten Speech Industry award winner for boosting contact centre performance and functionality with its artificial-intelligence (AI) based capabilities powered by its Enlighten AI engine, as well as NICE CXone's advanced analytical and digital capabilities.
The Speech Telephony awards program recently highlighted developments in speech technologies across a range of industries and advanced technology providers.
According to Speech Technology, "When it comes to cloud contact centre solutions, one could easily make the case that NICE CXone is among the leading integrated platforms in the industry.
And in the past year, NICE really boosted performance and functionality with a slew of artificial intelligence-based capabilities powered by its Enlighten AI engine."
Speech Technology continued, "An example is the new Enlighten XO, which automatically generates insights from human conversations to build smart self-service with advanced AI.
Enlighten XO analyses 100 percent of interactions from any voice or text platform to discover opportunities for automation. Purpose-built AI models identify customer intents, training phrases, and problem-solving activities."
Speech Technology also pointed out other contributions by NICE to contact centre performance excellence:
NICE Customer Experience Interactions (CXi) is a framework delivered through a unified suite of applications on the CXone platform. CXi empowers organisations to meet customers wherever their journeys begin, enables resolution through AI and data-driven self-service, and prepares agents to resolve customer issues. The CXi approach combines CCaaS, workforce optimisation, speech and text analytics, artificial intelligence, and digital self-service.
NICE introduced Enlighten AI for Complaint Management, which automatically identifies and categorises consumer complaints and automates the remediation process. Driven by NICE's AI engine, the solution analyses 100 percent of interactions across all communication channels and operationalises root-cause insights to protect organisations from reputational and compliance risks. NICE Enlighten AI for Complaint Management also serves as an early warning system, notifying companies of the potential risk of regulatory action.
NICE partnered with Google Cloud, integrating CXone with Google Cloud Contact Centre Artificial Intelligence (CCAI), enabling intelligent natural language capabilities across the customer journey, including self-service bots and agent-facing virtual assistants. CXone Virtual Agent Hub allows businesses to expand their customer self-service capabilities with conversational bots for voice and chat that leverage Google Cloud's Contact Centre AI.
"NICE is taking the digital-first customer experience to the next level through the power of AI," said Barry Cooper, President, CX Division, NICE.
"We are proud to receive this important award that reinforces our role as an industry leader helping brands deliver data-driven, actionable insights in real time as they automatically learn from every interaction."
For more information about NICE - visit the
NICE Website