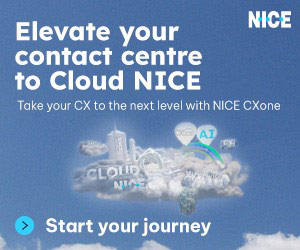 NICE inContact have announced increased support for contact centres to eliminate potential disruptions during the current Coronavirus (COVID-19) outbreak.
NICE inContact is providing a free work-from-home module for users of the NICE inContact CXone cloud customer experience platform, to maintain service continuity while employees need to work from home.
In addition, to support the potential increase in call volume that organizations may receive, NICE inContact will provide free voice call ports to those organizations for the next six months.
NICE inContact will also offer a free Business Continuity Planning review to verify that work from home and geographic flexibility can be performed without interruption to the business.
In several instances, NICE inContact has set up new centres able to service millions of citizens within hours.
By shortening the set-up time by 99% compared to conventional systems, governments and businesses can now respond with speed and agility to quickly changing customer needs and business continuity demands.
In addition to the work-from-home offering, CXone provides full capacity elasticity and flexibility to dynamically move work across geographic locations.
As businesses are shifting work to less affected regions and need to handle significantly variying volumes of customer service interactions, CXone enables an instantaneous shift in volume and location, across over 100 countries.
As the leading cloud platform for contact centres, NICE inContact CXone has a global, geographically redundant cloud infrastructure with built-in elasticity to dynamically scale up or down based on demand.
The company's technology proactively monitors and continuously forecasts demand with reserves for immediate spikes in volume and the ability to add data and storage capacity immediately.
Customers can rely on the 99.99% guaranteed availability on our carrier-grade network with global data centres and points of presence (POPs) as well as 24/7/365 network operations monitoring.
"We understand the urgency around protecting our health and well-being," said Paul Jarman, CEO NICE inContact.
"Through both 211 and 311, critical information is provided throughout our communities. To help manage the increased volumes we are offering free voice ports to these organizations over the next six months."
"We are also offering NICE inContact CXone customers an integrated softphone free of charge to support work from home agents."
"Furthermore, our complete cloud solution ensures scalability, security and reliability to support business, government and community services as they plan and respond to changing conditions."
This news story has been re-published by kind permission of NICE inContact– View the original post
For more information about NICE inContact, visit: www.niceincontact.com