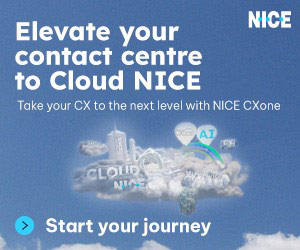 NICE inContact, have announced the expansion of its artificial intelligence applications with the Omilia conversational technology stack on CXexchange, a marketplace featuring ready-to-use applications designed to integrate with NICE inContact CXone.
The Omilia conversational technology stack for organizations using CXone leverages artificial intelligence and automation that provides easy-to-deploy speech-enabled virtual assistants and AI chatbots.
When deployed at a top ten financial institution, Omilia's technology increased customer satisfaction with a double-digit increase in successful self-service interactions, based on 86 percent task completion rate and a world-class word error rate of 4.26 percent.
NICE inContact CXone customers will benefit from Omilia's conversational AI technology stack by enabling:
Conversational customer care for voice and digital channels
Voice biometrics for passive and dynamic conversational authentication
Advanced speech analytics
Companies using CXone and the Omilia application can deploy next generation conversational customer care portals over all channels using one single cloud customer experience platform — designing and training Omilia artificial intelligence once and deploying the same application on all channels, all while keeping precious customer data in one unified location.
NICE inContact CXone empowers organizations to provide an exceptional customer experience by acting smarter and responding faster to ever-changing consumer expectations. To meet the needs of organizations of all sizes, CXone combines best-in-class Omnichannel Routing, Workforce Optimization, Analytics, Automation and Artificial Intelligence—all on an Open Cloud Foundation.
"Omilia is excited for this partnership with NICE inContact and being part of CXexchange," said Dimitris Vassos, CEO of Omilia.
"Our technology helps companies provide amazing customer experience with cognitive conversational self-service, human-like speech-recognition and unstructured dialogs on all channels, on one single platform integrated with CXone."
DEVone offers partners broad tools and resources to enable independent software vendors (ISVs) like Omilia to create new applications on CXone, including extensive documentation and support, and access to an online developer community. Companies interested in how Omilia's application works with CXone can visit CXexchange to learn more about the application and read reviews. CXexchange is a centralized, state-of-the-art marketplace for developers to market and sell their applications ready-to-integrate easily with CXone.
"Each customer that works with NICE inContact has specific needs and business goals in relation to their contact center operations," said Paul Jarman, CEO of NICE inContact.
"Omilia's integration with CXone adds a modern, customizable self-service feature to our cloud customer experience platform. We welcome Omilia as part of the CXexchange marketplace."