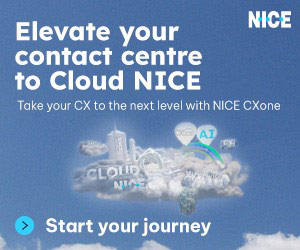 NICE has announced that it has received Frost & Sullivan's 2022 Asia-Pacific Cloud Contact Centre Services Technology Innovation Leadership Award for its strong overall performance in the Asia-Pacific cloud contact centre services industry.
With this Best Practices Award, Frost & Sullivan, recognises the company that delivers the best technology solution for achieving remarkable product and customer success while driving future business value.
Frost & Sullivan evaluated NICE for its complete CX and workforce engagement solutions benefiting enterprise clients of all sizes and industries.
Their analysts recognised NICE as a leader in delivering customer interaction solutions that help clients predict customer intent, take action to improve service, and optimise CX.
According to Frost & Sullivan, NICE "CXone delivers extended digital-first reach, hyper-personalisation, true omnichannel with digital-to-voice elevation capabilities, real-time interaction advising agents on critical customer behaviours, expanded self-service capabilities, and a complete suite of workforce engagement applications."
Regarding the Asia-Pacific market, Frost and & Sullivan's research noted that "Asia-Pacific has long been key to NICE's market expansion strategy with NICE increasing its focus on adapting its solution to local preferences and customer requirements."
"Frost & Sullivan lauds NICE for differentiating itself in the highly competitive market by having one of the industry's broadest and most innovative solution portfolios that delivers efficient, consistent, and customised digital-first experiences," said Sherrel Roche, Industry Principal, Frost & Sullivan.
"As a leader in customer interaction solutions, NICE has earned the 2022 Asia-Pacific Cloud Contact Centre Services Technology Innovation Leadership Award for its robust CX offerings, successful integration of maturing technologies, and strategic relationships with its clients, partners, and employees."
NICE is delivering on the requirements of a new digital era, proactively responding to the emerging market standard: SuiteForm, an industry-leading innovation that combines a platform solution with a full suite of digital-first applications.
"It is no longer enough to cobble together multiple applications to achieve digital-first CX goals, and that is why NICE offers a comprehensive suite of end-to-end CX solutions as part of its fully integrated, scalable cloud-native platform, CXone," said Darren Rushworth, President, NICE International.
"We are pleased to be recognised by Frost and Sullivan as the leader in delivering CX solutions that meet the needs of the Asia-Pacific market, and we see a great opportunity for growth in that region as more and more organisations move to a single, complete digital and voice customer experience solution."
For more information about NICE - visit the
NICE Website