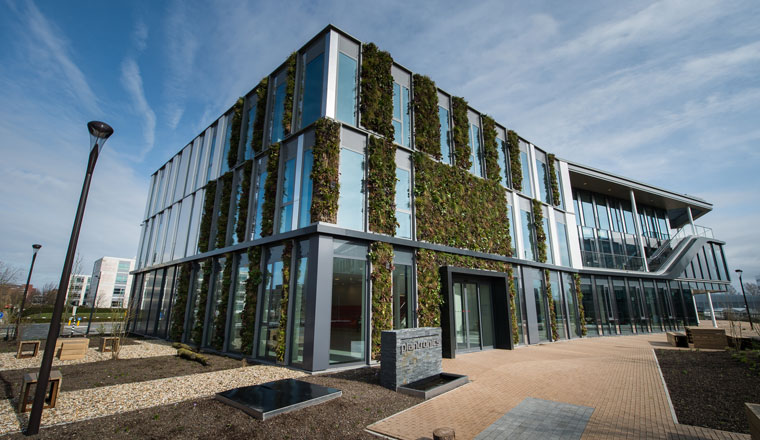 Plantronics has officially unveiled its new office in Hoofddorp, Netherlands.
The office is designed to show how the right mix of acoustic expertise, state-of-the-art technology, and biophilic design, or design influenced by the natural world, can result in better employee collaboration, concentration and productivity.
The new Plantronics office, which is located in Hoofddorp's innovative Park 20|20 office site, is designed to function as an acoustic showcase that accommodates various employee work styles, without the distractions typically found in an open office.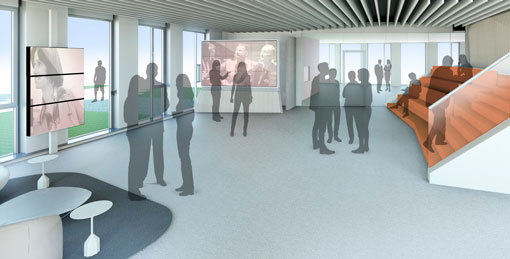 Active acoustic management features use both sights and sounds from nature to help manage noise. The result is a symphony of sound layers that make it possible for diverse activities to take place simultaneously with minimal disruption, including impromptu hallway meetings, pop-up brainstorms, video conferences, quiet concentration, even product testing.
Plantronics employees will now enjoy the flexibility and comfort of working anywhere in the new space with minimal distraction and optimal privacy.
The site also functions as a living lab of a modern work environment where Plantronics can test and refine its solutions for the communications challenges that many of today's workforce face, and better support its customers' and partners' needs.
Designing the Open Office of the Future: Smarter Working
Plantronics has devoted more than 50 years to developing solutions that help people communicate more easily and addressing challenges such as workplace noise and distraction in the office.
The Netherlands location is the latest and most advanced example of the Plantronics vision of Smarter Working.
This approach encourages people to make any place they're comfortable working their workspace and embraces innovation to boost efficiency for both the business and the individual.
Smarter Working is a holistic strategy based on three core elements.
People
Recent research from Oxford Economics shows that 64 percent of employees believe that blocking out distractions increases their productivity.
A survey of employees by architecture firm Gensler reveals that innovative companies are five times more likely to have workplaces that prioritise both individual and group workspace.
By understanding the importance of physical space and its influence on how people work, Plantronics made conscious decisions around materials, layout, and design to help employees stay focused and engaged while giving them the freedom to choose their work style.
Plantronics also drew upon its own extensive research on workers' evolving needs and pain points with communication technologies.
Through this work, the company identified prevalent working styles or "personae" that it uses to understand and take into consideration user behaviour, device preference, and work style.
Places
Plantronics selected Park 20|20 and worked closely with architecture firms William McDonough + Partners, N30, and Gensler to help design the space in a way that would foster greater productivity and privacy while inspiring and engaging its employees, partners, and customers.
The office layout contains both private and collaborative workspaces to support contemplation, concentration, collaboration, and communication.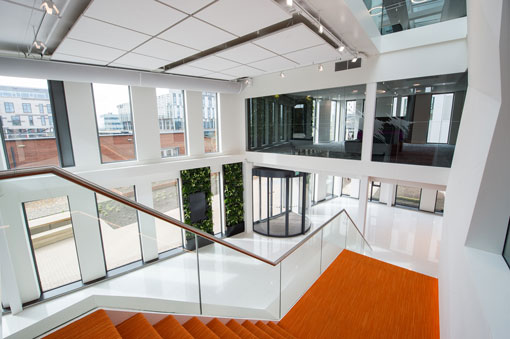 Acoustic technology and carefully selected surfaces that absorb and deflect sound help keep noise distractions to a minimum so employees can work most effectively from anywhere in the building.
Design elements that draw upon experiences from the natural world include indoor waterfalls as well as floor-to-ceiling windows to provide natural sound and light.
Plantronics worked hand-in-hand with Gensler to create an expo space that demonstrates the company's innovation in action. This includes an interactive sound table that shows the impact sound has on people's daily lives, and a sound chamber where visitors can learn how Plantronics analyses the impact of sound levels to help create its headsets.
The building and the entire Park 20|20 site utilise a "Cradle-to-Cradle" design approach. This means the building can be disassembled.
Also, it is made with many materials that are 100 percent recyclable and have been processed and produced in a sustainable and eco-friendly manner.
Throughout the building, every effort is made to conserve natural resources, from solar panels to carpets fabricated from recycled fishing nets.
The facility includes solar cells that are designed to harvest at least a quarter of the building's required energy from the sun, and its water systems include grey-water harvesting, filtration, cleansing, and reuse.
These efforts have put the building on track to receive a Building Research Establishment Environmental Assessment Method (BREEAM) rating at the 'Excellent' level.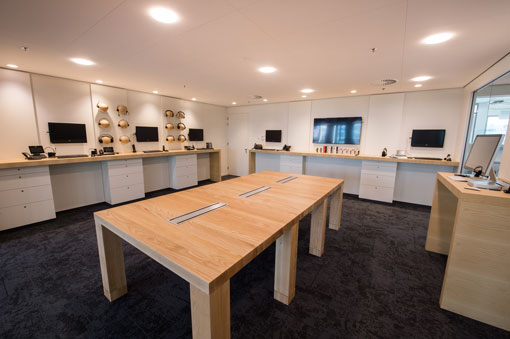 Technology
The building makes the most of Plantronics technology, from active acoustic management to headsets that help employees work anywhere easily and comfortably.
Three waterfalls within the office work in concert with the Plantronics intelligent sound management solution to help actively manage acoustics.
In addition to their beauty, these waterfalls act as a complementary visual aid to the audio overlay of a babbling brook that can be heard from the speakers above.
This natural, calming sound has been researched and tested in detail at Plantronics for the past several years and has been found to drastically reduce the intelligibility of background noise – and the distractions – of open-plan workspace.
This biophilic design not only supports associates' need for privacy but also plays to humans' innate connection to nature.
"Plantronics has applied years of research and expertise towards solving some of people's most challenging communications and acoustic problems," said Joe Burton, president and chief executive officer at Plantronics.
"Since 2012, we've dedicated even more time to exploring this approach to Smarter Working and coming up with a holistic strategy that helps people be more engaged, productive, and happier at work.
"The journey of designing this office has been about creating a great environment that our employees will thrive in, and it's been an opportunity to bring to life our vision for the modern workplace."
Paul Clark, managing director, Europe and Africa at Plantronics, added that: "Placing this state-of-the-art facility in The Netherlands creates a competitive advantage for our employees in the region and allows us to more effectively demonstrate the entire range of expertise and solutions that Plantronics can offer to customers and partners throughout Europe and Africa.
"The unique full-service environment of Park 20|20 is the perfect setting for such a showcase space."
"In designing the Expo space, our aim was to integrate the Plantronics story with their technology innovations, to create a narrative and provide an informative journey through the space," concluded Milena Jovovic, design director at Gensler.
"This project embodies Gensler's approach to designing human-centreed and experientially rich spaces.
"By leveraging our thought leadership across multiple design disciplines, we were able to create a holistic and immersive experience, consistent with the overall design of the building."
Find out more by visiting www.plantronics.com
---