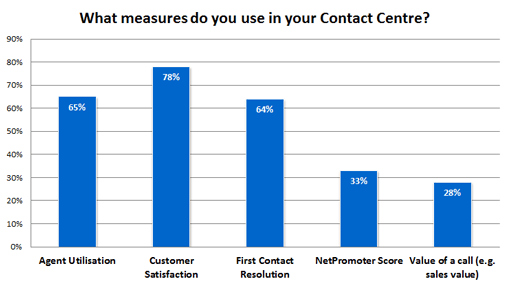 Despite being a very old metric, 78% of industry professionals noted that they still use Customer Satisfaction (CSAT) in their contact centre.
In fact, according to our poll,  CSAT surpassed the next "most-used" metric in the contact centre, Agent Utilisation, by 13% and First Contact Reolution by 14%.
In relative terms, the "new-boy" on the metric block, Net Promoter Score, is not as yet anywhere near CSAT in terms of popularity, only being used by a third of our participants contact centres.
Poll – "What measures do you use in your Contact Centre?" – answers
Agent Utilisation – 65%
Customer Satisfaction – 78%
First Contact Resolution – 64%
NetPromoter Score – 33%
Value of a call (e.g. sales value) – 28%
Source: Call Centre Helper webinar: 10 ways to improve First Contact Resolution     Sample size – 268     Date: March 2013
Published On: 25th Jun 2013 - Last modified: 18th Feb 2020
Read more about - Archived Content
---