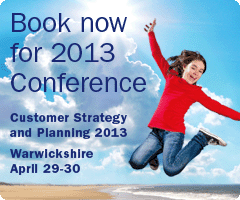 'Putting People First' will be the theme for the Professional Planning Forum 2013 conference, taking place on 29 – 30th April 2013 in Chesworth Grange, Warwickshire.
The hugely popular conference will pull together over 650 people from all industry sectors and will include specific forums for strategy, quality & customer experience, performance, outbound, back office and public sector transformation.
So why Putting People First? "Every successful innovation that wins our awards is driven by the passion and energy of people. Even projects that seem to be about technology or numbers are driven by people with confidence and skill. People who care; who communicate their passion," explains Paul Smedley, Chair and Founder of the Planning Forum.
Key to the conference is the chance to hear real, insightful experiences, with a multitude of case studies, great speakers from industry leaders in every sector and facilitated discussion built into every forum.
Steve Woosey, Chief Executive, continues. "Here at the Planning Forum we say that people lie behind every number. If you want the plan to work, if you want to raise performance, if you want the customer to notice the difference, then we need to take people with us on the journey, to light the fire of enthusiasm and commitment. We need to put people first."
Nominations for the Customer Contact Innovation Awards are now invited from European centres for all categories.  These awards showcase initiatives that make customer contact a pleasure for customers and contact centres a great place to work, and offer industry recognition for work that has made a significant impact on customer contact performance, operations and strategy in the last year.  Nominations close on 22nd October.
Bookings for the conference are now open and details can be found at www.planningforum.co.uk/conference.
Nominations for the awards can be found at www.planningforum.co.uk.
Published On: 17th Oct 2012 - Last modified: 22nd Mar 2017
Read more about - Archived Content
---