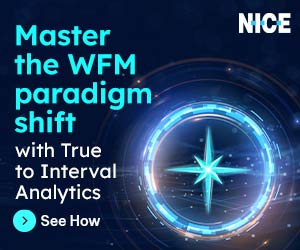 Lauren Maschio of NICE discusses how call centres are adapting their quality programmes in light of the transition to remote working.
By now, most contact centre employees have settled into a new at-home routine. Each employee's situation is unique, with needs that include managing childcare and handling workday distractions from a spouse, roommate or pet.
For many contact centres, the impact of this new landscape on customer interactions hasn't been 100% clear.
They have much less insight into what's influencing customer satisfaction than they did in the physical contact centre, creating a big question mark when it comes to understanding just what is happening between agents and customers.
Now more than ever, contact centres need insight into customer interactions to identify where agent assistance, coaching and improvements are needed.
Automated quality management programmes are the key to unlocking those insights, especially during the COVID-19 pandemic when contact centres are still expected to meet their customer service goals.
NICE surveyed quality leaders from the NICE User Group (NUG) to identify the key trends impacting quality in this new at-home working environment.
Call Volumes Have Changed in Some Industries
The majority of call centre quality managers that were surveyed said they have either seen an increase in call volumes or no change at all; fewer said they experienced a decline in call volume.
The extent of the increase was related to the industry; many financial services and insurance enterprises, for example, initially experienced a higher volume of calls from customers concerned about their personal finances and available stimulus programmes.
With the increase in call volume, some organizations had redirected customers from an IVR to digital channels such as chat to handle inbound enquiries more efficiently.
Other contact centres that faced an increase in call volume asked quality evaluators to handle the influx, which resulted in the completion of fewer quality evaluations.
About 20% of survey respondents said that frequency and quantity of evaluations had changed because of the increase in call volume. With less time for evaluations, contact centres had to reprioritize who should receive them.
For example, some contact centre quality programmes shifted to focus on evaluating interactions of new agents, who will need more guidance than seasoned agents.
To ensure that evaluators' time was being used effectively, contact centres placed a greater focus on evaluating the calls that matter most – those that are outside normal parameters for call length, a channel that is new to an agent or a call type that is critical to the business (such as sales).
Without a quality management programme analysing 100% of interactions across channels, organizations found it more challenging to have insight into customer satisfaction as employees adjusted to new ways of working.
Even organizations that were experiencing a decrease in call volume recognized that it was still important to continue adapting quality programmes to better understand where improvements were needed.
Behaviours and Technology Have Changed
Agents face a variety of changes to how they work right now. In one instance, a contact centre asked their agents to use their personal cell phones for customer calls.
Many others asked their agents to use their own WiFi at home, which means connectivity can be an issue. In many cases, the questions frontline agents were fielding were nothing like the questions they faced just a few short months ago.
And environmental changes – like family members co-quarantining at home – drove adjustments to contact centre policies.
One organization shared that while it used to require agents to ensure that customers calling in wouldn't hear family members and children in the background, leaders altered company policy to reflect the current reality.
Working in a quiet environment may no longer be possible in some situations. Customers have tended to be more understanding of any extraneous noise that they hear from the agent's home.
About a third of NICE User Group members surveyed said agent behaviours have changed as a result of remote work, and that means evaluations must change as well.
While organizations should try to treat agents as humans who are in a situation out of their control, it's a balancing act. Agents also need to be held accountable to contact centre policies and goals.
The key to enabling that balance is a quality programme that gives quality leaders an understanding of what's impacting call quality and offers insights that empower agents to improve.
Quality Programmes Are Being Adjusted to At-Home Work
Nearly 80% of respondents said they have modified their quality programme over the last few months.
Several quality managers increased the number of calls evaluated to gain greater insight into changes underway and more rapidly identify behavioural shifts that would necessitate a change to scorecards or evaluations.
For example, one quality manager noticed that agents were spending more time on calls in the at-home environment.
The quality programme uncovered that agents who were working with a single monitor at home rather than the two they'd used in the office simply weren't able to navigate to the correct information as quickly.
This insight allowed the organization to adjust evaluations to align with the agents' new situation.
With face-to-face meetings no longer possible, organizations have adapted their quality programmes to be higher-touch.
When agents can't talk to their peers or quickly ask a supervisor a question in person, improving call quality requires more conversations, more coaching and more training.
Many say Zoom and similar video tools are now the go-to for training new agents.
Some Organizations Are Seeing Positive Improvements to Calibration
Historically, many contact centres with agents scattered between a central office, branch offices and other remote locations have found calibration sessions challenging.
There's a tendency for those sitting together to lead the conversation, and it can be hard for remote employees to join in.
Some quality managers that were surveyed said calibration sessions have improved now that everyone is working from home – attendees speak more freely, and there's much wider participation.
The Future of Quality Management in the Contact Centre
Every quality leader surveyed agreed that working from home will likely continue indefinitely – some were considering it as a permanent option for agents that perform well.
As a result, quality management programmes will need to continue to adapt to ensure that they can still play a vital role in empowering agents to deliver great customer service.