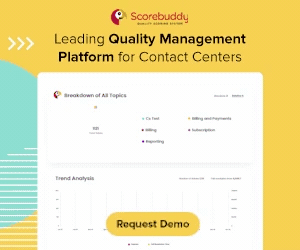 Dick Bourke takes us through the fundamentals of monitoring quality in the call centre.
Every customer service contact centre has the same message for callers: "For quality and training purposes, this call may be recorded or monitored."
But, what does "quality" mean for a call centre, and how do managers use it to provide the best possible quality service and training for call centre agents?
Call Centre Quality
In order to ensure a positive experience for every caller, contact centre managers and quality assurance (QA) specialists must scrutinise the call centre's operations.
That attention to detail will help the centre meet its goals and can also ensure that the call centre remains efficient in order to keep the overall costs low.
A Personal Touch
The call centre system in place can gather a wealth of information, ranging from call volume and average call time to hold times.
However, only a trained, professional person can listen to the interaction to make sure the agent effectively builds rapport with the customer, remains courteous and delivers positivity during every conversation throughout his or her shift.
Setting quality standards and monitoring calls to make sure those standards are met is paramount to giving customers a good experience.
Third-Party Assistance
Even though some companies have internal departments that consistently monitor the quality of calls and the agents' adherence to standards and applicable laws, enlisting third-party help is key to delivering consistent results.
Third-party QA specialists don't have the inherent biases that may come with in-house teams. The outside perspective and skill set of the third party cannot be attained within the call centre itself.
What Quality Assurance Departments Do
Listening to calls to point out problems is just one piece of the QA puzzle. It is about consistently gauging customer satisfaction by employees who are good at their jobs.
The third-party quality team can assist in implementing training and coaching and in pointing agents in the right direction to meet customer and company needs.
1. Listen to Calls and Review Emails or Chats to Enhance Customer Experience
Companies learn what customers need from their experience with a call centre. Some call centres require their agents to use scripts or specific phrases and greetings to build rapport and empathise with customers and give them accurate information.
The QA team will listen in to calls, review emails, and analyse chat transcripts to make sure every agent is adhering to standards and brand guidelines.
2. Create QA Scorecards
A call scorecard is a list of requirements and standards for every call. It's kind of like a grading rubric for a college essay.
Ideally, managers and QA specialists will collaborate with agents to establish benchmarks and create the scorecards.
Customer needs and call centre goals change over time, and the scorecard must evolve to ensure the best possible service and help ensure that the call centre can meet its goals and objectives.
The QA department can help to supervise the scorecard development to make sure they stay in line with company priorities.
3. Monitor QA Scorecards and Provide Agent Feedback
Quality departments not only help call centres develop effective and measurable scorecards, they also help ensure employees adhere to the guidelines in place.
Listening to calls and following along with the scorecard is paramount to determining if the agents meet the quality standards set in place.
However, the quality department shouldn't just be an all-knowing overseer of agents. QA should also work with agents to develop plans of action to improve if they fall short in any key areas.
4. Analyse Quality Monitoring Data
The quality department analyses the data it collects from key performance indicators and scorecards. This is essential in order to make the information useful to managers and their employees.
If the quality department gathers and gathers data accurately, it can then effectively use that information as a catalyst for creating important and lasting change.
5. Provide Call Centre Compliance
Call centres must protect consumers by following certain rules. For example, financial institutions must also deliver specific information when the law requires it.
Also, in some jurisdictions, every customer must be informed that his or her call may be monitored or recorded.
Maintaining compliance standards can be difficult because call centres have a ubiquitous global presence. However, compliance and other guidelines must be followed to the letter in order for the contact centre to legally remain open for business.
Quality is much more than an overlord cracking a whip on the agents in a call centre. Just like the agents must develop a rapport with their customers, QA departments must establish trust and cooperation with managers and agents alike.
Anyone can point out issues, but the QA department can go in-depth and make sense of the data it collects and develop tangible strategies and employee education to improve customer satisfaction and also keep the call centre staff and management happy.
Call centres can easily become complacent and even adopt bad habits that slip under management's radar. Investment in quality assurance can stop these problems before they hurt the call centre's bottom line, and help make sure it thrives.
---
Recommended Articles