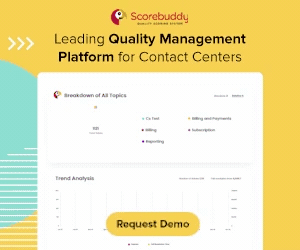 Dick Bourke of Scorebuddy shares his advice for those looking to install Quality Assurance (QA) software.
Selecting the right call centre quality assurance software isn't easy. It can be downright complicated.
There are dozens of call centre software options on the market, each promising to be the best: most cost-effective, simple to use, and containing all the features you could want.
You have to get through all the noise and over-inflation to get to the heart of the software. Only then can you determine exactly what's offered and if it will work for you.
The best way to do this is to ask lots of questions. You need to be able to clearly differentiate between software suppliers, taking a look at their features, pricing, user-friendliness, and customer satisfaction, as well as the all important client support team.
To help you out, Scorebuddy have compiled a comprehensive list of 27 questions you can ask to dig into the nitty-gritty details of your call centre quality assurance software.
1. Is the call centre monitoring software multichannel ready?
Most contact centre QA software is not multichannel ready. They're built to only monitor calls or perhaps customer service channels such as email, live chat, and social media—but not all channels at once.
Instead, look for call centre software that doesn't require different tools for different channels but can be used across all channels. This requires a flexible, call centre QA solution that's open to customization.
2. Can you weight questions on the QA form?
You need to be able to prioritize questions on the QA form based on their level of importance. Make sure you have access to a weighting or ranking system that can be customized based on your parameters and business requirements.
3. How extensive is the reporting?
QA monitoring without access to insights is worthless. If you want to implement changes and improve performance, you need the ability to create and analyse reports based on your needs.
At a minimum, you need to be able to analyse skilled personnel and craft "filterable" reports with call centre metrics reporting and analytics.
4. Is the tool transparent?
If you want your contact centre QA process to be successful, the system has to be transparent. Only in this way will you gain trust and demonstrate the value of your QA program.
5. Can you recognize positive results?
Yes, you want to be able to highlight and reward high performers, but you also want to be able to recognize poor performers and coach them accordingly.
Look for a call centre monitoring software tool that offers a balance of positive and negative recognition.
6. Can coaches use the QA tool insights?
For the best one-on-one coaching results, you need to be able to use the insights gathered from your QA tool. The tool should help your coaches provide valuable recommendations based upon real  data. Your new software should enhance your coach's role, not detract from it.
7. Are there email alerts?
When your call centre software warrants attention, is there a way to set up email alerts? In particular, you need to be able to set up email alerts for serious failures or breaches in policy.
8. Can I give real-time feedback?
Look for call centre metrics software with agent dashboards where you can provide real-time feedback. Supervisors should be able to instantly engage with agents on their performance, behaviour, and improvements. In this way, your agents are empowered for self-directed learning.
9. Does the tool help us meet compliance obligations?
Your QA software should be able to help you adhere to compliance regulations. After all, you're monitoring compliance as part of agent behaviour, so the solution you choose should help you tie it all together.
10. Can you calibrate contact centre QA scores?
If two people score the same scorecard based on the same interaction, can you compare the two scores to level the playing field? Calibration is essential for consistency and opens up the opportunity to evaluate the evaluator.
11. How does the QA software allow you to categorize QA scores?
Categorization of QA scores is crucial for reporting and analytics. Look for call centre software that allows multiple categories including team, group, country, department, supervisor, channel, type of interaction, and more. Every categorization helps your team report and compare.
12. Can I include goals?
Software that's not goal-based might as well be discarded. You need goals to push your employees toward improvement. Look for software that allows you to give employees individual goals that can be easily tracked and accessed.
13. Can call centre agents self-score?
Self-scoring empowers your call centre agents to take charge of their performance. It offers your team the ability to grow and learn for themselves, which improves morale and employee satisfaction. Self-scoring also helps your agents train new hires and give peer advice.
14. Is it possible to grant access to external parties?
Occasionally, you're going to have consultants or clients who will need or want access to your agents' performance scores. Being able to grant access to outside parties puts your company in the driver's seat. It allows you to provide access to essential information that helps your business.
Check for User Friendliness
Now that you know what features are important to the success of your call centre's QA process, it's essential that you find software that works well. The last thing you want is to do is purchase call centre software that is difficult to use.
That's why there are five essential questions about user friendliness that we believe are essential to ask.
15. Is it easy to edit forms?
We have already discussed the types of forms you need: those that can be easily categorized, allow self-scoring, include goals, and can be weighted. But that's just the basic necessities. All those abilities are only valuable if you can edit the QA forms easily and quickly.
It shouldn't take a long time to add or edit new sections and questions. IT shouldn't need to get involved to create categories or weighting. Instead, look for call centre monitoring software that offers a very simple editing process.
16. How easy is it to add new users?
Your organization is constantly changing, so you want software that allows you to add and remove new users yourself. This will be a frequent issue, so make sure you can make these edits quickly and simply.
17. Is it really user friendly?
Before you decide on call centre quality assurance software, ask if you can try it during a free trial period.
Then, during this time, give the software to your call centre agents and ask them how easy or difficult it is to use. While some training is expected on any new software, it shouldn't take weeks or months.
If the software is truly user friendly, you should be able to get your entire team up and running quickly. And if training is required, calculate how much is needed before you make your decision. That will tell you how user friendly the software truly is.
18. Can everyone use the call centre QA software?
While your call centre agents and supervisors will get the most use out of the call centre software, they are not the only users you need to worry about.
A good rule of thumb is: "Unless the software works for everyone, it doesn't work at all."
Talk with all of your call centre QA stakeholders before making a final decision on the tool. Make sure that it works for your day-to-day users as well as your senior management, coaches, and even clients.
19. How much IT time will it take to set up?
Your IT team has a lot of work on their plate already. Before you choose call centre QA software, map out how long it will take your IT team to set it all up. If it's a cloud-based tool, it will probably be quicker, which requires less scheduling and frustration.
Talk to Other Customers About the Call Centre Software
Don't just ask questions of the software company itself. While that's valuable, their answers will be skewed. Instead, you need to take a look at what actual users are saying about the software.
 Do they enjoy it?
 Does it work well for their call centre?
 What features do they find valuable?
 What would they like to change/improve?
Seeing how actual professionals in the contact centre industry feel about your top choice for call centre QA software can either help confirm your decision or point you in another direction.
20. What do reviews say?
You're not the only one who has ever purchased the software or used it. Take advantage of the reviews to see what customers just like you think about call centre monitoring software. Some key websites to use for excellent customer reviews include Capterra, G2 Advisor, and GetApp.
For example, Scorebuddy rates well on every single platform, always receiving at least 4/5 stars and often achieving around 4.5/5 stars.
Capterra: On Capterra, Scorebuddy has received 33 reviews with an average 4.5/5 stars. It received 4.5/5 stars overall and for ease of use, and earns 5/5 stars for customer service. "Scorebuddy is the real deal – pricing, functionality and ease of use. If you are thinking of signing up for the free trial – stop thinking and DO IT. You will save time, money and your team will love the engagement and feedback!"
G2 Advisor: On G2, Scorebuddy only has 4 reviews, but those reviews are mainly positive. And even the one negative review couldn't find much bad to say. Their final comment was, "More time to do other things because Scorebuddy does it all."
GetApp: Scorebuddy also received 33 reviews on GetApp with an overall score of 4.48/5 stars. 100 percent of customers would recommend Scorebuddy to a friend or colleague with 97 percent offering positive reviews. "Scorebuddy allows our organization to not only to give valued feedback, but to also analyze trends with ease. In these trends we can see our strengths and our areas that need coaching and training. It helps us promote a culture of understanding, learning and growth"
21. Has it won any awards?
It's not just reviews; it's awards as well. Scorebuddy recently won the 2018 Best Contact Centre Software Award, which is an independent award presented by Call Centre Helper.
Scorebuddy won, not based on votes by a panel of experts, but based on votes from over 3,754 real-life contact centre professionals.
These professionals spoke about what they love about Scorebuddy's call centre QA, saying:
It's "very simple for people to pick up how to interact with little training required."
It's "intuitive and scalable."
"Very friendly and approachable company/team."
"Scorebuddy is a nimble and adaptive tool for measuring the entire customer experience. It's easy to use and provides swift and certain distribution of feedback to agents and their managers."
22. Are there any other resources offered?
Best-in-class call centre monitoring software is developed by thought leaders. These individuals understand that before you can create call centre QA software that blows the competition out of the water, you need to have an in-depth understanding of what it takes to create a successful call centre.
For this reason, a quick review of the resources offered by the software team can let you know whether it's a team you want to join.
A few resources you should look for include:
      Blogs
      eBooks
      Case studies
      Webinars
      Guides
      Industry reports
Budgeting for Call Centre QA Software 
Last, but certainly not least, you need to look into how much the software costs. Even if you're only evaluating "FREE" tools, that doesn't mean there's no cost associated with using the tool. There can be hidden fees or additional time required for maintenance, manual labour, reporting, etc.
Even the best call centre quality monitoring software has to fit within your budget, which is why there are five final questions you must ask before choosing a call centre QA solution.
23. How does the pricing work?
Every software company follows its own unique pricing scheme. Some have set pricing, while others have banded pricing. Then there are pricing levels—basic vs. premium—or pricing based on the number of users. All of this can impact your budget.
If you want to ensure your budget forecast is accurate, determine how the pricing works upfront.
24. Is training included?
Some software includes training in its price, while others include training as an add-on. Having to pay for training can be incredibly expensive, especially if the product ends up being not very user friendly. This can cause your training costs to snowball quickly .
Ask how much training is included—how many hours, team members, and/or options you receive. How much does additional training cost and do you pay per hour, per trainer, per event?
25. Does it cost money to set up?
Are there any set-up charges for the software? Although this is often a one-time fee, these charges can be hidden within the pricing package and provide a "nasty surprise" come time for payment. Ask if set-up is considered a separate fee before you sign on the dotted line and how much it is.
26. What's my ROI?
If your new call centre software offers a high return on investment, then it's a great deal. Guaranteed ROI will tell you what value you can expect and if the price is worth it. Cheaper software that doesn't give you the same results may not be worth it in the end.
27. Will my monthly payments change?
A low monthly payment is attractive, but it can be deceptive. Sometimes, software companies will offer a heavily discounted monthly price to get you started with a guaranteed increase six months or a year down the line.
Make sure you know exactly what your monthly payment will look like after the promotion period so you can budget accordingly.
Avoid Mistakes and Choose the Right Call Centre Quality Assurance Software by Asking the Right Questions
The more you know before you choose the right call centre quality assurance software for your team, the better. There are many variables to consider, and careful evaluation is required if you want to purchase software that meets your unique needs. Some of it is common sense, and some of it is knowing how call centre software works.
To help you avoid the mistake of choosing the wrong software, these 27 questions show what you must ask before signing on the dotted line.
While these questions can't cover every eventuality, they can help you throughout the selection process to ensure that you end up with call centre quality monitoring software that actually works.
And don't be afraid to ask for expert advice! The Scorebuddy team is always available to be your resource for call centre quality assurance. We'll tell you if we think we're a good fit for you because your success is our success.
This blog post has been re-published by kind permission of Scorebuddy – View the
Original Article
For more information about Scorebuddy - visit the
Scorebuddy Website