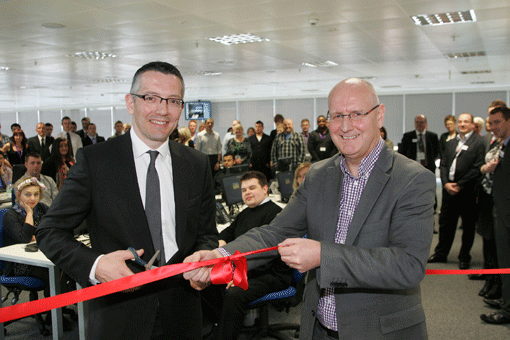 HEROtsc centre opens today – with 800 staff and the promise of more jobs to come for Atlantic Quay Site.
GLASGOW'S newest employers today (Monday April 16) officially opened their state-of-the-art contact centre in the city and vowed in time to bring 900 jobs to their Atlantic Quay site.
HEROtsc, Scotland's leading customer management company, announced last month that they were coming to Glasgow after expanding their contract to provide sales and service support to Sky.
Four weeks after that announcement Steve MacDiarmid, Sky Director of Customer Sales, cut the ribbon of the new site as HEROtsc staff officially started handling calls for the client.
By the time shift patterns are fully established this week, 800 HEROtsc staff will be on site.  However, these numbers are set to grow as HEROtsc steadily ramps up the work done in their three-floor site in Glasgow's Financial District.
Looking to the future, HEROtsc Chief Executive David Turner said: "I am delighted that we have managed to get this site up and running just a month after we announced we were coming here.
"It is a fantastic achievement to have 800 staff working here so quickly.
"However, the site here can accommodate more and we are now actively recruiting to add another 100 or so staff in the next six to eight weeks."
Sky's Steve MacDiarmid said: "We've got a long and successful history of working in Scotland so we're very pleased to be partnered with HEROtsc to open this new customer centre in Glasgow. Providing first class customer service is of utmost importance so we're very happy this site is opening to help maintain our excellent standards."
Founded in Rothesay in the mid 90s with only seven employees, HEROtsc is now one the UK's biggest in its sector.
Glasgow is now their seventh Scottish site, joining Rothesay, Greenock, Dunoon, Kilmarnock, Aviemore and their HQ Falkirk. They also have three major centres in England in Warrington, Dearne Valley (Rotherham) and Derby, which opened in January.
Published On: 18th Apr 2012 - Last modified: 12th Dec 2018
Read more about - Archived Content
---
---