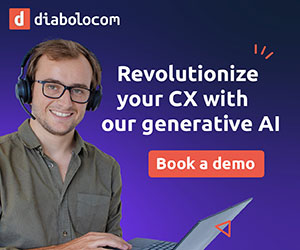 Diabolocom discuss five common customer service complaints and take us through how they can best be avoided in the contact centre.
The customer service department plays an integral role in the relationship between a brand and its customer. The customer advisor is tasked with assistance, whether that is answering a query or resolving a product complaint, requiring skill and sensitivity.
The handling of this interaction will directly impact the customer's perception of the brand, yet often organizations find poor customer service experiences affecting customer retention and acquisition.
Therefore, it is important to cultivate the customer relationship carefully. We have outlined five key tips to help businesses resolve the most common customer service complaints.
1. Repeating information? Make customer data accessible to advisors
One of the top complaints customers often cite is having to repeat their personal details multiple times, and to different agents. Customers want to speak with the same advisor they initially contacted, or if not, they want to be assured that a different agent fully understands their issue and can provide the appropriate assistance.
For businesses dealing with large volumes of customer data across different channels, ensuring consistency and a tailored customer experience can be difficult. It is important to have  a solution that seamlessly integrates with the CRM tools, streamlining the data so it is readily accessible for the call agent via a console, prior to the call. The agent then has all the relevant information available, making for more personal, efficient interactions.
2. Customer feeling undervalued? Know your customer profile
When customers find themselves repeating information or speaking with an advisor who does not know their history, they will often feel undervalued and unappreciated. All businesses will want to ensure their customers feel unique and receive a personalized experience. This is only possible when the agent has a complete, 360-degree understanding of the customer's profile and their expectations.
Having an effective customer interaction management (CIM) solution which integrates with all the customer knowledge tools will mean continuity of the customer's data from department to department.
In particular for large organizations, unifying this data can make a great difference. This data might include important details such as the customer's previous interactions and preferred means of communication, helping the contact centre to anticipate the customer's requests and deliver a tailored service.
Collating the information will also equip your call agents with vital customer context so they can have more productive interactions.
3. I want to speak to someone. Maintain your voice channel
Omnichannel customer service is fantastic for giving customers greater flexibility, with live chat and messaging services allowing customers to ask for advice at any time and on any platform. However, customers still want the option to communicate with a human agent, particularly for those who are trying to explain a complex query or are perhaps less familiar with digital channels.
Voice interaction is still a must-have in customer service to ensure each individual has an enjoyable customer experience. The voice channel can also convey the customer's tone and emotion better than a digital mode of communication, which allows human advisors to provide more empathetic and instinctive responses.
4. Long wait times? Improve your first contact resolution rate
Spending hours on hold waiting to speak to an advisor has become a hallmark for the negative customer service experience. However, there is a simple solution to combat lengthy call queues and disgruntled customers. By analysing your call traffic you can gain valuable insight on the volume of callers and peak call times, helping contact centres to timetable the right number of staff to deal with customers.
Complicated interactive voice response (IVR) systems which fail to direct the customer can be extremely off-putting. A smart IVR system makes the keypad selection process easier so that the caller can be quickly connected with the most suitable agent.
Also, this can be programmed with automated messages so that customers receive a response whenever they call. Equally, an  intuitive automatic call distributor (ACD) will make sure that incoming calls are sorted appropriately amongst the call agents.
5. You're not listening to me! Empathy training for staff
Customer service involves a variety of emotions, and feelings of frustration or anger are particularly tricky to handle for the customer and call agent alike. Misreading the situation or failing to provide the right response can result in complaints and increased dissatisfaction levels.
Whilst reading emotions does require intuition, continuous training and support is imperative in call centres to ensure all agents are equipped with the right empathy skills.
Training will help employees to understand the best language to use, how to build a rapport and best remedy upset customers. Holding regular workshops will further encourage collaboration and communication within the workforce, helping to create a positive environment where employees feel supported to share tips and past experiences.
Happier employees will result in happier customers, and vice versa. The employee experience is truly a reflection of the customer journey.
For more information about Diabolocom – visit the Diabolocom Website