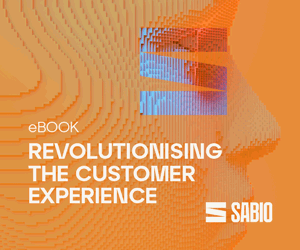 With just three weeks to go until we host our 'The Art of CX' conference at the Blue Fin Venue on London's Southbank on the 12th October, we're busy finalising the content for our packed Intelligent UX agenda for the event.
Following the success of Sabio's Disrupted Customer Contact conference earlier this year, we're looking to take the story forward at the Blue Fin Venue by focusing on the increasingly critical role that intelligent UX design needs to play in removing customer journey friction.
Given that our goal is always to create brilliant customer experiences, it's essential that we all remain focused on delivering experiences that really work for today's customers.
That's why our agenda for 'The Art of CX' has been created to address all aspects of UX design.
We're featuring best-practice customer journey insight from acknowledged customer engagement leaders such as BGL Group, HomeServe, Saga and Three; industry analyst commentary on the future of Conversational AI from Opus Research's Dan Miller; as well as an overview of the latest CX innovations – such as AI and Machine Learning, Voice-First UX design, data-driven UX experiences, and User-Centred Transformation – from Sabio experts as well as UX specialist Sift Digital.
Throughout the day we'll be sharing a series of UX design expertise, customer engagement insights and innovation updates that 'The Art of CX' attendees can apply in order to turn their customer journey into a real differentiator.
We hope you can join us in London at the Blue Fin Venue on 12th October. Register now at 'The Art of CX'.