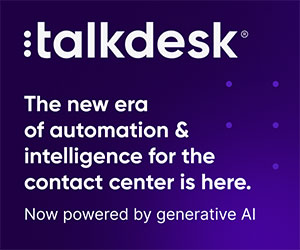 Talkdesk has announced it has been named winner of a Microsoft 2023 Partner of the Year award in the Digital Native category as a result of its innovative use of artificial intelligence (AI) to deliver modern customer experience to thousands of global customers.
The Microsoft Partner of the Year Awards recognize Microsoft partners who have developed outstanding solutions using Microsoft technologies during the past year. Talkdesk was selected from a pool of more than 4,200 nominations submitted across over 100 countries.
Talkdesk was honored as a Microsoft Digital Native Partner of the Year in Lisbon, Portugal for accelerating modern customer experience delivery with an innovative, integrated unified communications as a service (UCaaS) and contact centre as a service (CCaaS) solution that addresses evolving customer needs.
Its latest strategic joint initiative, the certified Talkdesk Microsoft Teams Connector, builds a better customer experience by seamlessly integrating all of a company's communication solutions, thus breaking down communication silos.
As a result, contact centre agents can access necessary information to assist customers efficiently and effectively, and collaborate with coworkers across the enterprise to tap into subject matter expertise.
Supporting Quotes
"Talkdesk and Microsoft's partnership allows companies to maximize the value of their cloud investments and enable productivity, collaboration and customer experience success.
We are impressed with how Talkdesk has adapted to the opportunities presented by AI in modern customer service and are excited by the outcomes our joint solutions deliver to customers," Abel Aguiar, executive director, partner channel, Microsoft.
"Modern customer experience requires companies to maximize their talent and resources," said Charanya Kannan, chief product and engineering officer, Talkdesk.
"In more closely integrating Talkdesk CX Cloud with Microsoft technology over the past year, we're putting context and expertise at contact centre agents' fingertips, giving them a powerful AI-based tool to work smarter and provide better, highly personalized customer interactions."
This blog post has been re-published by kind permission of Talkdesk – View the
Original Article
For more information about Talkdesk - visit the
Talkdesk Website