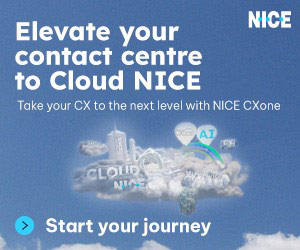 Mechele Herres at NICE CXone outlines the ABCs of providing exceptional agent interactions.
For every company, there is a metaphorical "frontline," and life in the trenches can be difficult. If that doesn't perfectly capture the job description for customer service agents, then I don't know what does.
The need for skilled, capable agents has never been more important. Recent studies show that 59% of customers prefer to resolve their issues without contacting a customer service rep, but only 13% of customers are successfully contained within self-service.
When interactions are escalated to an agent, it is imperative that the agent is prepared and can properly meet or exceed customer expectations.
The good news is agents are not stranded on an island, crying out for help as the CX tide rises. Helping every agent reach their full potential to surprise and delight customers is easy as ABC.
A – AI-Enhanced Agents
Even the most adept agent can benefit from AI-powered tools that help deliver smooth, seamless CX by simplifying and accelerating every interaction. Customer service agents are the last stop on the CX journey.
When an interaction is escalated to an agent, each agent must have the right tools. That way they can see into the interaction journey to assure context is there and they don't need to repeat any relevant information to customers.
Agents need a complete picture of the customer journey so they will have answers readily available for any question the customer has. Agents quickly can become frustrated when answers are difficult to find, and inquiries are challenging to close. Simplification of processes and systems allows agents to serve potentially discouraged customers quickly.
In a recent study by NICE, 57% of surveyed agents say they routinely toggle between seven or more solutions to handle a single customer interaction.
Expectations from customers are at a high level at this point so it's very important to give agents the tool kit to provide immediate gratification. The right CX tools empower agents to provide better service that creates greater customer satisfaction and loyalty.
B – Be Empathetic
Because AI tools promote greater efficiency to better serve customers at scale, the need to treat every customer as an individual has never been more important.
As many communication channels lose the "human element," personalized customer interactions are even more valuable. Delivering a personal touch can help businesses stand out and build customer loyalty. In fact, 42% of customers agree that the most valued characteristic of a contact center agent is empathy.
And emphasizing empathy will also make work more rewarding for your agents. It helps them feel like their work matters and is important to your customers.
Automation, AI, and real-time guidance help agents identify areas where they can improve their empathy in every interaction.
Soft skills, such as empathy, are hard to master and traditionally were not easily identified. But having these tools for agents helps teach cues and warning signs to be more empathic when needed.
C – Constant Coaching
In most cases, agent evaluations occur after an interaction has ended. But AI-powered coaching tools, like real-time interaction guidance, provide immediate guidance to deliver coaching to agents during the engagement. Teaching in the moment helps create positive behavioral change right away and is more memorable.
Introducing AI tools that provide clear and actionable feedback on every interaction allows for accelerated agent growth and training.
Accurate data, collaborative coaching with two-way feedback, and a coaching plan drive accountability and increase your agents' performance.
This strategy helps identify weak spots and allows for exceptional agent performance to be modeled and used to train other agents on resolving certain complex issues.
Unbiased, constructive feedback and coaching are tangible solutions to boost your agents' confidence and skillset. This level of coaching and agent attention also makes employees feel more valued, ultimately leading to happier employees.
This blog post has been re-published by kind permission of NICE – View the
Original Article
For more information about NICE - visit the
NICE Website