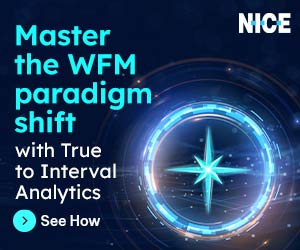 Our panel of experts discuss what exceptional customer service means to them and how to achieve it in the contact centre.
According to our experts, exceptional customer service…
Surpasses Customer Needs
Customer service is the act of meeting customer needs while ensuring alignment with business goals.
Note the alignment between business and customer – although it will likely tip the scales in the direction of the customer when we aim to deliver exceptional customer service.
Yet, in my view, exceptional customer service is not efficient, it's not particularly scalable, and it's a bit excessive. Most of the time, simple customer service should be adequate to resolve regular issues.
Exceptional customer service shouldn't be required for every point of contact – you've got bigger issues if that's the case.
Exceptional customer service shouldn't be required for every point of contact – you've got bigger issues if that's the case.
It's important to understand what exceptional customer service looks like for your business.
If your version of exceptional isn't remarkable, then exceptional customer service shouldn't be one of your goals.
Is Collaborative
Your business is built on customer engagement. Product use, consultation, application and brand interaction are all components of your engagement strategy.
Your business must be willing and able to engage with your customers in a way that others can't…
In order to excel in this area, your business must be willing and able to engage with your customers in a way that others can't and that your competitors won't.
It's risky, but the payoff is huge. Multiple media platforms have made this easier than ever; but they've also made it a virtual minefield to navigate.
The key is focus. Pick a few talented individuals in your organization with a specific set of skills and goals to lead your engagement strategy.
Remember that it only takes one viral moment to make you famous (or infamous), so choose your moments carefully.
Is Simple to Repair
Unfortunately, a major touchpoint of customer service is after things go wrong. While unavoidable, your business can create a repair strategy that is largely proactive.
Repair can be any aspect of the brand as well. Products, communications, alliances, and, most recently, public relations can require a repair strategy.
Too often, our repair strategy is reactive and based on damage control. Outbound marketing strategy should prioritize customer service and address any repair needs before they overwhelm your contact centre team.
Thanks to Maddy Hubbard at Aspect Software
Is Easy for the Customer and Contact Centre
Make it easy for customers to do business with you. Understand and minimize the customer effort required for any and every situation – be it a sales call, a delivery experience, or a post-sale service request – make it easy for the customer.
Ask yourself: have you ever experienced what it's like to do business with your company? Maybe you should and get more familiar with the experiences that you are offering customers.
Once you have done this, you can use automation technologies to empower your employees and learn from every experience, in order to make the next one even better.
Thanks to Laura Bassett at NICE inContact
Makes Customers Feel Important
Customers want to feel like they are important, and like they matter to your company.
Recognizing customer emotions and being able to respond appropriately in the moment is an important part of customer service and can often be the difference between an average experience and an exceptional one.
Advisors who can actively listen, display empathy at the right time and take ownership of a call, a problem or even a colleague's mistake and work to quickly provide support and solutions will ensure customers feel they are a priority and enable agents to exceed their expectations.
By giving advisors access to the information, tools and coaching they need, they can go the extra mile with customers by turning their negative emotions into positive feelings.
Prioritizes Exceptional Communication
Customers don't always want to have to call a company's contact centre or help desk to get what they want. They prefer to use different channels to interact for different issues and asks.
Companies that provide exceptional customer service need to understand what these are and be constantly reviewing them.
By using technology to analyse all interactions across multiple contact channels, suppliers have a single point of access to real-time customer intelligence.
Taking this approach enables the identification of customers who are using multiple channels to solve a specific issue and highlights the shortcomings in the automated channels that triggered the need to contact the call centre.
It's then possible to make the changes needed to ensure that customers can satisfy their needs via their preferred channel, and this in turn will ensure that companies can communicate to customers in the right way, at the right time and with the right information.
Thanks to Frank Sherlock at CallMiner
Is Personalized
Personalization corrects poor experiences, eliminates queues, and avoids repetitive conversations.
In today's competitive market, it is the crucial element of exceptional customer service.
Breakthroughs in AI make it possible to enhance personalization, meaning interactions are more efficient and gratifying.
Augmenting advisors with AI-powered tools supports them in achieving world-class, data-driven service.
When combined with intelligent routing to the right advisor, you get a smooth, channel-less journey that ensures the convenience, practicality, and speed that customers desire.
Personalization shows engagement, demonstrates competency, and encourages loyalty.
Thanks to Neil Titcomb at Odigo 
Is Agile
Agility means understanding the constant changes in customer expectations, and then adapting to those and transforming your customer service in order to survive.
There are several key areas that your organization needs to consider and address in order to respond to today's experience expectations.
Customers and employees need to be able to easily transition within channels as part of the same interaction, to create a truly consistent experience.
Other steps to achieve agile customer service include:
Personalization to adapt to the different personalities and preferences of individual customers
Automation to assist the contact centre team, enabling advisors to focus on complex tasks
An employee engagement system that considers employees' attributes and personal preferences, to maximize the potential of people
Thanks to Aviad Abiri at NICE
Is Unobtrusive
Technology also plays a crucial, yet sometimes undervalued, role in making customers become advocates. When it works well, nobody notices it. When it doesn't, it is a problem and will impact on the customer's experience.
When technology works well, nobody notices it. When it doesn't, it is a problem and will impact on the customer's experience.
Take, for instance, call quality. Yes, you need a great headset to make sure that the sound quality is crystal clear on calls, but this alone isn't enough.
Something as small as the correct positioning of the arm of the head (or the "boom arm") plays a  critical role in ensuring optimal professional sound quality so that end-users can clearly hear the agent, which in turn ensures the agent doesn't need to repeat what they are saying.
This seemingly small adjustment can make a massive difference to your customer service.
Thanks to Nigel Dunn at Jabra
Is Speedy
Customers can be impatient and every year they expect more and more. This starts with a quick response.
But this doesn't just involve targeting an improved service level. Let's take a look at an example of how companies should be addressing this.
Let's say you come across a problem with your product or device:
You go online and use the chatbot, which takes you through a flow that quickly determines your device has a malfunction and needs a service.
You then receive a response the same day telling you that you need to take your device to a Post Office, and they've emailed you the return barcode which needs to be scanned while you're there. Everything else, they'll sort out.
Thanks to Daniel May at Business Systems
Surpasses Expectations
"A customer should walk away not just satisfied with the service they received but feeling that it went above and beyond their expectations."
This is the mantra that Swedish mobile network operator Telia follow in their efforts to achieve exceptional customer service.
One way that Telia achieved this goal was by automating staff work schedules to increase advisor availability and decrease customer wait times by 14% in a short space of time.
While saving time, Telia also employs other automation technologies to empower frontline employees to delight customers in their own way.
Thanks to Magnus Geverts at Calabrio
Is Effortless
To achieve exceptional customer service, advisors should be able to connect with their customers effortlessly and deliver a better, more personalized experience than ever before.
One major hurdle to get to this point is cumbersome security processes that stilt customer–advisor conversations – particularly on the voice channel.
Yet you can overcome this issue with the help of a voice biometrics system. This is because voice biometrics use sophisticated algorithms to analyse more than 1,000 voice characteristics – from pronunciation, to size and shape of the nasal passage.
Meanwhile, behavioural biometrics measure the most minute details – such as how an individual holds their phone, how they type and even whether they pause once they finish a task.
Both technologies can be used to validate whether someone is who they say they are immediately based on how they sound.
Thanks to Brett Beranek at Nuance
Is a Mixture of Many Different Elements
Exceptional customer service is delivered through: empathy, generosity, being solution-driven, timeliness, and unexpectedness – according to Salesforce.
These five elements can all be part of a great customer service proposition that sets one company apart from the rest.
That means not only going above and beyond the expectations of the customer, but also raising the standard set by competitors.
So, to be truly exceptional, businesses should monitor their competitors and make the extra effort where they do not.
Thanks to Neil Hammerton at Natterbox
Is Empathetic
Exceptional customer service is based on a key concept – empathy.
When a customer engages with a company, they want to feel like a priority, cared for as an individual and uniquely understood.
Although it's challenging, organizations can design an experience that puts each customer at the centre – whether that service is automated or handled by a human.
In a more complex or emotional situation, an organization that leads with empathy will prioritize the enquiry, routing the individual to a human whose priority will be to empathize with the situation.
Then the employee will proceed with addressing the issue at hand and predicting what may be needed next, before the customer even knows themselves.
Thanks to Brendan Dykes at Genesys
Does Not Neglect the Phone
Despite the wide variety of customer service choices available, voice interactions will remain at the heart of the contact centre.
Many customers can't resolve a problem through self-service alone, and voice remains the "go to" channel for time-sensitive, complex or serious issues — making voice more valuable than ever in driving the customer experience.
Bringing clarity to voice is key for the customer experience, ensuring customers can not only hear but know they are being heard.
Choosing the right headset is a key part of this, so advisors and customers alike can have meaningful, constructive conversations that boost resolution and satisfaction.
Thanks to Richard Kenny at Poly
Is Efficient
Delivering exceptional customer service is about removing the need for the customer to put in time and effort – but still giving them what they want as quickly and efficiently as possible.
To deliver this kind of service, the business will first need to understand the customer journey. That means thinking about what the different stages of their customers' interactions with them are and what needs they have at each stage.
This is likely to involve a combination of man and machine. For starters, any business providing exceptional customer service will constantly review and update their intelligent self-service channels.
These channels enable customers to gather the information they need while offering a way to escalate those queries to a human agent.
With the more tedious routine tasks eliminated from their role, agents can instead focus on higher-value interaction skills and deal with those awkward, difficult or emotion-fuelled interactions.
Thanks to Jeremy Payne at Enghouse Interactive
For more from our panel of experts, read our articles: