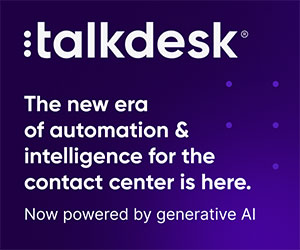 Lídia Dias at Talkdesk explains workforce management (WFM) and its benefits for contact centre staff management, employee engagement, and the entire organization.
Time is money. And, in contact centres, time means happy customers. Happy, brand advocate customers is one of the main challenges in any industry. In addition to the already demanding needs, the pandemic accelerated customers' expectations for fast, easy, and omnichannel interactions.
In contact centres, you can't exactly know for sure the number of calls coming at a given time of the day, week, or month. But you can predict, based on historical data, market insights, and other available information, how many agents you will need to handle the expected volume of interactions.
Having the right number of agents for the incoming queries is essential to meet customers' expectations and provide an excellent customer experience (CX).
When it comes to managing the contact centre workforce, three main questions arise:
Which frameworks and tools exist to support workforce management (WFM)?
What are the advantages of using WFM software?
What are the essential capabilities of WFM software?
In the next paragraphs, we'll take you through the fundamentals of WFM software, its advantages, and what you should look for when searching for a WFM solution.
What Is WFM Software?
WFM software is a set of tools that aims to improve efficiency, productivity, and time management in staff scheduling. Using WFM software, companies can ensure that they have the right number of employees with the right skills to meet job requirements at the right time—even when facing a seasonal rush.
WFM tools are also helpful for companies to find out how to invest in their employees' training and coaching and have a deeper understanding of what skills to target when recruiting new talent.
WFM software has a pivotal role at the contact centre in creating the best fit between available agents and the expected volume of interactions while improving employee engagement by fostering transparency and efficiency.
The Main Advantages of Using WFM Software for Contact Centre Staff Management.
The key benefit of workforce management software is to optimize staff scheduling, reduce the time spent assigning agents to shifts, and make it easier for supervisors, managers, and team leaders to manage the daily workload on the contact centre.
However, using WFM software benefits not only the contact centre but the entire organization. It improves compliance and leverages talent retention. Ultimately, it reduces handling times and improves service levels and CX.
Below, you can find the main advantages of using WFM software for contact centre staff management.
For the Company:
Improved seasonal response.
Especially in businesses driven by seasonal events, like holidays, WFM software can help you plan, giving you the much-needed flexibility to respond to customer demand.
Excellent customer service.
Customers get frustrated by long hold or wait times. Seasonal events like holiday call peaks can have a damaging effect on customer satisfaction. If you forecast and adjust staff levels accordingly, you'll nail customer experience during those peaks.
Supported regulatory compliance.
When the workforce is spread around the globe, ensuring compliance with several applicable labour legislations is crucial. WFM software helps team leaders and HR managers to comply with local legislation, agreements, and the contract of individual employees.
For the Contact Centre Manager:
Easy and quick scheduling.
Scheduling and managing shifts is usually a big challenge. A WFM solution enables managing contact centre staff schedules to easily and quickly assign shifts for each team member and optimize their workforce.
Useful and actionable insights.
WFM software gives supervisors, managers, and team leaders visibility on the most important KPIs, including average handle time and average hold time. The goal is to reduce wasted time as much as possible by gathering and monitoring data and using that information to allocate resources better.
A WFM system makes the forecasting process more straightforward, simpler, and less prone to errors. As a result, unexpected workload peaks become less frequent, as well as non-productive, idle times.
Better performance management and coaching.
A WFM provides performance indications that help managers evaluate agents according to their skills, functions, job level, and other relevant parameters that make evaluation more accurate. At the same time, it gives team leaders information about which triggers lead employees to peak performance, allowing them to better train and coach their agents.
For the Agents:
Flexibility and work-life balance.
The ability to view, edit, and manage their schedules, request time off, and ask for desired shifts contributes to improved job satisfaction, better work-life balance, and healthier workplace culture.
Strive through gamification.
Applying the sound principles of behavioural science to the daily job can create a more dynamic work environment. For example, WFM software allows you to put in place gamification programs that use a mix of challenge and reward to skyrocket agents' motivation.
Essential Capabilities of WFM Software in a Contact Centre.
Surge and slack detection. Anticipate intraday surges and slack to make better decisions based on real-time data.
Automated scheduling. Scheduling done by hand is time-consuming and inefficient. Instead, automate staffing with business variables like vacations, availability, workload, and planned absences.
Intelligent forecasting. Gather your contact centre's historical data to predict workforce demands. Know in advance how many agents you will need during a particular time and their specific skills to better meet seasonal demand. Also, plan workload peaks beforehand and budget for additional recruitment, if needed.
Analytics & insights. Create customizable dashboards to compare key metrics and visualize performance trends.
Omnichannel support. Forecasts and schedules should support your omnichannel workflows.
Schedule adherence. Accurately compare actual agent behaviour with scheduled activities.
You should consider your industry, location, and maturity of the organization when selecting a WFM software. Focus on functionalities instead of price—the cheapest systems may look good but have a poor return on investment.
Look for flexible deployment and configurable solutions (no code required) to reduce the impact on your daily operations and avoid additional costs with IT staff to tailor the software to your needs.
Before You Go:
A WFM solution is the most efficient way to forecast and schedule for your contact centre.
Staff scheduling and WFM using specialized software improve both the agent and the customer experience.
WFM software has operational, customer, and employee engagement benefits.
Choose a flexible, customizable solution that requires no coding skills to quickly and easily configure and tailor to your needs.
This blog post has been re-published by kind permission of Talkdesk – View the
Original Article
For more information about Talkdesk - visit the
Talkdesk Website