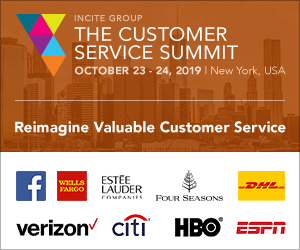 About the Event
The Customer Service Summit (Oct 23-24, NYC) brings together an unrivalled list of senior leaders from the world's most powerful and innovative brands. Purpose-built to guide you seamlessly into the future of customer service, CSS is the ultimate opportunity to ensure your team is ready to meet changing customer demands.
Be part of a community of 350+ service leaders exploring the cutting-edge of how brands can stay one step ahead of the customer. Join this movement to reimagine the role of customer service and take your place centre stage as the face of, and driver for, the entire business. Find out more: http://www.incite-group.com/customerservice/
Exclusive $300 saving – enter code Callcentrehelper200 at checkout.
Date and Time
Starting:
Wednesday 23rd October 2019

Ending:
Thursday 24th October 2019
Location
Date and Time
Starting:
Wednesday 23rd October 2019

Ending:
Thursday 24th October 2019
Location