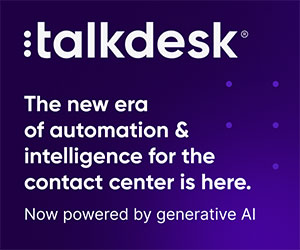 David Gardner at Talkdesk sets out the contact centre trends that will impact how customers interact and relationship with brands in the future.
For the fifth year running, Amazon was named the brand loyalty leader in the US. Spanning the breadth and depth of its product offering, Amazon continues to elevate customer service expectations by offering real-time inventory, easy returns, free shipping, opportunities for brand discovery, and personalized experiences. And Amazon's efforts are paying off: the company's Prime program has a 98% retention rate for customers who stay for two years.
If people are willing to create such strong relationships with brands like Amazon, how can you ensure your brand gets the same level of connection? The answer lies within customer loyalty.
Customer loyalty is the customer's likelihood to do repeat business with a company or brand. It results from a combination of great experiences, valuable products or services, and outstanding customer service.
Given the events over the past nearly two years, even the strongest brands struggled with keeping customers loyal and engaged. Maintaining a loyal customer base, even when many personalized experiences are taking place entirely through digital channels, will be vital for companies to thrive.
In its latest report, Talkdesk Research pointed out the 4 main customer loyalty predictions. These will shape contact centre trends for 2022.
Prediction #1: Loyalty Will Increasingly Be Driven by Consumers' Overall Connection to a Brand.
Gen Z—the third most populous generation in the US—is shaping the future engagements between customers and brands. 46% of Gen Z consumers stopped using a company's services or products due to their stance on social issues, and 53% reported already having switched from a company due to their stance on social issues.
In this context, the contact centre has a strategic role in reinforcing customer relationships. Although the effectiveness of the contact centre in solving clients' issues is a great driver of customer loyalty, it is being pushed to act in a broader context.
Contact centre agents already act as brand ambassadors, and they will need to be ready to speak on these evolving expectations. Brands need to consider how the contact centre will represent the company in issues such as sustainability, diversity, and inclusivity.
Prediction #2: Contact Centres Will Gain Influence as Loyalty-Driving Profit Centres.
Once considered cost centres, contact centres proved their potential beyond reducing costs and headcount. As a result, contact centres will soon assume the role of loyalty-driving profit centres, responsible for driving revenue through customer engagement.
Inbound-oriented contact centres are outdated and costly. As the first, or only, line of connection for many customers, contact centres can generate profitable growth by proactively deepening customer relationships.
This trend is showing in organizational plans and status—32% of organizations have already transformed their contact centres, while 35% are currently transforming and 14% are planning to transform it in the next few years. The transformation will be smooth and effective as it relies on strong contact centre technology.
Prediction #3: The Role of the Agent Will Become More Strategic.
Customers will keep as loyal to a brand as the brand is capable of giving them effortless and memorable experiences.
As the contact centre evolves from an inbound strategy to a proactive customer engagement approach, agents should be able to recognize and capitalize on opportunities to drive revenue—but they need to do it in a relevant and helpful way to the customer.
To ensure agents' outreach is relevant and valuable, agents should use the right contact centre technology that helps them anticipate customer needs and personalize each contact to deliver memorable customer experiences.
Prediction #4: Organizations Will Emphasize Employee Engagement and Retention to Drive Customer Loyalty in the Contact Centre.
For all the reasons mentioned above, the importance of retaining strong agents to business performance will rise further. Therefore, agent retention will be a top priority for the contact centre. Yet, more than half of CX professionals expect contact centre attrition to be around 20% from 2022 to 2025.
Companies will invest more in workforce engagement tools and strategies. These investments are intended to improve engagement and retention of contact centre talent and thus, drive customer loyalty via the contact centre.
This blog post has been re-published by kind permission of Talkdesk – View the
Original Article
For more information about Talkdesk - visit the
Talkdesk Website